Caustic Arrow CI Trickster Passive Skill Tree & Gem Links
A Word on PoB
I use PoB Community Fork by LocalIdentity. If you're getting an error trying to import my PoBs, you may not be using the latest version.
Learn more about it and grab the files here: PoE Community Fork.
End Game PoB & Passive Skill Tree
End-game

Caustic Arrow as CI/ES utilizes a Cluster Jewel set up. This may, understandably, take some time and patience to acquire and/or craft. I do not recommend going for the Cluster Jewels until you are CI/ES to save having to re-roll Cluster Jewels, since one of the attributes we stack is ES-specific. For the Life-based tree, make sure you check in the Leveling/Life-Based Section blow the main skill gems.
This is the PoB for the end-game CI/ES version of our build.

Caustic Arrow damage is calculated assuming max

Wither stacks, Frenzy Charges, and

Despair uptime on the target. The max stacks for Wither is 15 stacks. Note, sometimes you may not have all 15 Wither stacks, as the totems can get picked off by bosses and other mobs. Don't worry! We couple Wither with Multiple Totem and Faster Casting supports to quickly re-ramp the stacks.
To get a quick cursory glance at the passive three, here's a link for the part of the end-game build. Please note that PoE Planner does not support the use of

Large Cluster Jewel,

Medium Cluster Jewel, and

Small Cluster Jewel. So missing from this planner are the Cluster Setups outlined in the gearing section. Check out the screenshot below to get a better idea of these setups.
End Game Gem Links
6-Link Caustic Arrow
Make sure these are in your Bow to take advantage of the leveling scaling on well-crafted bows, as they only apply to socketed gems. When upgrading bows, some retain their older bows for a second 6L in lieu of manually swapping gems for trash/single target and just weapon swap in order to adapt to damage needs.
Helmet
Here we choose to use 2 × 2-links, one for CWDT, one for movement.
CWDT can be dropped for

Steelskin/

Immortal Call on Left Click if you prefer a non-triggered behavior for Guard skills. For Steelskin, its level 20 or bust, otherwise use Immortal Call as high as you can level it. You also can add in something else like

Withering Step if you prefer.
Gloves
Boots
Body Armor
For the body armor, it does not need to be a 6-link, just a minimum of 5-link and you can incorporate an extra curse with

Awakened Hextouch Support, or add in some utility with

Culling Strike Support as a 6-link if you'd prefer.
Leveling Information, Trees, and Life-Based End-Game
Here's a quick album of the level trees for those who aren't too sure to load up Path of Building yet.

29 points used

57 points used

80 points used

98 points used (Level 75)
Leveling Path of Building
Here is the Leveling Path of Building for the CA Trickster.
Leveling CA is pretty laid back and easy! Keep an eye out for +1 Socketed Bow Skill Gem bows, these are powerful for leveling!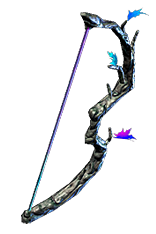 Silverbranch is a great example of this, but make sure you pay attention to the item level, as item level determines how many sockets an item can have.
Once you get to maps, don't neglect your Syndicate. You'll want to unveil and learn the "+40% Chaos Damage Over Time Multiplier" craft for your bow ASAP. Likewise, you can rush Catarina and attempt to unveil the "+2 Levels to Socketed Support Gems" craft as well. Don't forget to use a

Kalandra's Craft prophecy before having Jun dispatch her, that way you get multiple copies of the Veiled items she drops. Lastly, use your

Silver Coins. You'll want to complete the Pale Court Prophecy chains to unlock "Can have Multiple Crafted Modifiers" and additionally the Deadly Rivalry prophecy chain for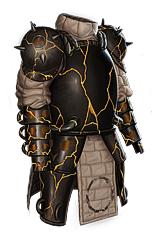 Kintsugi.
Leveling Gems and Links
Aside from

Vicious Projectiles Support, which only comes from Ranger in a leaguestart situation, the Shadow reasonably acquires all of his gems along the way. You'll have to do Library or pre-purchase Vicious Projectiles otherwise.
Main Link Progression
Other Gem Progression
Life-Based Tree and Path of Building and How to Respec Later
Above is how your tree should roughly look up to level 95 as you stay life-based until you are ready to go CI/ES. This tree is extremely generous in the health department as it is scaled for HCSSF, reaching 214% as a Trickster. If playing softcore, you can decide to strip away as much of the health away as you want for things like damage nodes, jewel sockets, or minor cluster setups. In this PoB I used gear I had, not even perfect itemization as a proof of concept with real gear versus simulated gear, all made with the crafting methods I outline in detail in the gearing section. There's a few additional notes in the PoB as well.
Here is Life-Based Path of Building for the CA Trickster.
To get from the Life-Based Version to the CI/ES Version, you can also use this handy PoB to follow along the step-by-step stages of using Regret Orbs to redistribute your passive points efficiently. Note: This does not assume Cluster Setups. You'll want to regret to the tree listed at the top of the page if you have your full cluster setup.
How to move from Life-Based to CI/ES.