Explosive Trap Saboteur Build Guide (PoE Ritual 3.13)
Introduction
This guide was originally written in 3.12, Heist League. The build has been edited to account for the changes in Ritual league, and will be quite powerful going into 3.13. The only real change is in choice of ascendancy, as Chain Reaction has become a legitimate option now with AoE removed from Explosives Expert. Personally, I would still go for Explosives Expert but if you value clear above damage, Chain Reaction is a good choice. Check out the Ascendancy page for more.

Explosive Trap is one of the last bastions of true destructive power left in the trap archetype. The changes to mine support gems and the gutting of

Trap Support left the trap playstyle rather under-utilized, but pre-fabricated traps are still fairly powerful skills overall, with

Explosive Trap being the best of the bunch. Through scaling things like gem levels, physical damage gained as extra elemental damage, and just regular old spell damage and crit,

Explosive Trap can reach astronomical levels of damage – or just regular old quite good damage, while being very tanky. This build throws the idea of the squishy right-side-of-tree build out the window, being properly tanky and hardcore viable as a life-based trapper. So far, I've taken down the majority of endgame bosses (Cortex, Elder, Shaper, Kosis, Sirus) and reached past level 99 on this build in Hardcore, proving it perfectly capable of surviving and thriving in such an environment. As a disclaimer however, this build does rely on some fairly specific Unique synergies which make it a pretty difficult build to do in SSF, so I would recommend it more for trade league.
Pros & Cons
Pros
+ High single target damage
+ Powerful burst
+ Very tanky
Cons
– Unique-reliant
– Delayed damage
Core Interactions
This build takes advantage of a few Unique synergies that I have found to be quite powerful, and are absolutely core and build-defining. As I mentioned in the intro, that makes it somewhat SSF-unfriendly, so fair warning. The first of these tools is the use of a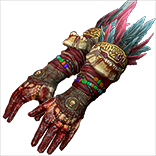 Slavedriver's Hand, a Unique pair of gloves only obtainable from specific Incursion temple rooms that allow the build to entirely ignore Mana cost (which is very important) and instead spend life, as well as providing a chunk of AoE and trap throwing speed. I really wouldn't play the build without these, but the good news is that as of writing this guide they are fairly cheap to acquire in trade league! Just an annoyance in SSF.
The second set of incredibly important tools are a

Lethal Pride with the correct roll (I have a video here on how Timeless Jewels work if you are unfamiliar with them) and you'll want to get one with an Akoya roll on it. This will give you access to the keystone Chainbreaker, which grants a small amount of flat passive Rage generation, and converts your %increased Mana regeneration into Rage regeneration instead. What this essentially means is that with a significant Mana regeneration investment, you can sustain Rage passively quite easily. The keystone does have a limiting factor – whenever you hit an enemy, you lose 5 Rage. However, we can avoid that being an issue by playing traps (or totems or mines, in theory), as hits from traps, totems and mines do not count as your hits, and thus won't cost you any Rage.
The reason this Rage is useful leads into the final powerful tool I'd heavily recommend for the build, but also the least functionally core one.

Berserk grants a massive boost of spell damage while Berserking, but in order to have good uptime to actually use this benefit you would need to have a whole lot of Rage generation all the time. It turns out we can do that. With this setup of Chainbreaker and

Berserk working in tandem, we end up with easily 80-90% uptime on a buff that grants (with scaling) as much damage as

Righteous Fire, as much mitigation as Fortify, and as much movement speed as a

Quicksilver Flask. This is the core of the build, and a large part of what makes it powerful enough to be hardcore viable.
Playstyle
Traps are fairly straightforward comparatively to mines in terms of playstyle. Unlike with my Toxic Rain guide, there will be no detonation timing or juggling of correct detonation sequences – you simply throw the trap under the enemy you want dead, and it gets dead pretty quickly. That said, traps do have a short arming time, which means particularly quick foes might be able to step off of them before they trigger – learning to lead enemies' movements with your trap throws can be crucial to dispatching certain bosses and quick-moving Rare monsters in the endgame. Otherwise, clearing is pretty straightforward:

Cluster Traps Support gives us a spread of traps on each toss that, with good AoE and gem level scaling, essentially covers your average pack of mobs perfectly. As far as single target is concerned, you simply need to cover your bases of debuffing skills (tossing out a

Flamethrower Trap for combustion,

Bear Trap to debuff/slow and

Wave of Conviction to shred resistances) and then spam as many

Explosive Trap tosses as you safely can. Oftentimes, bosses will even have spawning animations or phases which will allow you to stack a whole lot of traps for them to spawn right on top of, and subsequently be deleted by. Highly mobile bosses can be a bit of an annoyance, however, due to the previously mentioned arming time for traps meaning they can sometimes jump or blink off of your damage before it triggers.
Passive Skill Tree, PoB, and Gem Links
The passive skill trees are all contained within this Path of Building link.
In case you are unfamiliar, I've provided a visual tutorial below that will show you how to swap between passive trees in Path of Building. The Path of Building provided has leveling trees for various stages of leveling, as well as a theoretical variant tree for SC. Keep in mind, the only variant of the build I've actually played is the HC one, so there may be some things I've overlooked that could provide more DPS in a SC setting. Don't worry though, even the HC version pumps out enough damage to handle the entirety of the endgame, more is fairly unnecessary. The gear in the Path of Building highlights the most important stats you'll need in each slot, and does not accurately reflect resistance and stat needs you may have – be sure to cap your res and meet your stat requirements!
Use this drop-down menu to access different variants of the passive tree depending on what you're after.
Select the tree you're interested in!
You can find more information about this, as well as information about all our Gem Links on our dedicated page.
Ascendancy, Bandits, and Pantheon Powers
For full information about the Ascendancy, Bandit, And Pantheon power choices for this build, please check out our dedicated page.
Gear
Itemization is thoroughly covered on the dedicated gear page for the build. If you just want a quick cheat sheet to look over, I'd suggest looking through these graphics I've prepared which have reference items for low, high, and massive budget items in each slot. For full information on each one, be sure to check out the gear page.
Leveling
One of the nice things about this build is the ability to level as your main skill all the way through the story. From Act 1, you acquire

Explosive Trap, and while the clear is honestly pretty terrible early on, the damage will be enough to carry you all the way through the story easily. Leveling trees are provided in the Path of Building, but if you'd prefer to use a different option, the early leveling tree is here and the end of story tree is here.
Do keep in mind that these links do not have the ability to properly convert keystones with timeless jewels, so the Supreme Ego keystone is actually meant to be Chainbreaker, converted to that by a

Lethal Pride. Path of Building will accurately represent this, if you have the forked version – found here.
Early on, prioritize pathing through some life nodes over to the large trap and mine wheel on the right side of the tree, and grab Acrobatics and Phase Acrobatics as soon as possible in HC. Frenzy Charges will be worth investing into once you begin using

Charged Traps Support. Speaking of, the early links to use are as follows (in order of importance)
Use these links until you are high enough level to swap

Swift Assembly Support for

Cluster Traps Support. Once you can use it, also pick up a

Bear Trap to use on bosses, and a

Wave of Conviction to shred resistances. Early on, link the

Wave of Conviction to a

Added Fire Damage Support, and eventually link it to

Combustion Support as well. When you have these links, swap the main links for:
Again, these are in order of importance, so if you don't have a six-link feel free to drop the last link or two as needed. Once you have full Physical to Fire conversion (from your amulet and shield, see the gear page) drop the

Controlled Destruction Support for a

Fire Penetration Support – preferably a version of the gem, since that will provide corpse removal and maximum quality, which is a great defensive layer.
Alternatively, you could level with a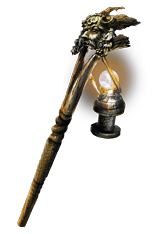 Nycta's Lantern. If you choose to do this, it will likely carry you through the whole story damage-wise after you're able to equip it, but you need to put your

Explosive Trap links in the weapon to get the benefit. That means we only get three links, so those should be
Explosive Trap
Cluster Traps Support
Added Fire Damage Support
If you do this, don't bother with Frenzy Charge investment until you swap over to a regular 5 or 6-link and have

Charged Traps Support. Speaking of

Charged Traps Support – you ideally want the version of it, since that gives you enough trap trigger radius to drop

Hair Trigger.
For reservations, use a

Herald of Ash and

Summon Skitterbots as soon as you can, in Act 2. A low level

Vitality is likely worth using for the life regeneration as well, but I wouldn't level it very much until you are later in the build and can solve Mana effectively with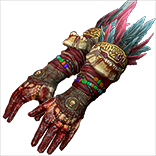 Slavedriver's Hand.
Early Gearing
I would suggest crafting a couple of Wands with the flat damage recipe at level 20.
If you're unfamiliar with how to do this, vendor a Magic Wand with a Rare

Sapphire Ring,

Ruby Ring, or

Topaz Ring and an a

Orb of Alteration. The kind of ring you use determines the kind of damage you get, so I would suggest using a

Ruby Ring so you get Fire Damage to spells. Save a couple essences or Alchemy Orbs you get so you can do this recipe, as it will provide quite a bit of early damage.
The next most important thing to smooth leveling is a good pair of movement speed boots, and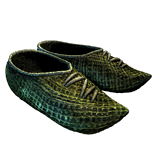 Wanderlust is your best bet here if you can get them. If not, I'd suggest using any good essences that provide a suffix on boots (if you don't need them for the aforementioned wand recipe) since rolling a suffix specifically doesn't eat a prefix mod that could have been movement speed, giving slightly better odds to hit it. That said, if all you got is greed essences or the like, go ahead and use them – just try your best to use whatever you got to get some MS boots. Pick up rares whenever they drop! They're your friend.
If you're in HC, respec Chaos resistance as you get into Act 7 and 8, as the Chaos Spitting enemies in later Act 7 can be quite nasty if you're sitting at negative 30. A good place to find this is with

Amethyst Rings from the vendor, though they don't sell them that commonly, so keep an eye out. A little bit of physical mitigation goes a long way as well, so pick up a

Basalt Flask in Act 7 from the quest just outside of town. I would normally recommend a

Granite Flask at this point, as it is more effective early on, but because we use Acrobatics, a

Granite Flask is not very effective.

Enduring Cry can work wonders in a boss fight as well, and binding

Steelskin to left mouse button is always a good idea while leveling in HC.
I'd swap off of dual wands and pick up a good Life and Resistance shield somewhere around Act 6, as that will be when you're most likely to need the added resistances, and damage investment elsewhere ought to keep you competitive DPS-wise. If you're already using the Berserk setup, or at the very least generating Rage, you can even begin using

Shield Charge now – especially if you've got

Charged Traps Support in your links and are getting frenzies.
Up until you are high enough level for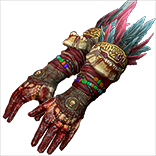 Slavedriver's Hand to be equipped, you'll be reliant on a Mana flask to solve your Mana problems. If this extends into early mapping because you don't have the gloves, I highly recommend taking the time to craft an Enduring

Eternal Mana Flask.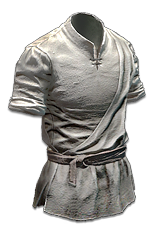 Tabula Rasa is an acceptable early body armour, but I wouldn't progress much past white/early yellow maps with it. You'll need the HP from a real Rare chest to safely move forward in HC from that point.
If you have any further questions about leveling, or the build in general, feel free to ask them!

Explosive Trap can be a little slow to start (in terms of clear) because as it levels it gains both radius and explosion count, which means that while you can use that to scale hard in the endgame, early it does have pretty minimal coverage. I've been pushing this one to 100 recently, so you can probably catch endgame gameplay if you stop by my stream while this guide is still fresh! You can also leave any questions you have here!