Infernal Blow Chieftain (Facebreaker) Passive Skill Tree & Gem Links
"This build is not updated for the current patch, but we have evaluated it and we consider it to still work as intended. You can try it out, but you may find slight differences between this guide and the current game state. Although viable, this build is not considered strong enough to be an optimal play choice during this league."
Passive tree
Here is the endgame passive skill tree for the Infernal Blow Chieftain. The main keystone notable we pick is Resolute Technique, which allows us to always hit;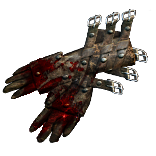 Facebreaker builds have Hit Chance problems in general, since you cannot scale Accuracy Rating efficiently via weapon passive nodes. We focus on picking a lot of Jewel sockets, since Abyssal Jewels are very powerful for this particular build. Beyond that, we focus on getting all the Endurance charges, maximum Life, Mana and Life leech. Weapon nodes do not scale our damage since we are Unarmed; Spiritual Aid and the minion nodes leading up to it are very point-efficient and provide good amount of damage, which applies to us.
Gems

Infernal Blow is your signature skill, which should ideally be used in a 6-Link. For mobility, use

Shield Charge and

Flame Dash.

Vaal Ancestral Warchief will provide a great amount of single target damage boost. For auras/buffs, you have several choices,

Anger provides good amount of flat Fire damage to Attacks. An even better and more balanced choice might be the combination of

Herald of Ash,

Herald of Purity and

Arctic Armour.
For all the gem links we provide below, keep in mind that we list the gems in order of priority (starting from the top left, going to the right on each row of the links), meaning that if you lack the required number of sockets to fit all the gems, the first ones to drop are the ones at the bottom (with the bottom right being the last). Also note that in-game, as long as the sockets are linked, it makes no difference at all what order the gems are placed in.
Infernal Blow (6-Link)

Infernal Blow is a melee skill, which detonates enemies upon killing them, which results in great clear speed. The skill also applies two debuffs, which allow you to also deal good single target damage. We recommend using two different links for single target and clearing.
For clearing, use the following link.
For single target, use the following link.
Vaal Ancestral Warchief (4-Link)

Vaal Ancestral Warchief will deal additional damage and will apply the

Combustion Support debuff on enemies, lowering their Fire resistance even further.
Shield Charge (4-Link)

Shield Charge is used in a universal 4-Link that is useful in many builds. Using

Blood Magic Support will allow you to charge around without having mana issues. Hitting enemies with Shield Charge will provide the Fortify effect for additional damage mitigation.
Other Gems

Flame Dash will allow you to jump over obstacles.

Blood Rage can be utilized for additional offence.

Enduring Cry will allow you to sustain Endurance charges when fighting single targets.

Flammability is an offensive curse that can be used against tough foes. A combination of

Anger,

Herald of Ash,

Herald of Purity and

Arctic Armour should be used.

Steelskin should be used for additional damage mitigation; considering you have reliable Endurance charge sustain you can also make a great use of

Immortal Call.