Pure Physical Spectral Shield Throw Deadeye Build Guide (PoE Blight 3.8)
Introduction
The Spectral Shield Throw Deadeye is a type of character that excels at reaching exceptional clear speed with the potential to also deal great amounts of single target damage. In this particular build guide, we focus on building around pure Physical damage in combination with strong Impale effect. Since we do not build around Critical Strikes, getting Resolute Technique is very efficient.
When it comes to survivability the build reaches a very respectable Life pool along with great amounts of Armour, which can result in more than 15k

Vaal Molten Shell.
Build Summary
Overall, the build can be very cheap to start and only requires the threshold jewel of the skill –

Divide and Conquer. Besides that, getting a decent Shield with respectable amount of Armour will carry your damage needs. Other item pieces can be well rolled rares, which allows you to play the build even in a SSF environment as long as you have the jewel.
Pros & Cons
Pros
+ Hardcore viable
+ Fast and satisfying clear speed
+ Great damage mitigation
+ Very few map mods you need to avoid
Cons
- Single target can feel clunky if the boss does not have any adds
Playstyle
Offensively, a single

Spectral Shield Throw will be enough to chain and kill the whole screen, even offscreen monsters sometimes. Keeping up

Blood Rage will ensure faster clear speed and more reliable Life Leech.

Shield Charge will allow you to move around extremely fast.
Defensively, keeping up defensive flasks like Granite and Basalt will result in even better Physical mitigation, capping you at 90% most of the time. Using

Vaal Molten Shell wisely can be Life-saving in certain situations, this skill can provide you with great amount of extra Life.
For playstyle, moving forward with

Shield Charge and throwing a single Shield should be enough to clear packs of nearby monsters. When you see incoming damage, make good use of Molten Shell or its Vaal version depending on the amount of incoming damage you are expecting. A non-linked

Ancestral Protector can be used for the additional Attack Speed multiplier. Keep in mind the build uses Point Blank, so staying near tough enemies when possible will ensure additional damage output.
Ascendancy, Passive tree, Bandits and Pantheons
Ascendancy (Ranger – Deadeye)
Gathering Winds
Far Shot
Ricochet
Powerful Precision
Gathering Winds multiplies your overall action speed depending on how fast you are using your skills; this can be a great speed boost overall (up to 20%).
Far Shot provides a bit of damage but is not that important, unfortunately it is unavoidable since we need to pick it on our way to Ricochet, which improves our damage potential by a great deal.
Powerful Precision smooths out the clearing of the build because only the secondary projectiles can pierce, which allows you to benefit from both the Chain and Pierce mechanics that this ascendancy class provides.
Passive tree
Here is an endgame version of the passive skill tree.
We scale the build's damage by picking up all the efficient Shield nodes along with keystones like Point Blank and Iron Grip. Besides that, the build easily achieves more than 200% increased Maximum Life from the passive tree, which is very respectable and will result in 6,5k+ Life when properly geared in the endgame. Resolute Technique is not recommended in the passive tree simply because we get this keystone from a corrupted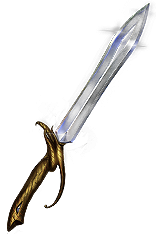 Prismatic Eclipse.
Bandits
The Act II quest Deal with the Bandits presents few character choices for us. Considering the build does not benefit from helping any specific bandit we choose to kill them all.
Pantheons
Major: Soul of Lunaris is a great Pantheon choice for the build, as it provides the important Movement Speed along with providing additional Physical damage mitigation. Prior to it using Soul of the Brine King can be very helpful if you are having problems with Stuns and Freezes.
Minor: Soul of Shakari – Poison immunity is always a good addition to a build. Other minor gods can be chosen depending on personal preference.
Pantheon powers can be upgraded by using Divine Vessel in the Map Device while you are activating the particular Map that contains the boss you need. Once you have killed the boss and captured his soul, you need to deliver the vessel to Sin in Oriath.
Gems

Spectral Shield Throw is your signature skill, which should ideally be used in a 6-Link. For mobility, you should use mainly

Shield Charge, and having

Leap Slam in order to jump over ledges can be helpful. We recommend a defensive buff setup like

Determination,

Arctic Armour and

Dread Banner, but you can improvise and use buffs based on your personal preference.

Ancestral Protector is used for the utility of the totem. A

Vaal Molten Shell is strongly recommended, it can also be used in combination with

Vaal Grace for extreme survivability boost.
For all the gem links we provide below, keep in mind that we list the gems in order of priority, meaning that if you lack the required number of sockets to fit all the gems, the first ones to drop are the ones at the bottom. Also note that in-game, as long as the sockets are linked, it makes no difference at all what order the gems are placed in.
Spectral Shield Throw (6-Link)

Spectral Shield Throw is a skill that allows you to scale your damage solely depending on the power of your Shield item piece. We aim to scale the added flat physical damage as much as possible by getting a Shield with as much Armour as possible. The skill's main projectile Chains and cannot Pierce, while the secondary projectiles can only Pierce and not Chain. We recommend two different gem links.
For clearing, use the following link.
For single target, use the following link.
Shield Charge (4-Link)

Shield Charge is your main mobility skill, which boosts your overall speed by a great amount; hitting enemies with it will provide the Fortify buff for additional damage mitigation.
Vaal Molten Shell (2-Link)

Vaal Molten Shell is a very powerful Guardian skill that should be manually used.
Vaal Molten Shell
Increased Duration Support
Other Gems
For buffs, we recommend keeping

Determination,

Flesh and Stone, and

Dread Banner active; other gems like

Herald of Purity,

Arctic Armour and

Pride can also be considered.

Blood Rage should be used for the additional damage it provides.

Ancestral Protector can be placed down when fighting tough enemies.

Leap Slam will allow you to jump over ledges.
Gearing
Capping your elemental resistances is essential and it should always be your top priority in any build; it should be the first thing you do when gearing up a character. Obtaining a 6-link, while very powerful and certainly recommended, can potentially be very expensive (requiring an average of 1500 Orbs of Fusing, obviously depending on your luck); as such, this should not really be a goal for you while gearing up, and you should instead settle for a 5-link until you have enough resources.
Helmet
A well rolled rare Helmet is best in slot. For labyrinth enchant, look for "Spectral Shield Throw fires 5 additional Shard Projectiles". The Rare Affix Priority is:
+#% total Elemental Resistances (until capped)
+# to maximum life (90)
% Increased Maximum life (Pristine Fossil)
Nearby Enemies take #% increased Physical Damage (Jagged Fossil)
# to Strength
Body Armour
A well rolled rare Body Armour is ideal, as it can act as a psuedo 7-Link. The Rare Affix Priority is:
+#% total Elemental Resistances (until capped)
+# to maximum life (100)
% Increased Maximum life (Elder mod, Pristine Fossil)
Socketed Gems are supported by Level 1 Maim (Serrated Fossil)
# to Strength
Gloves
Well rolled rare Gloves should be used; there are no particularly powerful unique ones. The Rare Affix Priority is:
+#% total Elemental Resistances (until capped)
+# to maximum life (60)
% Increased Attack speed
Adds # to # Physical damage to Attacks
# to Strength
Boots
Well rolled pair of Boots is best in slot. For labyrinth enchant, look for "% increased Attack and Cast Speed if you've Killed Recently". The Rare Affix Priority is:
+#% total Elemental Resistances (until capped)
+# to maximum life (80)
% increased Movement Speed (at least 20%)
# to Strength
Belt
A well rolled rare Belt can be very powerful for the build.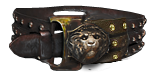 The Nomad is also a very good choice when it comes to unique Belts. The Rare Affix Priority is:
+#% total Elemental Resistances (until capped)
+# to maximum life (80)
% increased Global Physical Damage
# to Strength
Amulet
A well rolled rare Amulet is best in slot. The Rare Affix Priority is:
+#% total Elemental Resistances (until capped)
+# to maximum life (50)
Adds # to # Physical damage to Attacks
# to Strength
Rings
Well rolled

Steel Ring can provide a great amount of damage. Considering the build does not utilize any curses you can also use a Curse on Hit ring with Warlord's Mark for example. The Rare Affix Priority is:
+#% total Elemental Resistances (until capped)
+# to maximum life (50)
Adds # to # Physical damage to Attacks
# to Strength
Weapon
A corrupted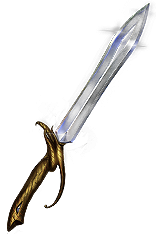 Prismatic Eclipse that provides Resolute Technique is best in slot for the build; this weapon should ideally also have 3 green sockets.

Ewar's Mirage can be used while leveling. Other than that the weapon slot can only be used to fill in resistance gaps and have better Attack Speed for your mobility skills.
Shield
Here we are looking for as much Armour as possible, other stats are not as important. A well rolled rare Shield with 2500+ Armour will be enough for you to deal with all the endgame content; using

Dense Fossils on item level 86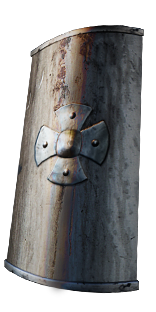 Colossal Tower Shield can result in a great shield for this purpose. While leveling, you can use unique shields like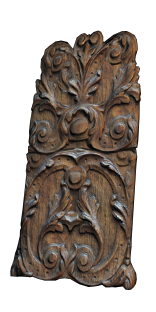 Trolltimber Spire and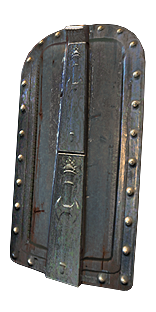 Titucius' Span.
Flasks
Instant or half instant Life flask is mandatory for the build. A

Quicksilver Flask can be utilized for the additional movement speed, but is not mandatory.

Rumi's Concoction will augment your Block Chance even further. Other utility flasks like

Basalt Flask,

Silver Flask, or any other based on content and personal preference can be used.
Note: Make sure to have bleed (Staunching) and freeze (Heat) immunity on your non-unique flasks.
Jewels

Divide and Conquer is a mandatory unique jewel for the build. Besides that, a

Watcher's Eye with

Pride or

Determination can provide a lot of power but can be very expensive.
Regular Jewel Affix Priority
% Increased Maximum life
% increased Physical Damage
% increased Projectile Damage
% increased Damage
% increased Attack Speed while holding a Shield
% increased Attack speed
Abyssal Jewel Affix Priority
Maximum life (at least 30)
% Chance to gain Onslaught on kill (at least 4%)
Adds # to # Physical Damage to Attacks
% chance to Blind Enemies on Hit with Attacks
Leveling
As a reminder, we have several guides to help you level up a character.
The character can be leveled by using

Spectral Shield Throw since level 12, having the threshold jewel and few unique high Armour Shields will ensure a smooth and easy leveling experience.
Leveling Trees
Here is an example of the early passive skill tree for the build. You can use the jewel socket located east from the Ranger starting area for

Divide and Conquer until you reach the Duelist starting area. Picking up Point Blank and Iron Grip in combination with all the Impale nodes will ensure you are dealing good amount of damage in order to get through the levelling content, then simply go to the Marauder starting area for more Life and Armour.
Useful Leveling Unique Items
As you begin a new character, there are few unique items that can boost your power exponentially.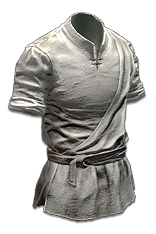 Tabula Rasa allows you to have a 6-Linked skill as early as you get the gems.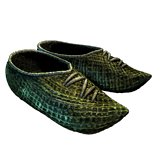 Wanderlust gives a decent movement speed, which will make your leveling that much more efficient.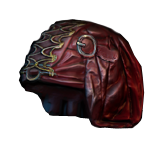 Goldrim provides a lot of elemental resistances, this will let you worry less about gearing when approaching certain Act encounters.
If you are a new player (or if this is your first character for the league), then note that obtaining these items will be very difficult, if not impossible. They are rare drops, which you can otherwise only acquire if you have saved up currency, so do not focus on them too much, and instead simply look for items that match the affix priorities listed in the gearing section above.
Gem Progression
Using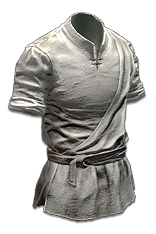 Tabula Rasa will allow you to have 6-Link gem setups early on, which is why we show such examples below. If you cannot get Tabula Rasa (or another item with a 6-Link), then simply prioritize the first gems in each link provided below.
In order to acquire gems that are not available to your class as a quest reward, simply ask a friend to buy them off vendors for you, or buy them yourself from Sioasa in The Library in Act III Library.
From level 1, you should use the following link.
Cleave
Onslaught Support
Ruthless Support
At level 4, pick

Ancestral Protector in order to improve single target damage output.

Dash will help out with the additional mobility it provides.
At level 10, you should add

Leap Slam for the additional mobility.
At level 12, you should drop

Cleave and start using your signature skill,

Spectral Shield Throw.
By level 18, your

Spectral Shield Throw link should look like this.
At level 24, you should add

Dread Banner and an aura based on your personal preference, we recommend using

Grace while levelling.
By level 38 your

Spectral Shield Throw link should look like this.
FAQ
Why Deadeye and are there any other viable ascendancy choices?
Deadeye provides an amazing balance between speed an overall offense for this particular build. Other ascendancy classes like Gladiator, Champion and Berserker can be played but they pretty much lock you into playing a pure physical version of the build, while the Deadeye has the potential to even do elemental conversion shenanigans if you have enough game knowledge and vast amounts of currency.
What map mods should be avoided?
Physical Reflect, No Regeneration and Cannot Leech are super nasty for the build, besides that everything else should be doable.
Conclusion
The Spectral Shield Throw Deadeye is a character that excels at rapid clearing by swiftly dealing great amounts of Physical damage. The build also achieves very satisfying amount of damage mitigation and great Life pool in order to feel safe for the endgame.