Toxic Rain Mines Saboteur Gear, Jewels, & Flasks
Gear
Bow
Itemization time! We'll start with the most important piece of gear – the bow.
Gem levels are incredibly powerful for pushing the DoT damage over

Toxic Rain, so it is the most important stat by far. A great option to get a starter bow is to farm either Desert Maps or The Foothills in Act 9 for

Imperial Legacy cards until you have a full set, and then

Orb of Alteration rolling it for "+2 to Socketed Bow Gems".
Farming these cards can take a while, so in trade league I would recommend buying them as they come up for cheap. 2-3

Chaos Orb per card is pretty reasonable in the early league, I find – and often as low as 1C each. You can also use a

Shrieking Essence of Dread (or higher) to guarantee the "+2 Bow Gems" on your bow, if you have access to one, but I generally find that Alteration-spamming into it is the cheaper option early league when high level Essences of Dread are a little expensive. Once you have "+2 Bow Gems", all you really need to do then for a great starter bow is bench craft on the highest Chaos Damage over Time Multiplier roll you can get, or find someone you trust who has unlocked a higher tier roll of Chaos DoT multi who can craft it for you. These two stats alone on a 6-link bow will carry you all the way to endgame red maps if you gear well elsewhere.
There are options to min-max further, of course, detailed in the gear graphics.
Body Armor
The body armor is the next most important slot, and I've chosen to go defensive here.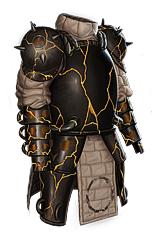 Kintsugi is extremely powerful defensively, offering a hell of a lot of mitigation alongside a good chunk of Evasion and some Life and Resistances to boot. It's very hard to beat, but not impossible in an extremely min-maxed version of the build.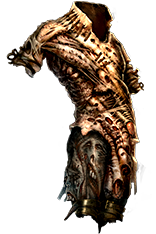 Carcass Jack is your offensive pick, but feels unnecessary to me. Grab it if you wanna go full on ham, though.
Quiver
Your quiver is going to be a Rare quiver, and a good spot to get life and resistances. Higher budget options can provide damage with Damage over time Multiplier and Chaos Damage over Time Multiplier. The base is fairly irrelevant, as none of the implicits on Quivers do much for the build.
Helmet
In the helmet slot, an Evasion based Rare helmet with some Life, resistances, and an open suffix to craft mine throwing speed is the baseline. If you can get one enchanted with an "Additional

Toxic Rain Projectile" enchant, you're golden. You can take it one step further with a helmet that has "Nearby Enemies have -# to Chaos Resistance" for the ultimate in hat technology.
Gloves
The gloves are fairly straightforward, and can be a simple pair of Life and resistance gloves in a budget version. Hunter-influenced gloves with Chaos DoT multiplier are great once you get some currency together. Finally, either Awakener orbing or corrupting for an extra maximum Frenzy Charge is the big big budget version. Use the highest Evasion glove base you can get, and don't bother with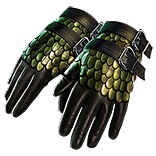 Gripped Gloves – while projectile damage does scale

Toxic Rain's DoT, projectile attack damage does not. An important distinction.
Boots
For your boots, you can start out pretty simply with a pair of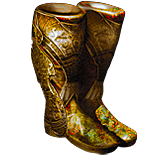 Atziri's Step. It's actually surprisingly hard to beat these when well rolled, and you'll want to run Uber Lab until you get a Mana regeneration boot enchant.
Amulet
The amulet slot is potentially extremely potent. Early on, a good Life roll and some stats/resistances will go a long way with a cheap anoint along for the ride. Later, you'll want to prioritize getting either "+1 Chaos gems" or "+1 Dexterity gems", – and eventually, both. You can even throw in Chaos Damage over Time multiplier if you're going full ham.
Rings
Your rings are gonna be fairly basic to begin with as well. You may be noticing a trend – there's a reason this build makes an excellent starter, as essentially every gear slot has pretty straightforward progression that starts from a very low budget option. You'll likely need Rings with resistence implicits to begin with in order to cap resistences, and you'll want to solve stat problems here as well. Minimum Endurance Charge crafts or flat Mana regen crafts are also excellent tools for solving physical mitigation and Mana recovery problems.
Once you've got something of a budget, aim for one of these rings to be a ring that curses enemies with

Despair on Hit – these rings can be created on Hunter bases, and can theoretically drop from nodes in Delve that "contain chaos items". You can simply use a self-cast Despair curse for bossing or a

Witchfire Brew flask until you have this ring. Eventually, use Essences of Envy on Catalyzed

Vermillion Rings in order to get some real nice endgame rings that push health and damage.
Belt
The belt slot is always going to be a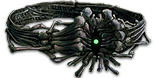 Stygian Vise, which can easily start off as simply Life + resistances. This is a great slot to fill out some Chaos Resistance; I often use Envy Essences to craft a bit of Chaos Resistance guaranteed and hope for other good mods, after using c

Prismatic Catalysts to push the Resistance value that little bit more.
A slightly higher budget option to go for is using

Shrieking Essence of Zeal to get trap + mine throwing speed, rolling until you have acceptable Life + resistances alongside it. Eventually, you can even use a

Hunter's Exalted Orb on a belt like this if it has an open prefix and full suffixes, with the hope of hitting 8-10% maximum Life as well.
Flasks
For flasks I recommend the following:
There should be a staunching roll, an "of Heat" roll and a "Warding" roll on your three utility flasks and your Life flask ought to be instant. Prefixes can be any good prefixes on your utility flasks, such as Chemist's, Perpetual, or Ample. The

Dying Sun can be replaced by a

Sulphur Flask on a lower budget version.
Jewels
There's a couple jewels to go over – generic Rare jewels which will be your starting option for the passive tree jewel slots can be as basic as "%# increased maximum Life" alongside a relevant damage mod or two. There are quite a lot of scalers for

Toxic Rain, but a couple common cheap ones include:
Area damage
Chaos damage
Damage over time
Projectile damage
Mine throwing speed is also very nice to get, and Chaos Damage over Time multiplier can be quite potent. Any combination of two of these mods alongside a Life roll is solid for the slot.
For your abyssal socket in the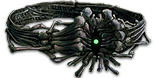 Stygian Vise, you'll want a Life roll and an "Onslaught on Kill" roll as your core. On kill effects generally don't work with mines, however there is a little strange quirk here – damage over time kills are always attributed to the player, so despite the

Toxic Rain kills being mine kills they still get attributed to you. Therefore, Onslaught and other on kill effects work just fine! To improve on this, look for a "Damage over Time while holding a two-hander" roll.
For high budget versions of the build, replace one of the rare jewels with a Watcher's Eye with "Damage over Time multiplier while affected by

Malevolence", and start corrupting jewels to get Corrupted Blood immunity as an implicit to make the Sirus fight easier.
That about does it for gear! Head back to the main guide page for leveling tips so you can take on Wraeclast and the perils within armed with some Toxic sabotage.