Bisco's Leash
Bisco's Leash is a unique Heavy Belt.
5% increased Quantity of Items found
+(20-40)% to Cold Resistance
1% increased Rarity of Items found per 15 Rampage Kills
Rampage
You were always there, by my side,
whether we sat or played.
Our friendship was a joyful ride,
I wish you could have stayed.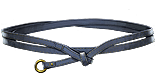 Affix will not be loaded due to item being Unique