Cospri's Will
Cospri's Will is a unique Assassin's Garb.
Requires Level 68, 183 Dex
3% increased Movement Speed
(120-160)% increased Evasion Rating
+(17-29)% to Chaos Resistance
You can apply an additional Curse
Your Hexes can affect Hexproof Enemies
60% chance to Poison on Hit against Cursed Enemies
Curse their vile Council,
They cast me aside as if I am some bastard child.
If they only knew the power I possess.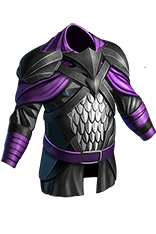 Affix will not be loaded due to item being Unique