Farrul's Pounce
Farrul's Pounce is a unique Hydrascale Gauntlets.
Armour 212
Evasion Rating 212
Requires Level 59, 45 Dex, 45 Str
(100-140)% increased Armour and Evasion
+(50-70) to maximum Life
+(400-500) to Accuracy against Bleeding Enemies
Attacks always inflict Bleeding while you have Cat's Stealth
(40-50)% increased Damage with Hits and Ailments against Bleeding Enemies
You have Crimson Dance while you have Cat's Stealth
A hungry beast wastes no energy.
Every strike, no matter how small, must work towards victory.
The First of the Plains teaches us
that the largest prey can still be whittled away.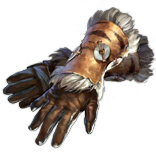 Affix will not be loaded due to item being Unique