Greed's Embrace
Greed's Embrace is a unique Golden Plate.
Requires Level 56, 106 Str
30% reduced Strength Requirement
(10-15)% increased Quantity of Items found
(30-50)% increased Rarity of Items found
-10% to Fire Resistance
+(20-30)% to Cold Resistance
-20% to Lightning Resistance
20% reduced Movement Speed
Some would question if the risk was worth it.
The rest were already dead.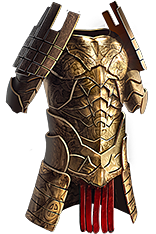 Affix will not be loaded due to item being Unique