Kingmaker
Kingmaker is a unique Despot Axe.
Two Handed Axe
Physical Damage (261-323)-(354-438)
Critical Strike Chance 6.5%
Attacks per Second (1.5-1.57)
Weapon Range 13
Requires Level 66, 86 Dex, 140 Str
(190-240)% increased Physical Damage
(7-12)% increased Attack Speed
(30-40)% increased Critical Strike Chance
Nearby Allies have 30% increased Item Rarity
Nearby Allies have Culling Strike
Insufficient Mana doesn't prevent your Melee Attacks
Nearby Allies have +50% to Critical Strike Multiplier
Nearby Allies have +10 Fortification
A King and his people are linked together
like a soul and a beating heart.
Both can be severed by a same edge,
then forged anew.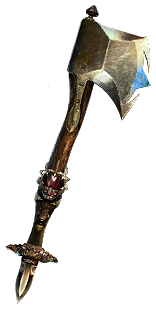 Affix will not be loaded due to item being Unique