Lochtonial Caress
Lochtonial Caress is a unique Iron Gauntlets.
(10-15)% increased Attack Speed
(10-15)% increased Cast Speed
+(20-30) to maximum Life
(10-15)% reduced maximum Mana
10% chance to gain a Power, Frenzy or Endurance Charge on Kill
Conduit
Why cling to your sanity? It offers you nothing.
Surrender to me, and I will grant you everything.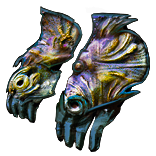 Affix will not be loaded due to item being Unique