Maloney's Mechanism
Maloney's Mechanism is a unique Ornate Quiver.
Has 2 Sockets
Trigger a Socketed Bow Skill when you Attack with a Bow, with a 1 second Cooldown
(7-12)% increased Attack Speed
+(50-70) to maximum Life
5% chance to Blind Enemies on Hit with Attacks
Midnight tinkering begets midday murdering;
a sinister shaft surreptitiously shot slays a scoundrel.
I will see them again, but not until my work is done.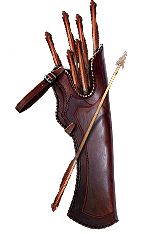 Affix will not be loaded due to item being Unique