Ondar's Clasp
Ondar's Clasp is a unique Wrapped Mitts.
Evasion Rating 11
Energy Shield 3
30% increased Attack Speed when on Full Life
Adds 1 to 13 Lightning Damage to Attacks
+(50-80) to Accuracy Rating
20% increased Movement Speed when on Low Life
A single lightning strike fells a man.
A single knife stroke fells an empire.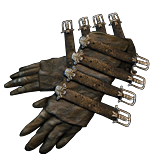 Affix will not be loaded due to item being Unique