Replica Nebulis
Replica Nebulis is a unique Void Sceptre.
Sceptre
Physical Damage 50-76
Critical Strike Chance 6.2%
Attacks per Second 1.25
Weapon Range 11
Requires Level 68, 122 Int, 104 Str
40% increased Elemental Damage
(15-21)% increased Cast Speed
(3-5)% increased Cold Damage per 1% Missing Cold Resistance
(3-5)% increased Fire Damage per 1% Missing Fire Resistance
"We could rival the gods with this power, if only we had the mitigating mechanisms
to make it work. A jewel, a talisman, an armour... or the Font..."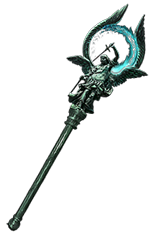 Affix will not be loaded due to item being Unique