Replica Soul Tether
Replica Soul Tether is a unique Cloth Belt.
(15-25)% increased Stun and Block Recovery
+(20-40) to Strength
Gain (4-6)% of Maximum Life as Extra Maximum Energy Shield
Corrupted Soul
"Curious. The test spike penetrated the subject's flesh, but the chest wound
was not as deep as expected. There is something here..."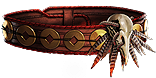 Affix will not be loaded due to item being Unique