Shiversting
Shiversting is a unique Bastard Sword.
Two Handed Sword
Physical Damage (31-39)-(52-67)
Elemental Damage 35-70
Critical Strike Chance 5.0%
Attacks per Second 1.45
Weapon Range 13
Requires Level 14, 30 Dex, 21 Str
60% increased Global Accuracy Rating
(80-100)% increased Physical Damage
Adds 35 to 70 Cold Damage
0.6% of Physical Attack Damage Leeched as Mana
Cannot be Frozen
Stoic visage, icy heart.
Life of sorrow, lived apart.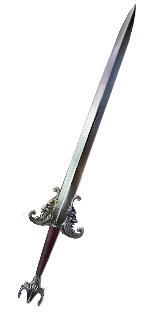 Affix will not be loaded due to item being Unique