Sin Trek
Sin Trek is a unique Stealth Boots.
Evasion Rating 396
Energy Shield 100
Requires Level 62, 117 Dex
+(20-30) to Dexterity
+(20-30) to Intelligence
(80-100)% increased Evasion Rating
+(100-150) to maximum Energy Shield
30% increased Movement Speed
Enemies Cannot Leech Life From you
Do not let them step on your feet. Keep them at bay.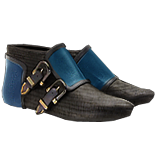 Affix will not be loaded due to item being Unique