Singularity
Singularity is a unique Platinum Sceptre.
Sceptre
Physical Damage 51-76
Critical Strike Chance 6.0%
Attacks per Second 1.25
Weapon Range 11
Requires Level 62, 113 Int, 113 Str
30% increased Elemental Damage
Adds (30-40) to (60-70) Lightning Damage to Spells
(14-18)% increased Cast Speed
(6-8)% reduced Mana Cost of Skills
Nearby Enemies are Hindered, with 25% reduced Movement Speed
(60-80)% increased Damage with Hits and Ailments against Hindered Enemies
In time, all becomes nothing.
We just expedite the process.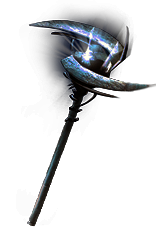 Affix will not be loaded due to item being Unique