Sinvicta's Mettle
Sinvicta's Mettle is a unique Ezomyte Axe.
Two Handed Axe
Physical Damage (209-245)-(314-369)
Critical Strike Chance 5.7%
Attacks per Second (1.46-1.51)
Weapon Range 13
Requires Level 62, 86 Dex, 140 Str
(140-152)% increased Physical Damage
(8-12)% increased Attack Speed
2% increased Area of Effect per 25 Rampage Kills
Gain a Frenzy Charge on every 50th Rampage Kill
Rampage
War is a thriving infection.
It numbs the heart and eats away at the soul
until only emptiness remains.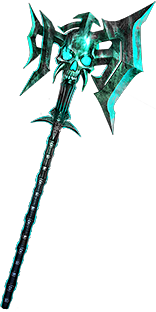 Affix will not be loaded due to item being Unique