Spine of the First Claimant
Spine of the First Claimant is a unique Iron Sceptre.
Spine of the First Claimant
Sceptre
Physical Damage (36-47)-(54-70)
Critical Strike Chance 6.0%
Attacks per Second (1.47-1.54)
Weapon Range 11
Requires Level 20, 38 Int, 38 Str
14% increased Elemental Damage
(100-140)% increased Physical Damage
40% increased Damage with Hits against Frozen Enemies
+(25-35)% to Cold Damage over Time Multiplier
(30-50)% increased Cold Damage
(5-10)% increased Attack Speed
(4-8)% increased Cast Speed
5% chance to Freeze
Thousands gazed upon the doors of the great labyrinth,
at an Eternal Champion in steel and gold,
The first to challenge its treacherous traps.
To mark the occasion, Izaro had the Champion's remains gilded.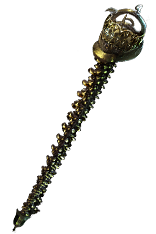 Affix will not be loaded due to item being Unique