The Harvest
The Harvest is a unique Jasper Chopper.
Two Handed Axe
Physical Damage (128-151)-(200-237)
Critical Strike Chance 5.0%
Attacks per Second 1.15
Weapon Range 13
Requires Level 37, 29 Dex, 100 Str
(120-140)% increased Physical Damage
1.2% of Damage Leeched as Life on Critical Strike
3% increased Global Critical Strike Chance per Level
Gain a Flask Charge when you deal a Critical Strike
Let it grow and gather inside them,
Let it flow through their veins.
Don't waste a drop.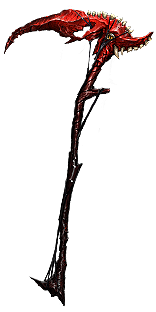 Affix will not be loaded due to item being Unique