Volkuur's Guidance (Fire)
Volkuur's Guidance (Fire) is a unique Zealot Gloves.
This item is one of 3 variants of Volkuur's Guidance alongside Volkuur's Guidance (Cold), Volkuur's Guidance (Lightning)
Armour 78
Energy Shield 16
Requires Level 43, 34 Int, 34 Str
+(50-70) to maximum Life
50% less Poison Duration
Adds (16-20) to (25-30) Fire Damage to Spells and Attacks
+(30-40)% to Fire Resistance
Your Fire Damage can Poison
Fire Skills have 20% chance to Poison on Hit
You do not cease to be when you die
any more than the caterpillar ceases to be when it cocoons.
Come, let me show you.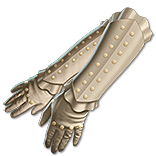 Volkuur's Guidance (Fire) Variants
Affix will not be loaded due to item being Unique