Herald of Agony / Rain of Arrows Occultist Build Guide (PoE Harvest 3.11)
About the Author
Furty has been playing Path of Exile since the release of the Onslaught League in 2013, and has a deep and diverse well of experience within the game. Equally comfortable playing on Hardcore, Softcore, and Solo-Self Found Leagues, recent ladder results include finishing at Rank 5 on the Legion SSF League playing

Essence Drain and the Betrayal League at Rank 186 playing

Elemental Hit. You can follow him on Twitter, or check out his occasional streams on Twitch.
Guide Format
This build guide is split over multiple pages, both to prevent it from getting too long, as well as to help you better find the information you are looking for. In addition to the current page, which presents general information about the build and also contains a Leveling and FAQ section, we have the following pages:
Introduction

Herald of Agony is a remarkable and unique Aura skill that was released in Patch 3.4: Delve, and quickly became one of the most powerful and dominant skills to build around in the metagame. Whenever you poison an enemy under the influence of this aura, you summon an Agony Crawler minion, and you gain stacks of Virulence. You can only have a single Agony Crawler active, but it gains significant amounts of damage and attack speed for every stack of Virulence you have active. If you run out of stacks, the Agony Crawler will despawn. Virulence cannot exceed 40 stacks.
In addition to the Agony Crawler, the exile also gains additional chance to poison as well as additional poison damage. As you might expect, the ability to inflict high amounts of poison per second to many targets is hugely advantageous for this build, which is why we will use

Rain of Arrows as the trigger for our

Herald of Agony. Not only can this spell hit the same target multiple times, but it has a good range, rate of fire, and does not require any special positioning or aim.
This build is intended to be a late-game monster, sporting tens of thousands of Energy Shield and millions of DPS, giving it the power and defenses to simply flatten whatever challenges lie ahead. Perhaps even more attractively, it functions perfectly fine as a league starter, and has a very smooth investment path into the late-game. This makes it an excellent choice for fresh leagues or late-league luxuries, and it is entirely viable in Solo Self-Found.
Build Assessment
The best available gear for this build is very expensive, however, as this build can easily clear Uber Elder with self found magic/rare gear, we have elected not to list that under the "Cons" section.
Pros
+ Absurd Defenses (15-20k Energy Shield)
+ Top tier Shaper damage (4-8 Million DPS)
+ Viable on all Leagues; Hardcore, SSF, Softcore
+ Triple curse setup (buffed in Synthesis)
+ Can kill Uber Elder in literal blue/magic gear
+ All Map Mods without any effort
+ Excellent league starter, even better league finisher
+ Ranged/bow playstyle
+ Any content in the game is possible
Cons
– Proximity shields are difficult to deal with and can put you in awkward situations
– Playstyle may not suit everyone
Playstyle
This build will suit players who enjoy fast-paced ranged builds, and especially those who enjoy bow-based styles of play. Though

Herald of Agony deals the vast majority of our damage, the main skill we will be casting to trigger the poison and Virulence stacks will be

Rain of Arrows, which will constitute the major "feel" portion of this version of the build. In some respects, this makes the build similar to a

Cast On Critical Strike Support build, with the main skill directing the playstyle. Similar to an iceberg, Rain of Arrows only comprises the "tip" of the damage, which is followed by a massive deluge of fury and damage once the Agony Crawler starts firing.
Part of the strength of this build is the lack of "trade-off" that it involves when it comes to the handshake between offense and defense. Bow-builds are speedy, maneuverable, and give the player a great degree of control of their positioning, which feels great on some of the spookier bosses. Many of the game's most defensively capable builds are immobile, requiring the player to stand in place while casting their abilities, or forcing them to stand within melee range to deal damage. Our

Herald of Agony Occultist takes the best parts of both archetypes, remaining light on its fight while still sporting thousands upon thousand of Energy Shield in case you get caught by a big spike of damage. Unlike the majority of minion and totem builds, the Agony Crawler is not affected by enemy damage, and cannot be randomly damaged or killed by difficult opponents. The result is a build that takes the best parts of several archetypes without carrying over any of the disadvantages.
The faster you move through the map, the faster you will clear with this build. This is due to your Virulence stacks, which fall off over time. Efficient movement around the area you are attempting to clear results in a higher average amount of stacks, which directly translates into more damage and faster clear. Playstyle itself is not terribly complicated; simply run through the map casting

Rain of Arrows on enemies. Your Agony Crawler will clean up everything in your wake, leave you free to focus on optimizing other parts of your gameplay, such as flask uptime, positioning, and map routing. Proper use of

Convocation is one of the main optimizations to managing your clear speed and Virulence stacks.
Skill Trees
This is our recommended Level 100 Passive Skill Tree.

For more details on the Passive Tree, skill acquisition order, and more, be sure to check out the Passive Skill Tree page for in-depth information.
Gems
We go over all of the gem links this build uses in the end-game on our Gem Link page.
Ascendancy, Bandits, and Pantheon
Our Ascendancy, Bandit, and Pantheon Powers page goes into detail about all the choices you need to make in these regards.
Gear Summary / TL;DR
These items strike a balance between power and cost-effectiveness. If you want to explore more options for Gear (both budget and high-end), Flasks, or get more information on alternatives and specialty items, please ensure you read the Gear, Jewels, and Flasks page thoroughly.
For in-depth recommendations for gear, flasks, jewels, and crafting advice be sure to read our Gear, Jewels, and Flasks page.
Leveling
As a reminder, we have several guides to help you level up a character.
We recommend starting with

Freezing Pulse, which works well with

Lifesprig if you have one. Once you are Level 12, and enter the Cavern of Wrath, pick up

Storm Brand from Nessa and start using it as your main clearing skill.
In order of priority, the Storm Brand links are:
If you are using a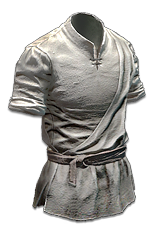 Tabula Rasa, simply fill in the other gem sockets with whatever supports are available from the vendors until you reach Act II.
You can switch to

Herald of Agony as early as level 18 (Act II). You will need a bow, and two 3-Links. Simply link

Rain of Arrows to

Poison Support and

Faster Attacks Support, then link

Herald of Agony to

Minion Damage Support and

Minion Speed Support. This should already be more than enough damage to clear Labyrinth straight away and deal with any bosses.
Start filling out your other links as you acquire more gear and items. Feel free to use the end-game recommended links as soon as possible if you have leveling gear to assist you.
Do not respec to Chaos Innoculation until after you are certain you have the gear and Resistances to support it. In most cases, we recommend waiting until the 70s or 80s before making the switch.
Leveling Trees
FAQ
What Annointment Should I Use for my Amulet?
Gravepact: A very strong choice for damage.
Spiritual Command: Adds additional attack speed to both you and your minion and feels very smooth.
How Do I Get 20k+ Energy Shield?
Unfortunately, the answer is as simple as "get better gear". These "GG" level pieces can be very expensive, and some may even require

Mirror of Kalandra service to obtain. The good news, however, is that such items are entirely unnecessary for this build to roll over anything and everything, and reaching such high heights is more of an illustration of what is possible than a reasonable standard to aim for.
Are There Any Map Mods I Should Avoid?
This build can do every Map Mod with no issues, so there's no need to concern yourself with anything other than Quantity bonus.
The Sextant mods that adds "More Monsters that Deal Physical Damage" should also be avoided, as it usually adds many additional monsters with proximity shields, which are a pain to deal with and can be occasionally dangerous in tighter quarters.