Low-Life Righteous Fire Guardian Build Guide (PoE Blight 3.8)
Introduction

Righteous Fire has been a popular skill for a long time. The skill essentially degenerates player's life and energy shield pool in order to create a burning circle around the character. Righteous Fire has a decent clear speed along with the potential to kill all endgame bosses. The Low-Life Righteous Fire Guardian is a character that specializes in stacking heavy amounts of Energy Shield, Life regeneration that transitions to Energy Shield and a good amount of Maximum Resistances. This is achieved by running strong auras in combination with the Guardian ascendancy class, which provides great perks when you reserve your mana and life.
The build achieves extreme amounts of Energy Shield, Armour and Maximum Resistances, which allows you to land smooth and safe kills on endgame bosses. The build is also not recommended for beginner players, since it requires some game knowledge and specific items and gem setups in order to work.
Build Summary
The Low-Life

Righteous Fire Guardian requires few specific items in order to work. Every Low-Life build needs to somehow mitigate Chaos damage, as otherwise it will easily kill you since you have very little life. To prevent Chaos damage from bypassing your Energy Shield you need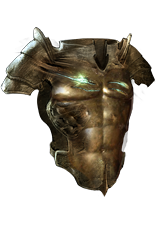 Solaris Lorica,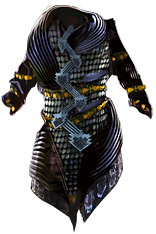 Shavronne's Wrappings, or

Coruscating Elixir. We also need to deal with being stun-locked, and for this we will need

Eye of Chayula early on, and

Presence of Chayula as an endgame amulet.
The build can get pricey later on, but all you need in order to get started is a simple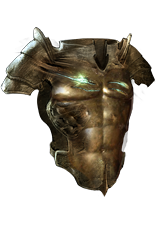 Solaris Lorica,

Eye of Chayula, and preferably a crafted Shield with "% Reduced Damage Taken From Damage Over Time".
Pros & Cons
Pros
+ Hardcore viable
+ Great for boss killing
+ One of the tankiest builds available
+ Decent clear speed
Cons
- Not recommended for new players
- Cannot be played since the beginning of the game; requires respecing
Playstyle
Offensively, standing near enemies is necessary, since

Righteous Fire deals damage in an area around you. Once the enemies are in your burning area and take damage, you can lower their resistances via

Scorching Ray.

Orb of Storms has two purposes – lowering enemies' resistances via Elemental Equilibrium and triggering Elemental Overload.

Shield Charge will allow you to move around quickly.
Defensively, you mostly rely on your extreme defense and damage mitigation in combination with immense amount of life regeneration in order to survive. Running all the elemental purities, along with Discipline and Vitality will give you everything you need in order to stay safe.
For Playstyle, when you active Righteous Fire you simply run into packs of monsters, they should die in a second from the burning effect. If you encounter stronger foes you should drop down an Orb of Storms and start channelling Scorching Ray. For defense, you should focus on one big thing – the Time of Need ascendancy node. This ascendancy node will heal 30% of your life pool every 5 seconds, which will allow you to step back when you get hit hard and recover the damage taken.
Ascendancy, Passive Tree, Bandits, and Pantheons
Ascendancy (Templar – Guardian)
Time of Need
Radiant Faith
Unwavering Faith
Bastion of Hope
Time of Need provides a great life recovery mechanic, which you can depend on in sticky situations. Radiant Faith is another very strong ascendancy node; it provides a lot of Energy Shield and Armour to you depending how much mana and life you've reserved. Unwavering Faith provides a decent amount of physical mitigation and life regeneration, both of which are very useful for the build. Bastion of Hope basically provides a great amount of Block Chance.
Passive Tree
This is the endgame passive skill tree.
The build focuses on picking up huge amount of life regeneration, which is converted to Energy Shield regeneration via the Zealot's Oath passive keystone node. Elemental Overload and Elemental Equilibrium increase your damage potential by a great deal. All the aura nodes are picked in order to allow you to reserve 5 auras, which are also empowered by the aura effectiveness nodes.
Bandits
Considering the build does not benefit from helping any specific bandit, we choose to kill them all in Act II.
Pantheons
Major: Soul of Arakaali is a great choice when it comes to major Pantheons.
Minor: There are many valuable minor Pantheons; Soul of Shakari's Poison Immunity is a great choice for the build.
Pantheon powers can be upgraded by using Divine Vessel in the Map Device while you are activating the particular Map that contains the boss you need. Once you've killed the boss and captured his soul, you need to deliver the vessel to Sin in Oriath.
Gems

Vaal Righteous Fire is the build's signature skill, which should ideally be used in a 6-Link. For mobility, use

Shield Charge and

Flame Dash. For additional single target damage, you should use

Scorching Ray and

Orb of Storms. The auras that the build runs should be specifically linked in different gem setups in order for the build to work.
For all the gem links we provide below, keep in mind that we list the gems in order of priority (starting from the top left, going to the right on each row of the links), meaning that if you lack the required number of sockets to fit all the gems, the first ones to drop are the ones at the bottom (with the bottom right being the last). Also note that in-game, as long as the sockets are linked, it makes no difference at all what order the gems are placed in.
Righteous Fire (6-Link)

Vaal Righteous Fire is a skill that creates a burning aura around your character. In order to improve your single target damage output, you can use the vaal version of the skill. We recommend two different links for both clearing and single target.
For clearing, use the following link.
For single target, use the following link.
Scorching Ray (4-Link)

Scorching Ray is a channelling skill that stacks a debuff on the target, which lowers their Fire resistance.
Auras
Two of the elemental purities need to be active in combination with

Blood Magic Support, once you have an

Enlighten Support level 4. Before that you can run

Discipline on your life instead. Down below we will provide an example of the ideal endgame gem setup you would want to run.
Purities
Discipline and Vitality
Discipline
Vitality
Enlighten Support
You would ideally socket your

Purity of Fire into an

Unset Ring that provides additional gem levels.
Shield Charge (3-Link)

Shield Charge is the build's main mobility skill. If you hit enemies with the skill you will get the Fortify buff for a short duration.
Shield Charge
Fortify Support
Faster Attacks Support
Other Gems

Flame Dash will provide additional mobility when you need to jump over map terrain.

Orb of Storms should be dropped on the ground near tough enemies in order to increase your single target damage potential. You can utilize

Vaal Molten Shell very well due to the amount of Armour you can achieve with the build.
Gearing
Capping your elemental resistances is essential and it should always be your top priority in any build; it should be the first thing you do when gearing up a character. Obtaining a 6-link, while very powerful and certainly recommended, can potentially be very expensive (requiring an average of 1500 Orbs of Fusing, obviously depending on your luck); as such, this should not really be a goal for you while gearing up, and you should instead settle for a 5-link until you have enough resources. Ideally, you would want to get two important endgame items –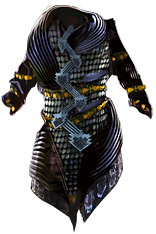 Shavronne's Wrappings and

Presence of Chayula. Besides that the most expensive thing you will have to purchase is level 3 or 4

Enlighten Support.
Helmet
A well rolled rare Energy Shield base is best in slot. For enchant, you would want to look for "% reduced Discipline Mana Reservation". The Rare Affix priority is:
+#% total Elemental Resistance (until capped)
Energy Shield (at least 300)
Nearby Enemies Have -9% to Fire Resistance ( Scorched Fossil)
Body Armour
If you are on a budget, you will be forced to use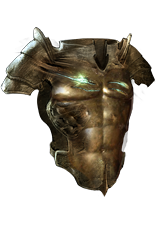 Solaris Lorica. For endgame, you should look to buy a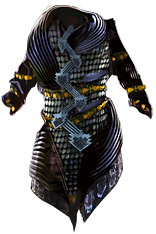 Shavronne's Wrappings. Since the Body Armour is build-enabling for the build, we will not recommend any Rare Affix priority.
Gloves
A well rolled rare Energy Shield base gloves are best in slot. The Rare Affix priority is:
+#% total Elemental Resistance (until capped)
Energy Shield (at least 120)
Boots
A well rolled Energy Shield base boots are best in slot.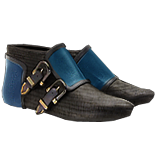 Sin Trek and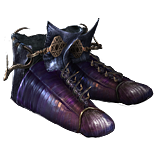 Steppan Eard are both a good choice for the build. For enchant, look for "Regenerate #% of Life and Mana per second if you were hit recently". The Rare Affix priority is:
+#% total Elemental Resistance (until capped)
Energy Shield (at least 120)
% increased Movement speed (at least 25%)
Belt
A well rolled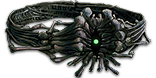 Stygian Vise is best in slot. The Rare Affix priority is:
+#% total Elemental Resistance (until capped)
Energy Shield
Grants level 20 Aspect of the Spider
% increased Energy Shield from Body Armour ( Dense Fossil)
Amulet
The budget amulet for the build is

Eye of Chayula, which will prevent you being stun-locked. Its upgraded version,

Presence of Chayula will provide a lot of energy shield, but this amulet is very pricey.
Rings
Two decently rolled

Unset Rings can be used if you are socket-starved, if not you will need just one. The Rare Affix priority is:
+#% total Elemental Resistance (until capped)
+# to Levels of Socketed Gems (for Purity of Fire)
% Increased Maximum Energy Shield (crafted via crafting bench)
Flat Energy Shield
Added Cold or Lightning damage to attacks (will allow you to trigger Elemental Equilibrium with your Shield Charge)
Weapon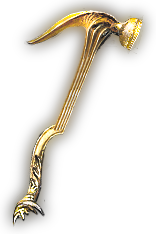 Brightbeak is a cheap weapon that will carry you a long way.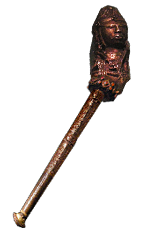 Doryani's Catalyst provides a lot of elemental damage, which scales your Righteous Fire damage.
Shield
A well rolled rare Energy Shield base is best in slot. The Rare Affix priority is:
% Reduced Damage Taken from Damage Over Time (crafted via crafting bench)
+#% total Elemental Resistance (until capped)
Energy Shield (at least 350)
Flasks
Ruby flask will reduce the damage you take from Righteous Fire even further. Sulphur flask provides additional damage and life regeneration.

Rumi's Concoction helps you cap your Block Chance and provides a good amount of flat Armour.

Witchfire Brew provides a lot of damage over time, which helps out with your damage output. For the last flask slot you can choose between many utility flasks, we recommend Quicksilver for mobility, or Basalt, Topaz or Sapphire for defence. Make sure you have Freeze, Bleed and Curse immunity flasks.
Jewels
The build can make use of some expensive unique jewels.

Energy From Within can be used in two jewel slot on the passive skill tree. A

Watcher's Eye with the "% increased Energy Shield Recovery Rate while affected by Discipline" can be very beneficial for the build. Besides that you should focus on regular rare jewels.
Rare Regular Jewel Affix Priority
% Increased Energy Shield
% Increased Burning Damage
% Increased Fire Damage
% Increased Damage over Time
% Increased Damage
% Increased Area damage
Rare Abyssal Jewel Affix Priority
Energy shield (at least 35)
% Chance to gain Onslaught for 4 seconds on Kill
% Increased Damage Over Time While Holding Shield
% Increased Damage if You've Killed Recently
Leveling
As a reminder, we have several guides to help you level up a character.
The Low-Life Righteous Fire Guardian should be leveled with a strong leveling spell such as

Storm Brand. You can respec into Low-Life RF even before maps, as long as you have the required gear.
Leveling Trees
This is an example of a leveling passive skill tree for using

Storm Brand. You can level with any skill you prefer, just make sure you do not spec into too many nodes that you will have to respec later.
Useful Leveling Unique Items
As you begin a new character, there are few unique items that can boost your power exponentially.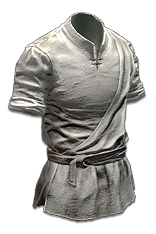 Tabula Rasa allows you to have a 6-Linked skill as early as you get the gems.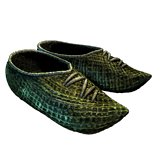 Wanderlust gives a decent movement speed, which will make your leveling that much more efficient.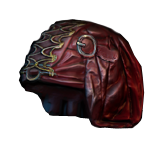 Goldrim provides a lot of elemental resistances, this will let you worry less about gearing when approaching certain Act encounters.
If you are a new player (or if this is your first character for the league), then note that obtaining these items will be very difficult, if not impossible. They are rare drops, which you can otherwise only acquire if you have saved up currency, so do not focus on them too much, and instead simply look for items that match the affix priorities listed in the gearing section above.
Gem Progression
Using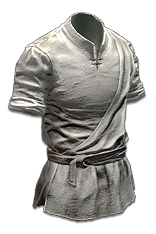 Tabula Rasa will allow you to have 6-Link gem setups early on, which is why we show such examples below. If you cannot get Tabula Rasa (or another item with a 6-Link), then simply prioritize the first gems in each link provided below.
In order to acquire gems that are not available to your class as a quest reward, simply ask a friend to buy them off vendors for you, or buy them yourself from Sioasa in The Library in Act III Library.
From level 1, you should use the following link.
Freezing Pulse
Onslaught Support
At level 4, you can add

Frost Bomb for additional single target damage.

War Banner can be picked for the Adrenaline buff it provides for a short duration when dropped.
At level 10, you should add

Flame Dash for additional mobility.
At level 12, you should replace your
Freezing Pulse with

Storm Brand.
Storm Brand
Onslaught Support
Added Lightning Damage Support
By level 18, your

Storm Brand link should look like this.
At level 28, you should add the following

Lightning Spire Trap link, which will greatly augment you single target damage output.
FAQ
What map mods are impossible to do?
The build cannot do no regeneration maps. You should be fine with less regeneration maps in most cases, but it still might feel kind of clunky.
What is the very least the build needs in terms of a budget in order to get started?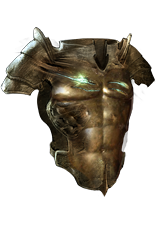 Solaris Lorica and

Eye of Chayula are mandatory. As long as you have decently leveled gems you can choose to not run one of the purities (Ice or Lightning), which will save you a lot of money on

Enlighten Support. Getting a Shield with the crafted mod "% Reduced Damage Taken from Damage Over Time" is also important early on. To start the build you do not need a huge amount of currency, but to improve it you will.
Conclusion
The Low-Life Righteous Fire Guardian is a very strong endgame boss killer. It does require some game knowledge and gear investment in order to get started. This build is not recommended for beginner players.