The Cleave Ascendant Build Guide (PoE Delirium 3.10)
"This build is not updated for the current patch, but we have evaluated it and we consider it to still work as intended. You can try it out, but you may find slight differences between this guide and the current game state. Although viable, this build is not considered strong enough to be an optimal play choice during this league."
Guide Format
This build guide is split over multiple pages, both to prevent it from getting too long, as well as to help you better find the information you are looking for. In addition to the current page, which presents general information about the build and also contains a Leveling and FAQ section, we have the following pages:
Introduction
With the death of stat-sticks in Patch 3.5, people are forced to play "true" dual-wielding builds.

Cleave is one of the best skills for this purpose. Attacking with two fast Swords allows us to build around critical strikes. Swords are chosen because they are arguably the best one-handed weapon when it comes to critical strike-based builds. Ascendant's over leech from Slayer and the additional toughness and damage from Juggernaut make a great combination. This is one of the builds that does not require specific items and can be played as a league starter.
Build Summary
The great thing about

Cleave is that you can use it since level 1. Combining the damage from two rare one-handed weapons will carry you through the content, as long as you replace weapons every 5-10 levels. The threshold jewel is a reward from The Act V quest, has a limit of 2, and is very useful. It basically provides free Fortify effect and increases the area of effect by a considerable amount. When it comes to mapping, two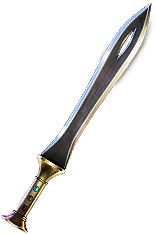 Scaeva,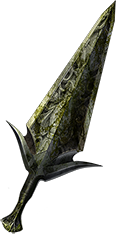 Ahn's Might,

Dreadbeak, or any rare Swords with at least 300 pDPS will carry you until red maps with ease.
Pros & Cons
Pros
+ Hardcore viable
+ Great clear speed
+ Can be played on a budget
+ Amazing endgame scaling with gear
+ Cleave also has very respectable single target damage
+ Great survivability via over leech mechanic and great life pool
Cons
- Dies to elemental reflect
- Melee builds might not appeal to some
Playstyle
Offensively, keeping up

Blood Rage is important. Moving around with

Whirling Blades and one-shotting packs of monsters with single

Cleave multistrike is what the offensive playstyle is all about. Big chucks of cold criticals, due to the fact you are using

Hatred, will shatter and freeze enemies. Keeping

Summon Ice Golem alive is nice for the additional accuracy and critical chance.
Defensively, the over leech mechanic remains unchanged. Due to how powerful it can be defensively, we focus on building a huge life pool while also having enough damage to instantly leech it. The additional endurance charge generation from Juggernaut will give us 2-3 seconds of physical damage immunity via the

Cast when Damage Taken Support and

Immortal Call gem setup.
For Playstyle, entering a new zone you have to keep in mind that you cannot regenerate life. Hit few monsters in order to store some over leech before you activate Blood Rage. Once you've got you leech up, you are ready to go aggressive, single multistrike of should be enough to kill a pack of monsters. For additional single target damage you should drop down your charged

Dread Banner and an

Ancestral Warchief totem. You should use Whirling Blades all the time, due to your high attack speed this is more efficient than running around for mobility.
Passive tree
This is an endgame version of the passive skill tree.
For more information, be sure to check out the passive skill tree page.
Ascendancy, Bandits, and Pantheons
Our Ascendancy, Bandit, and Pantheon Power page goes into detail about all the choices you need to make in these regards.
Gems
We go over all of the gem links this build uses in the end-game on our Gem Link page.
Gear Summary / TL;DR
These items provide a good balance between offense and defense and are enough to deal with the endgame, although there is definitely a room for improvement. Please ensure you read the Gear, Jewels and Flasks page in its entirety.
Leveling
As a reminder, we have several guides to help you level up a character.
Leveling as

Cleave is easy. Keep in mind that the gem gains radius with gem levels, so in the beginning the area of effect will be much smaller compared to the endgame. You can always level with some other skill and switch to Cleave later on if you want to.
Leveling Trees
Early on, focus on having around 300 life per Act. For example, if you are in Act 6, you should have approximately 1800 life. If you have enough life, simply pick up some more damage nodes nearby.
First head to Marauder and pick all the life and damage nodes, then go through the Duelist area and get the Leech nodes before you have the Slayer Ascendancy.
Useful leveling unique items
As you begin a new character there are few unique items that can boost your power exponentially.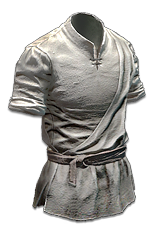 Tabula Rasa allows you to have a 6-Linked skill as early as you get the gems.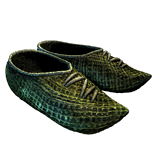 Wanderlust gives a decent movement speed, which will make your leveling that much more efficient.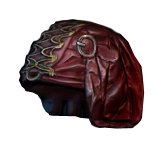 Goldrim provides a lot of elemental resistances, this will let you worry less about gearing when approaching certain Act encounters.

Redbeak and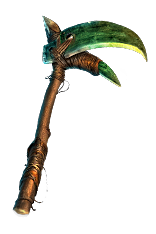 The Screaming Eagle provide great amount of damage which can easily carry you up to Act IV.
Gem Progression
Using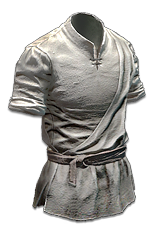 Tabula Rasa will allow you to have 6-Link gem setups early on, which is why we show such examples below. If you cannot get Tabula Rasa (or another item with a 6-Link), then simply prioritize the first gems in each link provided below.
In order to acquire gems that are not available to your class as a quest reward, simply ask a friend to buy them off vendors for you, or buy them yourself from Sioasa in The Library in Act III Library.
From level 1, you should use the following link.
Cleave
Onslaught Support
Ruthless Support
At level 4, pick

Ancestral Protector in order to improve single target damage output.
By level 8 your

Cleave link should look like this:
At level 10, you can pick

Leap Slam, which at this point is more useful than

Whirling Blades, since you do not have enough attack speed yet.
At level 16, you should add

Herald of Purity.
By level 18 your

Cleave gem setup should look like this:
At level 24, you should add

Hatred for additional damage.
At level 28, replace

Ancestral Protector with

Vaal Ancestral Warchief for additional damage output. If you have the links you can have the following gem setup for it.
At level 38, your

Cleave link should look like this. Keep in mind this is a leveling gem setup that is meant to give most damage while leveling and should be replaced by the superior endgame gem setup mentioned in the Gem section above.
FAQ
The build has no life regeneration, what do I do when I try to run Labyrinths?
When running Labyrinths you can simply on an

Orb of Regret and take out Vaal Pact. Once you are done with the Labyrinth you can put it back in.
How much Critical Chance is needed for a build to be relevant?
In every critical-based build anything above than 35% is considered enough. Remember that you also roll this chance twice with your Diamond Flask.
Conclusion
The Cleave Ascendant is a pretty straight forward build, easy to get into. If you have played any

Blade Flurry or

Reave Ascendant before, this is a pretty similar build, but definitely more powerful now. This is because of the changes made to stat-sticks. The Cleave Ascendant is overall very solid, durable and versatile build, that can start from scratch and farm its way up to absolute endgame. It also does not lack in any type of content.