The Cleave Ascendant Build Guide (PoE Blight 3.8)
Introduction
With the death of stat-sticks in Patch 3.5, people are forced to play "true" dual-wielding builds.

Cleave is one of the best skills for this purpose. Attacking with two fast Swords allows us to build around critical strikes. Swords are chosen because they are arguably the best one-handed weapon when it comes to critical strike-based builds. Ascendant's over leech from Slayer and the additional toughness and damage from Juggernaut make a great combination. This is one of the builds that does not require specific items and can be played as a league starter.
Build Summary
The great thing about

Cleave is that you can use it since level 1. Combining the damage from two rare one-handed weapons will carry you through the content, as long as you replace weapons every 5-10 levels. The threshold jewel is a reward from The Act V quest, has a limit of 2, and is very useful. It basically provides free Fortify effect and increases the area of effect by a considerable amount. When it comes to mapping, two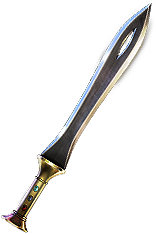 Scaeva,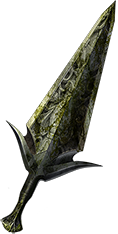 Ahn's Might,

Dreadbeak, or any rare Swords with at least 300 pDPS will carry you until red maps with ease.
Pros & Cons
Pros
+ Hardcore viable
+ Great clear speed
+ Can be played on a budget
+ Amazing endgame scaling with gear
+ Cleave also has very respectable single target damage
+ Great survivability via over leech mechanic and great life pool
Cons
- Dies to elemental reflect
- Melee builds might not appeal to some
Playstyle
Offensively, keeping up

Blood Rage is important. Moving around with

Whirling Blades and one-shotting packs of monsters with single

Cleave multistrike is what the offensive playstyle is all about. Big chucks of cold criticals, due to the fact you are using

Hatred, will shatter and freeze enemies. Keeping

Summon Ice Golem alive is nice for the additional accuracy and critical chance.
Defensively, the over leech mechanic remains unchanged. Due to how powerful it can be defensively, we focus on building a huge life pool while also having enough damage to instantly leech it. The additional endurance charge generation from Juggernaut will give us 2-3 seconds of physical damage immunity via the

Cast when Damage Taken Support and

Immortal Call gem setup.
For Playstyle, entering a new zone you have to keep in mind that you cannot regenerate life. Hit few monsters in order to store some over leech before you activate Blood Rage. Once you've got you leech up, you are ready to go aggressive, single multistrike of should be enough to kill a pack of monsters. For additional single target damage you should drop down your charged

Dread Banner and an

Ancestral Warchief totem. You should use Whirling Blades all the time, due to your high attack speed this is more efficient than running around for mobility.
Ascendancy, Passive Tree, Bandits, and Pantheons
Ascendancy (Scion – Ascendant)
Passive point
Slayer Ascendancy
Juggernaut Ascendancy
Path of the Marauder
Heading to Duelist is the first thing we have to do. Keep in mind that all you get is a passive skill point so you can skip normal labyrinth early on and do it right before you are ready for the cruel difficulty. Ascending into Slayer allows us to start benefiting from the over leech mechanics. It also makes us immune to physical reflect and gives some area of effect. The Juggernaut provides stun and chill immunity, along with the Endurance Charge generation. The 1000 Accuracy Rating makes the transition to critical strikes very easy. Path of the Marauder allows us to start from the Marauder's starting point on the passive skill tree which saves us some passive points.
Passive tree
Pick all the sword/one-handed/dual-wielding nodes before you start transitioning to critical strikes. Having around 4k life is what you should aim for by the end of Act 10 (level 68+). If you do not have that amount of life simply pick up some more life nodes on the passive skill tree.
This is an endgame version of the passive skill tree.
Note: For leveling passive skill trees prior to this one check out the leveling section of the build.
Bandits
For this specific build we should help Alira in Act II. The critical multiplier and 15% all elemental resistances are stronger than the 2 passive skill points.
Pantheons
Major: Soul of Arakaali is a solid Major Pantheon choice, others can also be used based on personal preference.
Minor: Ralakesh makes you immune to blind and maim when upgraded; in general this is the best minor god choice.
Gems
The build's main skill is

Cleave. For mobility

Whirling Blades is the ideal choice, due to the build's fast attack speed.

Blood Rage is used for the additional attack speed and leech it provides, along with the very handy Frenzy charge generation mechanic. Both

Hatred and

Herald of Purity should be active at all times for the great amount of damage they provide.

Dread Banner allows you to utilize the Impale mechanic for additional damage.
For all the gem links we provide below, keep in mind that we list the gems in order of priority (starting from the top left, going to the right on each row of the links), meaning that if you lack the required number of sockets to fit all the gems, the first ones to drop are the ones at the bottom (with the bottom right being the last). Also note that in-game, as long as the sockets are linked, it makes no difference at all what order the gems are placed in.
Cleave (6-Link)

Cleave is the build's signature ability. We recommend one 6-Link that works well for both clearing or single target purposes.
Cleave
Melee Physical Damage Support
Multistrike Support
Ruthless Support
Damage on Full Life Support
Pulverise
Whirling Blades (3-Link)

Whirling Blades will let you move around quickly, due to your fast attack speed.
Whirling Blades
Faster Attacks Support
Blood Magic Support
Immortal Call and Enfeeble (4-Link)
Both

Immortal Call and

Enfeeble will provide additional layers of defence to the build when triggered by

Cast when Damage Taken Support. All of the three gems mentioned above should be kept at level requirement of 40, while

Increased Duration Support can be levelled up to level 20.
Hatred and Herald of Purity

Hatred is an aura that grants percent of physical damage as extra cold damage.

Herald of Purity is used for the additional flat amount of physical damage it adds to attacks. Both gems should not be linked with any support gems.
Blood Rage

Blood Rage adds great offensive benefits to most attack builds. The downside of the gem is the physical degeneration effect, which is easily countered by the over leech mechanic, which you have by ascending into Slayer.
War Banner
This banner should be active while clearing easy packs of monsters. Drop

War Banner on the ground for the Adrenaline buff effect when fighting tougher foes, then press the banner button to pick it up and have it active again. This banner should not be linked with any support gems.
Other gems

Vaal Ancestral Warchief can be used for the additional more damage multiplier if you have free sockets for it.

Enduring Cry provides additional defence when needed.

Summon Ice Golem is useful for the additional Critical Chance and Accuracy Rating. The Precision aura can also be considered a viable mana reservation option.
Gearing
Capping your elemental resistances is essential and it should always be your top priority in any build; it should be the first thing you do when gearing up a character. Obtaining a 6-link, while very powerful and certainly recommended, can potentially be very expensive (requiring an average of 1500 Orbs of Fusing, obviously depending on your luck); as such, this should not really be a goal for you while gearing up, and you should instead settle for a 5-link until you have enough resources. For survivability you should have gear with more life in general, along with levels in order to scale your life-pool through the life nodes on the passive skill tree. You should be able to reach 7,5k+ life when properly geared around level 90.
Helmet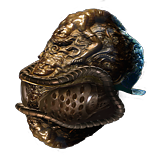 Abyssus provides an insane amount of damage but makes you very squishy. Other unique helmets are not really worth considering. Best helmet choice overall is a well rolled high armour-base. Any

Cleave helmet enchant is useful, but the attack speed is best of all. The Rare Affix priority is:
+#% total Elemental Resistances
+# to maximum life (50)
% Increased Maximum life ( Pristine Fossil)
# to Intelligence
# to Armour
Body armour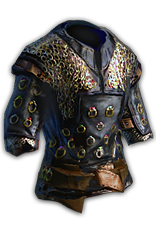 Loreweave and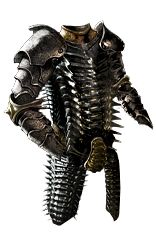 Belly of the Beast are both great choices. An Elder chest piece with additional critical strike chance and life is also a very good option. The Rare Affix priority is:
+#% total Elemental Resistances
+# to maximum life (100)
% Increased Maximum life (Elder mod, Pristine Fossil)
Attacks have #% to critical strike chance (Elder mod, can only roll on Elder-based Body Armours)
Socketed Gems are supported by Level 1 Maim ( Serrated Fossil)
Gloves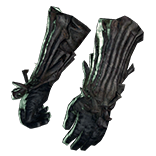 Tombfist work well for the build,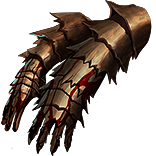 Haemophilia can be used for clear speed improvement. If you are struggling with your critical chance,
Oskarm is a great choice. Very good rare Gripped Gloves should be the best in slot when it comes to this gear slot. The Rare Affix priority is:
+#% total Elemental Resistances
+# to maximum life (60)
% Increased Attack speed
Adds # to # Physical damage to Attacks
# to Accuracy (at least 200-250)
Boots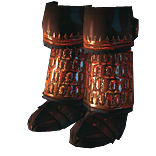 Kaom's Roots is best in slot. Try to enchant them with 16% attack speed if you have killed recently. Prior to these, use rare boots with life and resists. The Rare Affix priority is:
+#% total Elemental Resistances
+# to maximum life (80)
% increased Movement speed (optional)
Belt
Rare belt is best in slot for the build, look for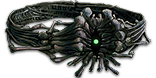 Stygian Vise if possible. The Rare Affix priority is:
+#% total Elemental Resistances
+# to maximum life (80)
% increased Elemental Damage with Attack Skills (at least 25%)
Amulet

Carnage Heart is a decent choice while you are progressing with gear. It gets outclassed by a well rolled rare amulet. The Rare Affix priority is:
+#% total Elemental Resistances
+# to maximum life (60)
Adds # to # Physical damage to Attacks
% increased Elemental Damage with Attack Skills (at least 25%)
% to Global Critical Multiplier
% Increased Critical Strike Chance
# to Accuracy (at least 250)
Rings
Resists should not be a problem, this is why the best choice is Steel Rings. The Rare Affix priority is:
+#% total Elemental Resistances
+# to maximum life (50)
Adds # to # Physical damage to Attacks
% increased Elemental Damage with Attack Skills (at least 25%)
# to Accuracy (at least 250)
Weapons
Use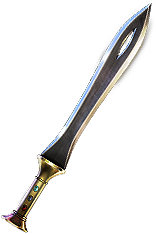 Scaeva ,

Dreadbeak and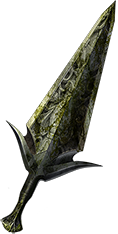 Ahn's Might until you manage to buy or craft decent rapiers with at least 300 pDPS.
Flasks
Instant or half instant Life flask is mandatory for the build. Diamond flask is also mandatory in order to improve critical chance substantially.

Atziri's Promise ,

Lion's Roar and

Taste of Hate are all great choices both in offensive and defensive aspects. Basalt flask or any other utility flask is a good choice.
Note: Make sure to have bleed and freeze immunity on your non-unique flasks.
Jewels

Overwhelming Odds is mandatory for the build. Make sure to place jewel in a slots where it has at least 40 Strength in the radius. This Strength does not have to be allocated!
In other jewel slots it is recommended to have abyssal jewels with chance to gain Onslaught and Unholy Might on kill. Regular rare jewels are also very beneficial for the build.

Watcher's Eye with

Hatred mods will substantially increase damage but will cost multiple exalts.
Regular Jewel Affix Priority
% Increased Maximum life
% increased Attack speed
% increased Physical damage with swords/ while dual wielding
% increased Area damage
% to Global Critical multiplier
Abyssal Jewel Affix Priority
Maximum life (at least 35)
% Chance to gain Onslaught on kill (at least 4%)
% Chance to gain Unholy Might on kill
% increased Attack speed
Leveling
As a reminder, we have several guides to help you level up a character.
Leveling as

Cleave is easy. Keep in mind that the gem gains radius with gem levels, so in the beginning the area of effect will be much smaller compared to the endgame. You can always level with some other skill and switch to Cleave later on if you want to.
Leveling Trees
Early on, focus on having around 300 life per Act. For example, if you are in Act 6, you should have approximately 1800 life. If you have enough life, simply pick up some more damage nodes nearby.
First head to Marauder and pick all the life and damage nodes, then go through the Duelist area and get the leech nodes before you have the Slayer Ascendancy.
You should transition to critical around level 70-75.
Useful leveling unique items
As you begin a new character there are few unique items that can boost your power exponentially.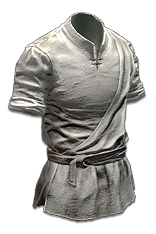 Tabula Rasa allows you to have a 6-Linked skill as early as you get the gems.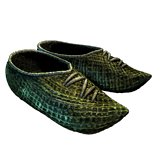 Wanderlust gives a decent movement speed, which will make your leveling that much more efficient.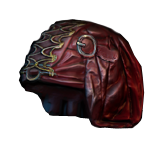 Goldrim provides a lot of elemental resistances, this will let you worry less about gearing when approaching certain Act encounters.

Redbeak and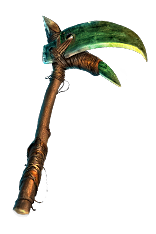 The Screaming Eagle provide great amount of damage which can easily carry you up to Act IV.
Gem Progression
Using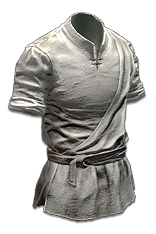 Tabula Rasa will allow you to have 6-Link gem setups early on, which is why we show such examples below. If you cannot get Tabula Rasa (or another item with a 6-Link), then simply prioritize the first gems in each link provided below.
In order to acquire gems that are not available to your class as a quest reward, simply ask a friend to buy them off vendors for you, or buy them yourself from Sioasa in The Library in Act III Library.
From level 1, you should use the following link.
Cleave
Onslaught Support
Ruthless Support
At level 4, pick

Ancestral Protector in order to improve single target damage output.
By level 8 your

Cleave link should look like this:
At level 10, you can pick

Leap Slam, which at this point is more useful than

Whirling Blades, since you do not have enough attack speed yet.
At level 16, you should add

Herald of Purity.
By level 18 your

Cleave gem setup should look like this:
At level 24, you should add

Hatred for additional damage.
At level 28, replace

Ancestral Protector with

Vaal Ancestral Warchief for additional damage output. If you have the links you can have the following gem setup for it.
At level 38, your

Cleave link should look like this. Keep in mind this is a leveling gem setup that is meant to give most damage while leveling and should be replaced by the superior endgame gem setup mentioned in the Gem section above.
FAQ
The build has no life regeneration, what do I do when I try to run Labyrinths?
When running Labyrinths you can simply on an

Orb of Regret and take out Vaal Pact. Once you are done with the Labyrinth you can put it back in.
How much Critical Chance is needed for a build to be relevant?
In every critical-based build anything above than 35% is considered enough. Remember that you also roll this chance twice with your Diamond Flask.
Conclusion
The Cleave Ascendant is a pretty straight forward build, easy to get into. If you have played any

Blade Flurry or

Reave Ascendant before, this is a pretty similar build, but definitely more powerful now. This is because of the changes made to stat-sticks. The Cleave Ascendant is overall very solid, durable and versatile build, that can start from scratch and farm its way up to absolute endgame. It also does not lack in any type of content.