Tornado Shot Raider Build Guide (PoE Blight 3.8)
About the Author
Furty has been playing Path of Exile since the release of the Onslaught League in 2013, and has a deep and diverse well of experience within the game. Equally comfortable playing on Hardcore, Softcore, and Solo-Self Found Leagues, recent ladder results include finishing at Rank 5 on the Legion SSF League playing

Essence Drain and the Betrayal League at Rank 186 playing

Elemental Hit. You can follow him on Twitter, or check out his occasional streams on Twitch.
Introduction

Tornado Shot is one of the fastest and most prolific builds to ever grace Wraeclast's shores. This is an ability that can clear . Anything that survives the initial salvo is quickly mopped up by

Mirage Archer Support — this streetsweeper ensures you never have to look back.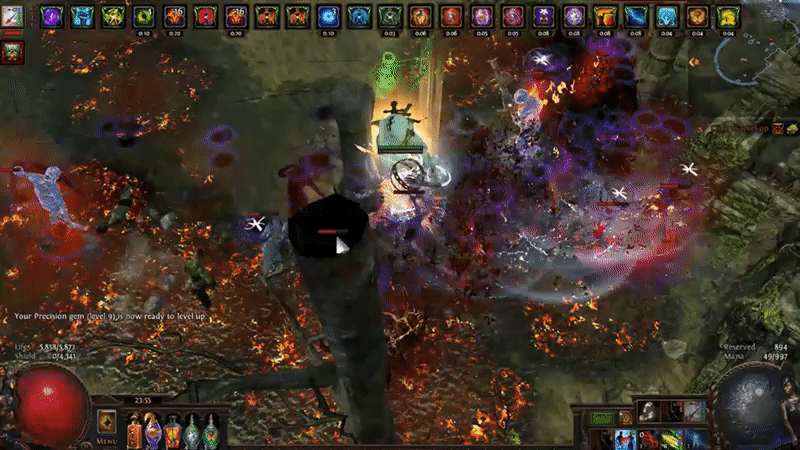 Tornado Shot is most famously played as the Deadeye ascendancy. Deadeye is light and speedy and kicks into the end-game faster than the other two Ranger ascendancies, immediately boosting your clear with high impact bonuses like chaining and additional projectiles. The Deadeye variant is well known for being an exceptional Magic Find build, and is commonly set up as a currency farmer.
Check out the classic Deadeye version in our Tornado Shot Deadeye Build Guide.
So if Deadeye is so popular and prolific, what does Raider offer to entice?
For starters, Raider is a . If you want to play your

Tornado Shot build to the highest levels and find a compromise between strong damage and magic find, the Raider is a competitive option that can even outpace the Deadeye in many situations.
Extreme movement speed, virtually permanent phasing, immunity to elemental ailments, and 7 Frenzy Charges allow this build to run wild through any map. Additionally, you have superior boss damage with Raider, which gives this version more of an "all-rounder" feel if you have the urge to hunt Shaper or Uber Elder on the side.
Build Assessment
Pros
+ Phenomenal clear speed (arguably one of the fastest builds in Path of Exile) — clears multiple screens of enemies with one click
+ Flexible gear set-ups — can easily be reconfigured to Magic Find if you prefer
+ Stronger late game than Deadeye and deals with bosses better
+ Long ranged build and very safe, particularly in the hands of seasoned players
+ Satisfying "screen shatter" with Herald of Ice
Weaknesses
– Weaker than Deadeye in low/moderate gear
– Expensive end-game build
–

Tornado Shot is a scaling ability — without investment and levels it is not powerful
Playstyle and Build Mechanics

Tornado Shot is a hugely popular skill for good reason. It is truly the "shotgun" of Path of Exile, firing off tens of projectiles at a time that cover multiple screens. Anything that is not immediately wiped out by this mass coverage is typically dealt with by shatter-chains caused by

Herald of Ice. Should anything remain standing, the

Mirage Archer Support cleans up the remains.
So what kind of playstyle does this create? A fast "fire-and-forget" style of bow build that likes to move quickly. Players who want to zip through maps as fast as possible will be the ones to truly appreciate and unlock the potential this build contains, pushing some of the highest experience rates possible without any cheesy mechanics or systems to rely on.
In most maps you will fire a single

Tornado Shot at the first pack you see and immediately

Blink Arrow towards the next one. Keeping your flasks up does a lot for this build; some of the potent unique options, such as

Dying Sun, can nearly double your entire damage output when active. Keeping the

Quicksilver Flask active at all times also helps facilitate even more dizzying clear speeds.
Cycling your chosen Vaal Auras, such as

Vaal Grace or

Vaal Haste, can further boost your damage, clear, and survivability. In proper end-game gear, virtually all your additional gem links are optional. If you decide to use Abyss items, such as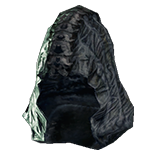 Lightpoacher and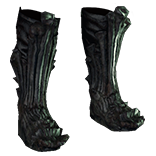 Bubonic Trail, you will have fewer options for additional luxury links, but higher damage potential. If you are utilizing items with traditional sockets you will have access to a few luxury links to kit out your build, such as curses or

Power Charge On Critical Support.
Where to Aim Tornado Shot

Tornado Shot should be aimed to land . This results in the most possible projectiles converging on a single position and conferring the maximum damage to a single area. Aiming

Tornado Shot is — unlike many builds, your aim actually has a massive influence over your damage output. First time players of

Tornado Shot will notice a huge difference in their damage by the time they become seasoned veterans.
Passive Skill Tree
This is our recommended Level 100 Passive Skill Tree.
Like most

Tornado Shot builds, the pathing of this tree is very flexible and can be adjusted to suit your needs. For example, if you find yourself wanting more tank value, consider stopping at Blood Drinker on the upper part of the tree, instead of continuing up through Resourcefulness. The points can then be allocated to path through Master of the Arena and up into the Constitution wheel, offer a large amount of extra Life.
Jewel sockets are low priority, unless you already have excellent Jewels ready to be socketed. You will want

Inspired Learning in the lower right part of the tree when it becomes an option for you. If you are using a lot of uniques and need more Elemental Resistances, drop the Acuity notable wheel in favor of Survivalist instead. This can also just be done for the additional defenses, as Acuity is not a fantastic notable if your accuracy is already high from

Precision.
Acrobatics can be acquired whenever it feels necessary. Typically we recommend picking this up in the latter half of the game, around the time you are looking to do Cruel Labyrinth. You will want to snap up all the Critical Strike nodes you can as you are leveling up — Lethality, King of the Hill, and Assassination are all exceptional notables to get your damage online as soon as possible.
Disciple of the Slaughter is optional and relatively low priority. It actually provides competitive damage per point across the five points invested to similar late game nodes, but until you actually acquire the notable (5% increased damage per Frenzy charge) itself most of the impact is non-existent.
in the bottom right part of the tree, otherwise you will encounter issues sustaining your damage. Bow builds occasionally hit power troughs where you have a heavy Mana expenditure due to reaching your 6-Link, but you do not yet have enough scaling to support the drain on 10% Leech alone. If this is the case for your exile, and put two points into Mind Drinker on the upper part of the tree instead. Once your damage improves, you can swap the configuration back.
Point Blank
Point Blank is an optional choice for

Tornado Shot builds, and many players fall on both sides of preference. If you are not sure how you feel about Point Blank in this build, here are some very general rules of thumb:
Point Blank is a better choice for single-target damage
Playing without Point Blank offers better clear
Point Blank can be an asset very early on if you are struggling to kill bosses and rares
Overall, the power of Point Blank has its ups and downs depending on your gear. In very low gear levels, you may have an easier time dealing with Rares and Bosses. In mid range gear it is more of a matter of preference, as your clear will usually be noticeably quicker without it once Rares are no longer an issue, but your boss damage will suffer without it.
In end-game gear (30-35

Exalted Orbs invested or more) the balance usually swings back towards Point Blank, as your

Tornado Shot should still be instantly killing everything, even at long range with the damage reduction. This will give you more damage to fight bosses without experiencing the typically reduction in clear speed.
Gems

Tornado Shot is our main skill and our only required 6-Link for the build, comprising virtually all of our damage for both single-target and clear. If you are opting to use a second 6-Link, you can also incorporate a

Barrage link to support your single target damage. With nerfs to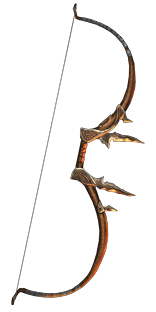 Chin Sol, however,

Tornado Shot is typically more single target damage in end-game gear regardless, so this is more of an early or mid-gear alternative.
Here are the recommended end-game links for

Tornado Shot, in order of priority.
The sixth link is relatively flexible and can be adjusted to suit your needs.

Lightning Penetration Support is a powerful choice if you are doing a lot of boss killing on the side, and

Increased Critical Strikes Support and

Added Cold Damage Support are both superior choices when you are starting out with low gear.
If you opt to incorporate

Barrage, you should set it up as a secondary 5/6-link that's primary purpose is single target damage.
If you are using

Barrage you — or a corrupted quiver (such as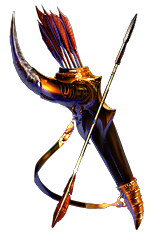 Drillneck with a Point Blank implicit — for it to be at all effective.
Auras 4-Link
This is the only required 4-Link in the build.
We the aura components of the chosen Vaal skill (

Grace or

Haste); only the "active" Vaal skill is to be used.
*

Precision should be kept at a level that leaves you with enough Mana to comfortably use

Tornado Shot but keeps your Accuracy rating at or very close to 100%.
Defensive Aura Alternative
If you are looking to reach Level 100 and want to give yourself the best possible chance, consider using this setup instead. We drop

Wrath in favor of more Evasion and safety:
This leaves you with 17% unreserved Mana, allowing you to also fit

Dread Banner into another link (ensure it is not linked to any support gems).

Dread Banner causes nearby enemies to have 21% reduced Accuracy at maximum level, which functions as pseudo-avoidance in addition to the huge boost from

Grace.
For maximum damage we keep

Herald of Ice in its own link, where it can procure additional buffs and damage for us. If you are opting to use the Defensive Aura Setup, you can repurpose this link for any number of setups, including golems,

Cast when Damage Taken Support defensive curses,

Dread Banner, and so on.
If you are using more than one 2 Abyssal Socket items (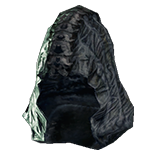 Lightpoacher and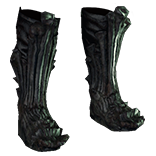 Bubonic Trail) this will be a 2-Link:
Herald of Ice
Innervate Support
If you have room for a second 4-Link in addition to the

Wrath 4-Link, add these 2 gems to the link:
Curse On Hit Support
Assassin's Mark
A simple mobility link and the best one for the build.
Blink Arrow
Faster Attacks Support
Instead of 4-linking your

Herald of Ice, you can also opt to have a separate 2-Link within the same item (2× 2-links) utilizing

Cast when Damage Taken Support and a guard skill of choice
Cast when Damage Taken Support (Level 1)
Immortal Call (Level 3)
Other Links
As we touched on above, depending on what gear you are using you may have more or less links to play with. You can use these however you feel best supports your current power level —

Tornado Shot's scaling coupled with the vastly differing defenses you might have based on your items make it difficult to give a definitive recommendation.
Our Recommendations
Based on the gear used in the Gear Summary / TL;DR section, we advise using the following links from the section above:
If you are pushing for 100, we highly recommend swapping to the Defensive Aura Alternative setup and incorporating

Dread Banner for maximum chance of survival.
Ascendancy, Bandits, and Pantheon
Ascendancy
Way of the Poacher
Avatar of the Slaughter
Quartz Infusion
Avatar of the Veil
Additional Information
Way of the Poacher gives you organic Frenzy charge generation and is a generally strong leveling choice, since most of the other Raider benefits require Frenzy Charges to be useful. It also opens the way to the most important Ascendancy node, or at least the most iconic one., and adds an additional Frenzy Charge.
Avatar of the Slaughter is the quintessential Raider ascendancy keystone, granting attack and movement speed per Frenzy Charge. By the time we have reached the end-game, this is 21% additional Movement Speed and Attack Speed, as well as 56% Increased Evasion and Attack Damage.
Quartz Infusion is essential to providing permanent Phasing during clear, which adds a lot of safety. A fantastic node for delving as well, where phasing is virtually essential, as well as providing a large injection of Elemental Damage.
Avatar of the Veil adds more movement speed, damage, and while phasing, which is all the time (we having phasing at maximum Frenzy Charges, and Way of the Poacher ensures we always do). The reduction to enemy Resistances and Accuracy is massively beneficial and not to be underestimated.
Deal with the Bandits Reward
Either or — either choice is fine and both are very similar. We prefer the Passive Points in the end-game, however, if you cannot make good use of them (ideally for an additional Jewel slot) then they quickly lose value. Alira is a nice choice earlier in the league as it also provides additional Resistances.
Pantheon
Major Gods
Soul of Solaris remains one of the supreme choices for defense when properly upgraded, preventing crit chains against your character and reducing rogue-wave elemental damage.
Soul of Lunaris is an option for a little extra movement speed.
Minor Gods
Soul of Gruthkul is the best choice if you have not upgraded any of your Pantheon.
Soul of Shakari is recommended once you have upgraded it to provide Poison immunity.
Gear Summary / TL;DR
These items strike a balance between power and cost-effectiveness. If you want to explore more options for Gear (both budget and high-end), Flasks, or get more information on alternatives and specialty items, please ensure you read the Gear, Jewels, and Flasks section in its entirety.
End-Game / Standard
Example end game gear:
Magic Find
We will not cover this gear in-depth in the Gear section, as it is already described in detail in our Tornado Shot Deadeye Build Guide, while this guide aims to present a more potent end-game version of the skill.
Example Magic Find Gear:
This table is provided as reference, should you wish to set up your Raider this way — not only is it very viable, but it provides comparable clear speed. In some cases, you may want to mix-and match some of the Magic Find gear. For example, you can use

Ventor's Gamble and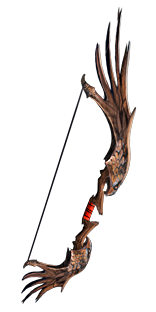 Windripper in combination with end-game gear for a pretty nice quantity bonus that is still survivable and powerful.
Gear, Jewels, and Flasks
Armour
Chest
Kaom's Heart is the clear winner for this build in the end-game if gaining experience is important to you. If you can afford a Corrupted version with the 40-50% Increased Damage, this chest is unbeatable. Even without the Constitution wheel on the Passive Skill tree you can easily get upwards of 7000 Life with
Kaom's Heart. Combined with your Ascendancy, Evasion, and Phase Acrobatics, your exile becomes very elusive and beefy to match.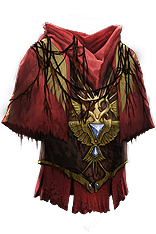 Queen of the Forest is the best option for flat out clear speed. It is possible to reach Level 100 using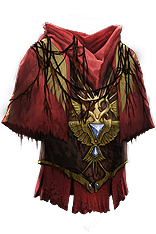 Queen of the Forest, and experienced

Tornado Shot players will sometimes option to use this chest instead when farming Shaped maps due to the sheer clear speed and high Evasion it offers. The extra gem slots are not extraordinarly useful, which is partly why
Kaom's Heart is so attractive, but the discerning exile can put them to good use.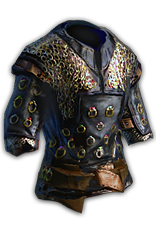 Loreweave strikes a balance between damage and defense, but since this build is not exactly designed for boss hunting there is no real reason to recommend this as a default choice. It provides great damage, but less clear speed than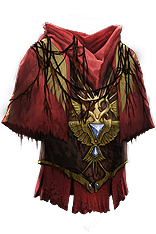 Queen of the Forest and less defense than
Kaom's Heart. On paper it is a very attractive choice, but it sits in a slightly awkward spot where the only great way of utilizing its strengths is for dealing with bosses like The Shaper.
Helmet
In most cases you will want to seek out a Rare helmet with the relevant enchant and craft it yourself to save on cost.
:

Tornado Shot fires 2 additional projectiles.
This enchantment is non-negotiable; it is one of the most important parts of the build. While it is not required right when you start mapping, it is a very high priority as one of your first major upgrades. An explanation of why extra projectiles matter so much is provided in the FAQ.
Prioritize affixes on your helmet as follows:
[Uncapped] Elemental Resistances
+# to Maximum Life
+# to Intelligence
% Increased Evasion/Armour/Energy Shield
+# to Evasion/Armour/Energy Shield
Rare Helms can be easily crafted with

Pristine Fossils.
There are also a few Unique options that are quite attractive. Bear in mind that enchants for popular Uniques are usually far more expensive:
Lightpoacher (2 sockets) is the absolute best possible helmet, however, only with perfect Abyss jewels. Enchanted versions are often unrealistically expensive, and for that reason this helmet is rarely used despite its potential.
Starkonja's Head is the de-facto all around Unique helmet for Critical Strike stacking builds, with solid defense and a nice Critical Strike bonus. The Dexterity roll is not very useful for this build, but it is a great helmet regardless.
Devoto's Devotion is the best possible option for pure clear speed and the ideal choice if you are just farming the same Shaped map over and over. This item is best combined with a full clear speed oriented setup using Queen of the Forest and a Jade Flask of reflexes to maximize that movement speed bonus.
Gloves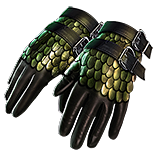 Gripped Gloves are usually the ideal choice. Rares can have so many valuable stats that they are often the best choice, giving the added freedom of some extra Resistances to take the pressure off of your other items. Prioritize affixes as follows:
[Uncapped] Elemental Resistances
+# to Maximum Life
Adds # to # Lightning Damage to Attacks
% Increased Attack Speed
Adds # to # Cold Damage to Attacks
There are also a few Unique options that are quite attractive:
Tombfist (2 sockets) can be the best option for survivability and offer very competitive damage. Their effectiveness is almost entirely dependent on the quality of your Jewels, however, and they limit the number of links you have access to if you are also using Bubonic Trail.
Sadima's Touch can be used for Magic Find farming, and despite recent nerfs to their quantity bonus, they are still the best option.
Boots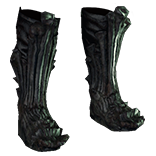 Bubonic Trail (2 sockets) are far and away the best option. Great damage and survivability coupled with a nice movement speed roll make these our go-to for any situation.
Rare Boots are fine for defense and filling out Elemental Resistances when you are starting out. Prioritize the affixes as:
% Increased Movement Speed (25%+)
[Uncapped] Elemental Resistances
+# to Maximum Life
There are also a few other Unique options:
Atziri's Step are cheap and have good Life, Movement Speed, and Evasion. If you have enough Resistances, these are likely your best bet when heading into Maps early on.
Goldwyrm are the best option for Magic Find setups.
Kaom's Roots can be used for Uber Elder if you need them, since you do not really need Blink Arrow if you have these.
:
16% increased Attack and Cast Speed if you've Killed Recently (Best Clear)
Adds 1 to 160 Lightning Damage if you haven't Killed Recently (Best Boss Damage)
Adds 45 to 68 Fire Damage if you've Killed Recently (Strong Budget Option for Clear)
Weapon and Quiver
Weapon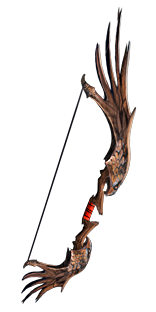 Windripper is the quintessential bow for

Tornado Shot builds and remains one of the best options. It is relatively inexpensive, has high base Critical Strike chance and Elemental Damage, Attack Speed, and a natural Quantity and Rarity increase. Even if you are not setting up your build for Magic Find,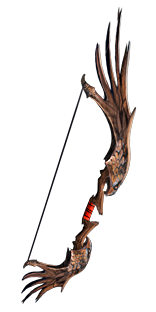 Windripper is the "handshake" that will give you good enough damage to take on all content in the game as well as providing a nice Magic Find bonus to keep your pockets brimming.
For the best possible damage and clear, upgrade to a Rare Bow. Prioritize affixes as follows:
Adds # to # Lightning Damage
Adds # to # Cold Damage
% Increased Elemental Damage with Attack Skills
% Increased Global Critical Strike Multiplier
% Increased Critical Strike Chance
Adds # to # Fire Damage
% Increased Attack Speed
All the above affixes are very close in priority, however, are the Lightning and Cold damage rolls. These form the base damage of your bow. You should try to get at least five of these affixes on your Rare bow, which should ideally be either a
Harbinger Bow or an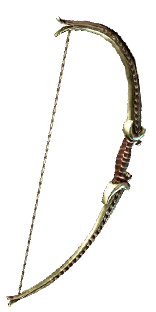 Imperial Bow.
There are Shaped and Elder mods for bows, and specifically

Tornado Shot, that can be extremely overpowered in certain combinations. They are a little too complicated to explain in list format since the priorities can quickly shift with current gear and combinations of affixes, however, if you have questions please feel free to ask for clarification in the comments!
Quiver
A Shaped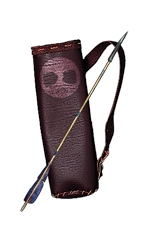 Spike-Point Arrow Quiver is usually your best bet, giving some nice Critical Strike on the implicit. Try to get Resistances on your other items to allow you to itemize as much damage as possible on your Quiver. Prioritize as follows:
+# to Maximum Life
Adds an Additional Arrow (Shaped Prefix)
% Increased Elemental Damage with Attack Skills
% Increased Global Critical Strike Multiplier
% Increased Global Critical Strike Chance
% Chance to Gain Onslaught for 4 Seconds on Kill (Shaped Suffix)
% Increased Attack Speed
Adds # to # Lightning Damage to Attacks
Adds # to # Cold Damage to Attacks
Adds # to # Fire Damage to Attacks
Resistances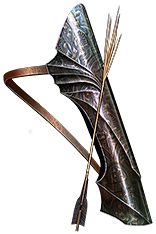 Rigwald's Quills is a luxury option for clearing and is virtually unbeatable in this respect. It is best utilized if you are farming the same high tier Shaped map over and over for experience and/or divination cards.
Accessories
Amulet
A Rare amulet is the best choice, particularly if you can get a base that gives you stats that you desperately need (Intelligence and Strength) such as the

Agate Amulet. Prioritize stats as follows:
[Uncapped] Elemental Resistances
+# to Maximum Life
% Increased Elemental Damage with Attack Skills
% Increased Global Critical Strike Multiplier
% Increased Global Critical Strike Chance
Adds # to # Lightning Damage to Attacks
Adds # to # Cold Damage to Attacks
% Increased Damage
Adds # to # Fire Damage to Attacks

Bisco's Collar is the best option for Magic Find builds. An alternate option is a Shaped Amulet with an 8-10% Increased Quantity of Items Found roll, as this combines the Magic Find setup with some extra damage and defense.
Rings
Rare Rings are your best bet, as it is likely you will be looking to make up a lot of Resistances on these items to cover for the rest of your gear.
[Uncapped] Elemental Resistances
+# to Maximum Life
% Increased Elemental Damage with Attack Skills
Adds +# to # Lightning Damage to Attacks
Adds +# to # Cold Damage to Attacks
% Increased Global Critical Strike Multiplier
% Increased Global Critical Strike Chance
Adds +# to # Fire Damage to Attacks
% Increased Damage
Belt
A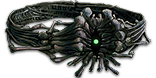 Stygian Vise is the best base for a Rare. They can also be crafted relatively cheaply using Fossils. We recommend using an Item Level 86 base and combining

Pristine Fossil,

Prismatic Fossil, and

Metallic Fossil in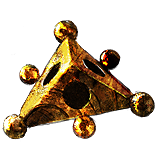 Powerful Chaotic Resonators. This gives you a chance at the "holy trinity" — Life, % Increased Lightning Damage, and Elemental Damage with Attack Skills.
You can also purchase a belt, as crafting can have variable results depending on your luck. Whatever you choose, prioritize stats as follows:
[Uncapped] Elemental Resistances
+# to Maximum Life
% Increased Elemental Damage with Attack Skills
+# to Strength (if needed for Kaom's Heart)
% Increased Lightning Damage
% Increased Cold Damage
% Increased Effect of Flasks
% Increased Damage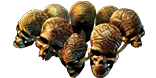 Headhunter is a great choice. This build uses this legendary belt better than most, and is a whole lot of fun to play with. Check out our Headhunter Guide for more information on how to go about obtaining it as quickly as possible. The Strength is particularly helpful if you are using
Kaom's Heart.
Unique options for Magic Finding are:
String of Servitude with a quantity roll offers the best possible Quantity bonus by a wide margin.
Bisco's Leash offers a small amount of Quantity, some nice defense, and a hefty Rarity boost.
Jewels
Unique Jewels

Inspired Learning is a Unique Jewel that many have come to call Headhunter Lite, or mini-Headhunter. You gain one randomly selected mod when you defeat and Rare enemy and it is applied to the player.
This is a fantastic gem to use in combination with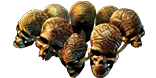 Headhunter as the effect .
This is the best placement for this Jewel, as we naturally acquire these notables through our build path with or without this gem.

Watcher's Eye is always a fun luxury item, and there are some great options for this build. None of them are required, and this should be one of your last upgrades if you choose to use one. Prioritize them as follows:
Be sure to check this for yourself in Path of Building before making any big investments, as this priority .
Abyss Jewels
This build is an amazing user of Abyss Jewels, and they outperform their "standard" counterparts in every instance. The rest of our Jewel slots should be filled with

Searching Eye Jewels, which are the best available option. Jewels can be pricey, but they are well worth the investment.
If you are using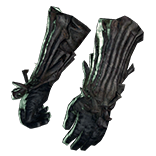 Tombfist, you will also want to incorporate a

Murderous Eye Jewel to socket in your gloves. If you are using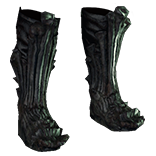 Bubonic Trail you will want a

Murderous Eye Jewel and

Hypnotic Eye Jewel (1 of each, does not matter where they are socketed in your gear or tree). Do not bother with

Ghastly Eye Jewels as they have nothing of value.
Prioritize stats as follows:
+# to Maximum Life
% Chance to Gain Onslaught for 4 Seconds on Kill*
Adds # to # Lightning Damage to Bow Attacks
Adds # to # Lightning Damage to Attacks
Adds # to # Cold Damage to Bow Attacks
Adds # to # Cold Damage to Attacks
Adds # to # Fire Damage to Bow Attacks
Adds # to # Fire Damage to Attacks
% Increased Global Critical Strike Multiplier
% Increased Global Critical Strike Chance
*The % Chance to Gain Onslaught for 4 Seconds on Kill is only necessary on one or two Jewels, depending on the roll. You want around 6-10% chance to gain Onslaught on kill, which will allow you to keep it up most of the time while clearing.
If you are using

Murderous Eye Jewel and

Hypnotic Eye Jewel your stat options are more limited. Try to get ones with Life, Global Critical Strike Chance and/or Multiplier (both is the absolute best outcome), and one other useful stat. There are quite a few niche Abyss Jewel stats you can make use of, such as % Increased Damage if You've Killed Recently, so do not be afraid to scoop one of these up on these Jewels if you spot them.
Flasks
This is our recommended Flask setup. We have immunity to Elemental Ailments at Maximum Frenzy Charges, giving us a lot of flexibility of choice.
Seething Divine Life Flask of Staunching
Dying Sun
Experimenter's Diamond Flask of Warding
Alchemist's Quicksilver Flask of Adrenaline

Dying Sun can be swapped out for another flask until you can afford it, ideally either a Silver or Jade flask with an Adrenaline suffix.
Vessel of Vinktar with flat lightning damage adds a large injection of damage at the cost of leech.

Atziri's Promise, on the other hand, is very cheap and can be used virtually forever in the end-game. We recommend Vinktar if the rest of your gear is already exceptional, and Atziri's flask otherwise.

The Wise Oak is also exceptional for this build if you are able to balance your resists evenly, but otherwise not worth using.
Be sure to check out our Flask Crafting Guide to learn everything you need to know about how to set up your non-Unique flasks.
Leveling
. While it may have exceptional scaling and late-game potential, the base damage of this skill is exceptionally low. If you try to level using

Tornado Shot, even with a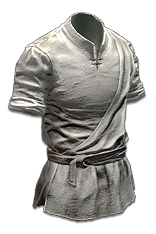 Tabula Rasa, you may become frustrated due to a lack of single target damage.
As a reminder, we have several guides to help you level up a character as efficiently and easily as possible.
Bow builds are infamously poor for leveling but it is absolutely possible to do it from scratch, even as a league starter. If it is not a league starting character, however, you will definitely want to get your hands on some leveling gear — even just a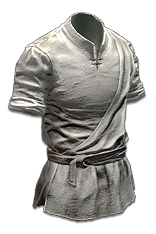 Tabula Rasa and a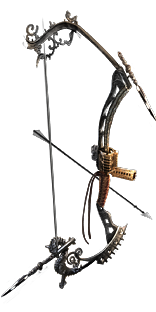 Storm Cloud will go a long, long way.
You will want to start out with

Split Arrow, linking this to

Onslaught Support and whatever other supports you can get your hands on as soon as possible.
Pick up

Precision immediately after killing Brutus and activate it. Avoid leveling this gem past Level 5-6 during the leveling process.
Once you are Level 12 and have entered the Cavern of Wrath, start using

Rain of Arrows as your main skill. Links for

Rain of Arrows are pretty flexible, but we recommend:
Most of these gems are obtainable in Act I, but if you are using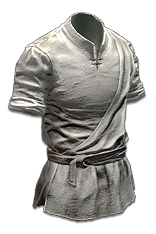 Tabula Rasa then you will want to hold on to your

Onslaught Support gem (in place of

Faster Attacks Support) for as long as you can, as it is an exceptional gem for boosting leveling speed. Once you feel like you need more damage, you can swap in

Faster Attacks Support.
The skill tree is similar enough that you do not need to make any major deviations.

Rain of Arrows can be used all the way into maps if you like — simply swap in

Concentrated Effect Support for

Added Lightning Damage Support.
Be sure to pick up

Herald of Ice while leveling and activate it. You can level up

Wrath as you proceed through the game, but do not bother activating it yet, as you simply will not have enough Mana to sustain it with the other two auras running.
FAQ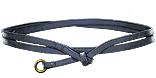 Bisco's Leash is affordable, provides good Quantity and Rarity, and boosts clear speed noticeably via Rampage. The small upgrade in Quantity from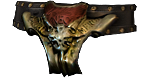 Perandus Blazon is absolutely not worth the trade-off, however, the almost triple increase in Quantity from String of Servitude can be attractive. If you are running exclusively Burial Chambers maps and not [yet] using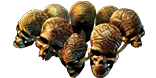 Headhunter, the String is the best option. If you are running a Hybrid MF and leveling setup and pushing into a few higher tier maps, Bisco's will be your best bet in combined MF and clear speed.
I'm Struggling with Mana
Spec out of Mana Leech and get Mind Drinker instead (2 point investment). This will also allow you to level up

Precision a little more if you need to.