Ground Slam Slayer Build Guide — The Pulverizer (PoE Harvest 3.11)
About the Author
Furty has been playing Path of Exile since the release of the Onslaught League in 2013, and has a deep and diverse well of experience within the game. Equally comfortable playing on Hardcore, Softcore, and Solo-Self Found Leagues, recent ladder results include finishing at Rank 5 on the Legion SSF League playing

Essence Drain and the Betrayal League at Rank 186 playing

Elemental Hit. You can follow him on Twitter, or check out his occasional streams on Twitch.
Guide Format
This build guide is split over multiple pages, both to prevent it from getting too long, as well as to help you better find the information you are looking for. In addition to the current page, which presents general information about the build and also contains a Leveling and FAQ section, we have the following pages:
Introduction

Ground Slam is one of the oldest skills in Path of Exile. Though it may be simple and straightforward, it is a ground-pounding classic that has a visceral heft to its attacks few other skills can offer.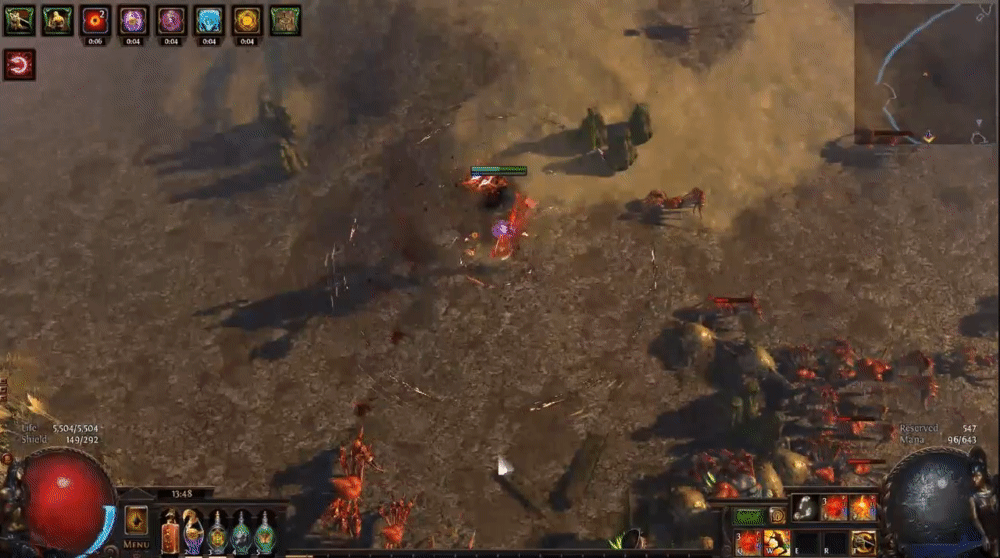 Patch 3.7.0 Legion was a melee renaissance.

Ground Slam (and

Vaal Ground Slam) was one of many skills to benefit from this revival, and it has returned as a viable skill that can compete with some of the skills sitting firmly at the forefront of the current meta. While it remained strong in Patch 3.10 Delirium, it was re-classified to a "Slam" type skill — a new archetype — in 3.11 Harvest and had its added physical damage removed from the base gem in favor of added damage effectiveness with gem levels. Couple that with new support gems such as

Fist of War Support and

Ground Slam looks like it can once again be an enjoyable beast.
If you are looking to play a build with a bit of an alternative feel to the norm, our

Ground Slam Slayer is certainly a different breed. If you have ever played an

Earthquaker, this build will bring back familiar, ground-shattering gameplay. Ever swing feels impactful and satisfying, and there's no doubt Ground Slam is one of the most badass looking skills in Path of Exile.
Our

Ground Slam Slayer is a do-it-all build with a decidedly different playstyle that aims to deliver one-punch knockouts to every pack you encounter. This is a burly build that can shatter maps, bosses, and monoliths — and it does it all in style.
Build Assessment
Pros
+ Very strong damage when fully geared, both AoE and single-target
+ Huge area of effect — cover the entire screen in spikes that erupt from the earth
+ Solid across the board defenses (214% Increased Maximum Life, 10.5k Maximum Life, High Armour, Leech, Permanent

Fortify Support, Endurance Charges)
+ Unique feel compared with most melee builds — massive earth shattering slams, similar to

Earthquake builds
Cons
– Somewhat gear dependent — late-game is vastly different from early incarnations
– Ability usage does require some forethought — wasting your

Vaal Ground Slams can make certain situations more difficult
– Specific itemization is necessary
Playstyle and Build Mechanics
This is a satisfyingly straightforward build: .
Okay, maybe there is a little more to it than that. One of the simple joys of this build is that there is no real confusion on how the build ticks, but you spend a lot of time optimizing the use of your skills, how you aim them, and your positioning itself. It is this "easy to learn, enjoyable to master" playstyle that makes this old-fashioned build such a delight.
Unlike

Ground Slam's days of old, there are no longer any problems when it comes to area of effect. With gems such as

Pulverise Support making their way into the game, we no longer have to sacrifice in order to see a huge increase in our effective range. Slayer is also a perfect Ascendancy to accent this with keystones such as Impact.
This build makes use of the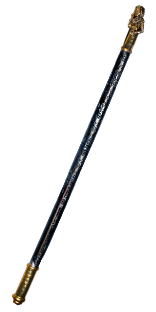 Pillar of the Caged God unique. By stacking large amounts of Strength, we can raise our % Increased Physical Weapon damage to absolutely absurd levels, about 1600% Increased in Low Gear (1000 Strength) and 2400% Increased in Top-End Gear (1500 Strength). By combining this massively increased weapon damage with Flat Physical Damage (Adds # to # Physical Damage to Attacks) we can compensate for the extremely low base damage of the staff, causing each

Ground Slam to flatten the screen.
So how does one handle this beast?
Well, the basics of it are not that different than a standard melee build. Use

Leap Slam to fly through the map and launch into the middle of packs.

Ground Slam will generally mop up most enemies in a single swing, and your

Shockwave should take care of anything left standing, should you choose to use this gem.
The ways in which you make use of your

Vaal Ground Slam charges is crucially important to success. This skill has absolutely massive area of effect, covering more than the entire screen in top-end gear, so it should be used to flatten as many enemies at once as possible. This skill excels at dealing with the Legion monoliths and feels best in open spaces.

Vaal Ground Slam does more damage than your regular

Ground Slam.

Vaal Ancestral Warchief and

Ancestral Warchief are also used on bosses to facilitate even more burst. It is best to avoid using

Vaal Ancestral Warchief while clearing, however, as we want as many of our souls as possible fueling our

Vaal Ground Slams instead. The regular

Ancestral Warchief should only be employed for especially tanky targets where you have a bit of time to breathe and position, such as Elder or Shaper. Be sure to keep

Blood Rage active at all times for maximum damage and leech.
Passive Skill Tree
Click here to view our recommended Level 100 Passive Skill Tree.
For more details on the Passive Tree, skill acquisition order, and more, be sure to check out the Passive Skill Tree page for in-depth information.
Gems
We go over all of the gem links this build uses in the end-game on our Gem Link page.
Ascendancy, Bandits, and Pantheon
Our Ascendancy, Bandit, and Pantheon Powers page goes into detail about all the choices you need to make in these regards.
Gear Summary / TL;DR
These items strike a balance between power and cost-effectiveness. If you want to explore more options for Gear (both budget and high-end), Flasks, or get more information on alternatives and specialty items, please ensure you read the Gear, Jewels, and Flasks page thoroughly.
Some example gear used by our character:
For in-depth recommendations for gear, flasks, jewels, and crafting advice be sure to read our Gear, Jewels, and Flasks page.
Leveling
As a reminder, we have several guides to help you level up a character.
Start out with

Ground Slam, which you should use until Level 12, when

Sunder can be acquired. Sunder is a fairly potent leveling skill due to its high base damage and ease of use. Your Sunder links, in order of priority, are:
Just use what you can get until the gems become available —

Maim Support and

Ruthless Support are available very early, along with

Onslaught Support, but you will have to wait until Act II for

Melee Physical Damage Support.

Added Fire Damage Support is an option in the meantime, if you are using a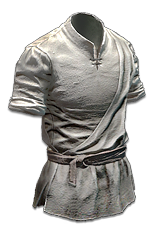 Tabula Rasa.

Blood and Sand is available right at Level 4, and should be picked up immediately. Acquire

Herald of Ash and

Herald of Purity in Act II to help you level up. You can get

Pride in Act III after doing Lost in Love and drop

Herald of Purity.
, follow the advised gem links in the guide. Leveling with staves is a bit difficult, but you could use

The Blood Thorn and upgrade to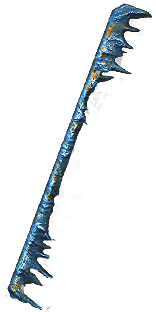 The Stormheart later.
We recommend instead leveling using Axes or Maces, which are easier to obtain and itemize, both as Rares and Uniques.
FAQ
What Annointment Should I Use for my Amulet
Throatseeker and Master of Force are both excellent options. We recommend comparing them in Path of Building as they can each better better at different points in your gearing cycle.
Check out the rest of the guide: