Essence Drain/Contagion and Blight Trickster Build Guide (PoE Sentinel 3.18)
A Note on This Build
The top priorities when designing the blueprint for this build were clear speed and safety while still having enough damage to clear end-game bosses such as the Uber Elder. There are many other viable configurations to this build and archetype, however, they will not be included here.
Introduction

Essence Drain and

Contagion have long formed a powerful tag team, presenting the player with near unparalleled clear speeds and experience per hour. The denser the monsters, the more this potent combo shines, playing wonderfully into many of the league mechanics that go core league by league. There is no better build for reliably breaking every Legion mob from their monolith stasis, and better yet, it .

Essence Drain was truly the king of Legion League, and has remained one of the strongest and most popular league starters to this day.
With monoliths and blight gone core and no real nerfs to the capability of this build, our

Essence Drain Trickster remains a powerful choice to tear apart maps with near unmatched clear speed. A great league starter at a bargain price, this build scales well into the end-game and feels satisfying as it spreads its deadly chaos damage, devouring pack after pack with ease. this build remains one of the best in the business for screen clear and near unmatched experience rate.
This build was used by the author, Furty, to hit Rank 5 on the Legion Solo Self-Found Ladder, and has once again become one of the most meta builds available. Viable in all leagues — Softcore, Hardcore, and Solo Self-Found — the

Essence Drain Trickster is one of the best candidates in the current meta for reaching Level 100, if not the superlative article itself.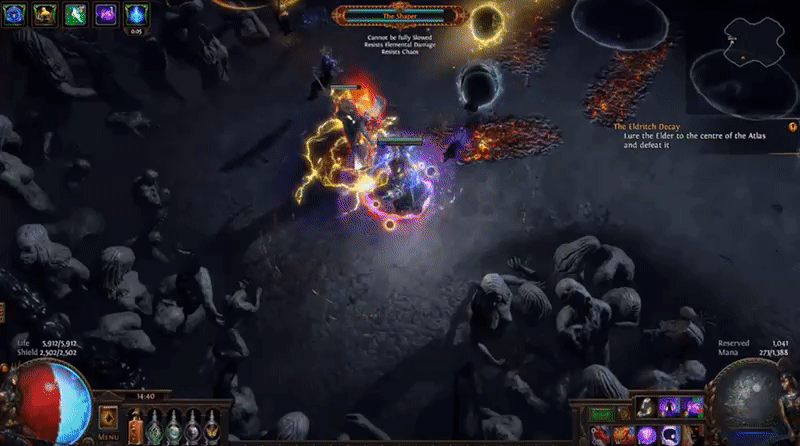 What really makes this build special is its flexibility across the board. Trickster is one of the strongest defensively-oriented Ascendancies in the entire game, even despite the (repeated) Ghost Shroud nerfs, and it offers offensive choices that play directly into

Essence Drain's strengths. We are looking at a build that feels incredibly stable to play, even against some of the game's most lethal opponents — heavily modded Betrayal mobs, monolith rares, Uber Elder , you name it — this build feels formidable in the hands of any player. Our

Essence Drain Trickster is the perfect choice for anyone who wants to experience clear speed at its finest, climb to the highest levels possible, annihilate monoliths, and do it with the fastest experience per hour we can deliver.
Build Assessment
Pros
+ Exceptional clear speed and experience per hour rates
+

Essence Drain +

Contagion is the way to deal with monoliths and similar league mechanics (breaches, incursions, etc.)
+ Extremely safe build — great defenses, mobility, immune to all reflect and map mods, and able to off-screen with DoT damage
+ Viable for Hardcore and Solo Self-Found
+ Great league starter
+ All damage penetrates proximity shields
+ Gearing path is very flexible
+ Cheap
Cons
– Single target damage does not scale as well as top tier bossing builds
– Allies Cannot Die aura is a pain to deal with (prevents

Contagion from spreading

Essence Drain)
– Does not deal burst damage (can struggle in situations like Shaper opening portals to attack Zana if your gear is not good, although

Blight mitigates this somewhat)
Path of Building
Here is Furty's Rank 5 character from the SSF Legion League: https://pastebin.com/Fkprwxny
This can be used as a reference point, however, bear in mind that not all gear used is absolutely ideal as it is a Solo Self-Found character. It will not be updated for future patches.
Playstyle and Build Mechanics
This build pairs together two skills to deal the bulk of its clear:

Essence Drain and

Contagion. When an enemy dies while affected by

Contagion, the debuff and associated degeneration effects (namely

Essence Drain) spread to nearby enemies. This causes your debuffs to cascade outwards through an enemy pack and sometimes across several screens at a time. Here is an example of dealing with an entire Legion on a heavily modded Tier 15

Summit Map: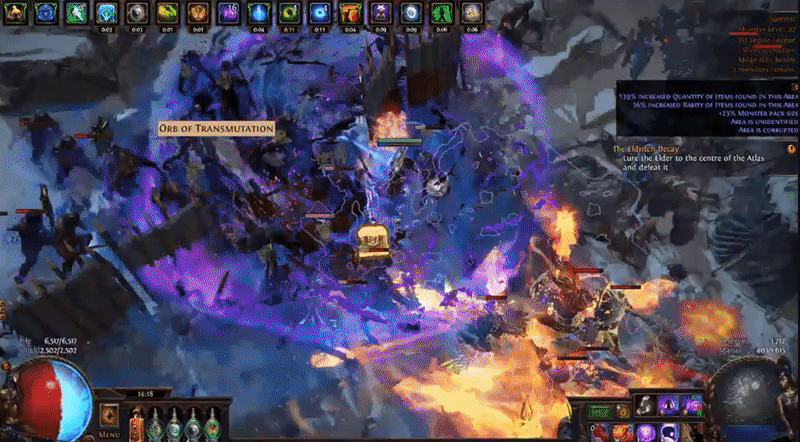 Vaal Blight is also incorporated to add a ton of extra damage in an AoE, which helps a lot when dealing with particularly tanky enemies such as Betrayal squads or monolith rares. This build has two curses, although we do not use a multi-curse node to have them applied simultaneously, such as Whispers of Doom. Instead,

Despair can either be applied manually, or by

Witchfire Brew if you are opting to use that flask.

Temporal Chains is linked to a

Cast when Damage Taken Support gem which helps us deal with bursts of damage or ranged enemies.
Our Ascendancy Nodes of Ghost Dance and Escape Artist go a long way to providing a suite of defenses — a ton of bonus Evasion and Energy Shield, and automatically regenerating Ghost Shrouds that replenish our entire Energy Shield on-hit every 2 seconds. The

Flesh and Stone aura is also invaluable for reducing ranged damage and providing permanent

Blind Support to nearby enemies. Most of our flasks are defensively oriented, as our clear is already more than enough, adding another layer to the defense of the build.
If you like builds or archetypes that rely on combos, this is one of the most engaging and active builds you will have to opportunity to play. You will constantly need to fire off

Essence Drain and

Contagion a fraction of a second apart — if you have quick fingers, you can shoot off an

Essence Drain and quickly land

Contagion for an instant spread.

Essence Drain kills most enemies so quickly, however, that the safer combination for most players is to land

Contagion and then immediately

Essence Drain. You can manually apply

Despair on packs that do not immediately die, such as monolith rares.

Vaal Blight should generally be used as often as possible, unless you are anticipating a difficult fight in the near future, such as a Betrayal encounter.

Blight should also be used when appropriate, and is an essential component of our single target damage for bosses.

Arcane Surge Support should also be kept up as often as possible, which is much easier now with the instant-cast

Flame Dash changes. The infusion buff, should you opt to use

Infused Channelling Support in your

Vaal Blight link, should also be kept active on tanky bosses, such as the Shaper or the Uber Elder.
Passive Skill Tree
This is our Level 98 Passive Skill Tree.

For more details on the Passive Tree, skill acquisition order, and more, be sure to check out the Passive Skill Tree page for in-depth information.
Gems
We go over all of the gem links this build uses in the end-game on our Gem Link page.
Ascendancy, Bandits, and Pantheon
Our Ascendancy, Bandit, and Pantheon Power page goes into detail about all the choices you need to make in these regards.
Gear Summary / TL;DR
These items strike a balance between power and cost-effectiveness. If you want to explore more options for Gear (both budget and high-end), Flasks, or get more information on alternatives and specialty items, please ensure you read the Gear, Jewels, and Flasks page in its entirety.
For much more detailed information on the best gear, jewels, and flasks to use, be sure to check out our Gear Page in its entirety.
Historic Legion Jewels
The Legion Jewels present a variety of unique opportunities to augment your build in powerful but unpredictable ways. For example, Furty's Rank 5 Solo Self-Found character managed to procure the

Glorious Vanity Jewel shown below, with some of the Notables pictured so you are able to see the potency.
There are numerous Jewels that can be placed all over the Passive Tree that have enormously powerful influence over your damage and defense. The seed for the above Jewel is pictured below.
Be sure to experiment with Jewels you find or see on the market, as they can transform your build in ways no other items can match.
Leveling
As a reminder, we have several guides to help you level up a character.
We recommend starting with

Freezing Pulse, which works well with

Lifesprig if you have one.

Blight can also be acquired at Level 1, but should instead be purchased as soon as possible from Nessa instead of being chosen as the Hillock quest reward, as it is an inferior leveling skill. You will want to acquire

Vaal Blight as soon as possible and replace

Blight once you have it.

Contagion can be acquired at Level 4 from the Breaking Some Eggs quest, which you should socket immediately while continuing to clear with

Freezing Pulse.
You can switch to

Essence Drain as early as Level 12, and it is obtained from The Siren's Song quest from Nessa after entering the Cavern of Wrath.
in order of priority:
If you are league starting and operating on a 3-Link, link

Essence Drain,

Void Manipulation Support, and

Efficacy Support as soon as possible and you are set to start ripping apart packs. Follow the advised links for

Contagion, but in Act I you can make do with

Void Manipulation Support and

Arcane Surge Support.

Blight should be linked with

Infused Channelling Support and

Void Manipulation Support in Act I if you have the links to spare.
Grab

Flame Dash as soon as possible in Act I and link it to

Arcane Surge Support (only level this one to Level 2).

Dash is a good mobility skill to make use of in the time before

Flame Dash can be acquired.
Be sure you have all the gems you need before leaving Act II (

Controlled Destruction Support,

Faster Casting Support).
In Act III, acquire

Malevolence and

Despair immediately after Lost in Love and start using them. It is worth doing The Library quest on Solo Self-Found, and even if you are league starting on a trade league (especially Hardcore) to pick up

Flesh and Stone as well, along with

Swift Affliction Support and

Efficacy Support.
Make sure to get

Spreading Rot in Act V after killing Innocence and socket it as soon as possible.
Leveling is pretty straightforward with this build, and the gameplay is the same as in the end-game: apply

Contagion, fire off your

Essence Drain in the same moment, and watch it spread.

Blight is to be used for tanky enemies and bosses and Izaro.
FAQ
What Annointment Should I Use on my Amulet?
There are several strong options to consider:
Whispers of Doom: Overall the best choice, particularly if you are using Impresence (Chaos) or Witchfire Brew.
Constitution: A good defensive option to add a large chunk of additional Life. A good option if your damage is sufficient and you are grinding towards 100, but lack the currency to use Whispers of Doom or do not want to enchant an amulet you will replace.
Hunter's Gambit: Some decent bonuses to damage and skill effect.
Graceful Assault: Adds free Onslaught during clear (more movement speed and clear speed) but no real offensive or defense power. This is purely for adding experience per hour.
In general, defensive options are better than offensive ones for this build (excepting Whispers of Doom, which improves both) as our tree already has virtually all of the nodes that improve

Essence Drain's damage directly. Since this build focuses primarily on clear speed and the survivability to get to Level 100, we recommend selecting a defensive or utility option that will fill in any cracks your build may currently have.
These are both fantastic options for damage and are perfectly viable choices. In most cases you will lose a bit of clear and survivability but gain noticeably higher single target and bossing capability.
Are There Any Map Mods This Build Has to be Concerned About?
This build can deal with every mod without issues, but we recommend avoiding No Regeneration maps. They are somewhat inconvenient as you can not afford to waste Mana on

Flame Dash, and despite Patient Reaper refilling your Mana and Life every pack you can still find yourself in uncomfortable situations. They are very doable if you take it slow, but generally not worth the extra annoyance.
Check out the rest of the guide for more information: