The Baron Zombies & Skeletons Necromancer Build Guide (PoE Harvest 3.11)
Guide Format
This build guide is split over multiple pages, both to prevent it from getting too long, as well as to help you better find the information you are looking for. In addition to the current page, which presents general information about the build and also contains a Leveling and FAQ section, we have the following pages:
Introduction
The following build is a Necromancer that specializes in raising very strong Zombies and Skeletons in order to defeat foes.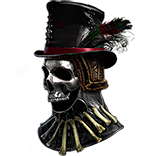 The Baron applies half of your Strength to your Minions while also giving you additional maximum Zombie per 500 Strength and your Zombies leech Life to you when you acquire 1000 Strength. This is a Strength stacking build. Considering Strength gives a lot of flat hit points it is easy to reach great Life pool without much effort. The build is able to reach 8-9k Life by level 95. The leech that the Helmet provides is actually a great sustain since the Zombies hit so hard. Stacking a lot of flat and percent Strength makes the build what it is, this requires specific items which may not be obtainable in a solo self-found environment. Consider that even without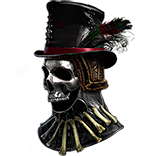 The Baron and the Strength stacking you can still play a variation of this build simply relying on Skeletons to carry you through the game since they are very strong.
Build Summary
This build can be played as a league starter. In the beginning of leagues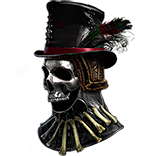 The Baron costs couple of

Chaos Orbs. The Helmet can carry you alone after level 28, simply put your

Raise Zombie setup in it so they can benefit from the +2 Minion gem levels. Until then you can level with

Summon Raging Spirit.

Summon Skeletons should be mainly used for boss killings early on.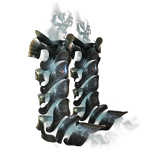 Alberon's Warpath unique boots provide huge percent strength that is required for the build to work, they should be very cheap.

Astramentis is a unique amulet that provides over 100 flat attributes, although it is recommended replacing it with well rolled rare Amulet later on.
Pros & Cons
Pros
+ Hardcore viable
+ Great boss killer
+ Good sustain even without flasks
+ Simple play style
Cons
- Requires specific items in order to play
- Relies on Minion AI
Playstyle
Offensively, you have more than enough damage to deal with anything, as long as you keep up your Skeletons and apply offensive curse via curse on hit setup. Elemental Equilibrium can be very useful if you use added damage and converting part of the physical into elemental damage for your minions like

Physical to Lightning Support and

Added Fire Damage Support while cursing with

Freezing Pulse. Makes sure to keep

Flesh Offering up at all times. If you want to be more skeleton oriented and want your minions to be faster in order to improve clear speed you can choose to play with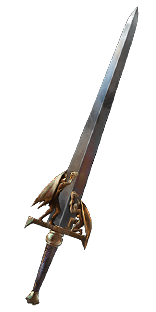 Queen's Escape.
Deathmark will allow you to target a specific mob you need to kill as quickly as possible.
Defensively, damage dealt by Zombies leech to you as Life takes care of most of the things. 8k+ endgame Life pool makes most hits not relevant. Playing a Minion build frees up space for defensive Flasks. Use

Convocation when you are all by yourself in order to summon your army to defend you.
For Playstyle, a single cast of Skeletons should be enough to clear a pack of monsters. Make sure you stay behind your Minions, they can be used as a "meat shield". When you get low make sure your Zombies are hitting the enemy so you can get your Life leeched back.
Passive Tree
Here is an endgame version of the passive tree.
For more information, be sure to check out the passive skill tree page.
Ascendancy, Bandits, and Pantheons
Our Ascendancy, Bandit, and Pantheon Power page goes into detail about all the choices you need to make in these regards.
Gems
We go over all of the gem links this build uses in the end-game on our Gem Link page.
Gear Summary / TL;DR
These items provide a good balance between offense and defense and are enough to deal with the endgame, although there is definitely a room for improvement. Please ensure you read the Gear, Jewels and Flasks page in its entirety.
Leveling
As a reminder, we have several guides to help you level up a character.
Level up with

Summon Raging Spirit until level 28, then you can sustain zombies with the additional levels from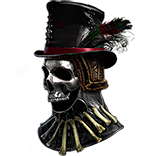 The Baron.
Leveling Trees
Here is a passive skill tree that will get you comfortably into maps.
Useful Leveling Uniques
As you begin a new character there are few unique items that can boost your power exponentially.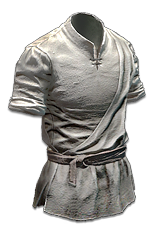 Tabula Rasa allows you to have a 6-Linked skill as early as you get the gems.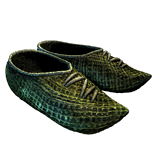 Wanderlust gives a decent movement speed, which will make your leveling that much more efficient.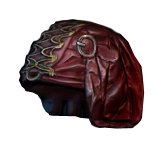 Goldrim provides a lot of elemental resistances, this will let you worry less about gearing when approaching certain Act encounters.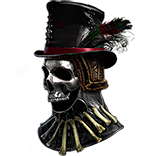 The Baron will make your zombies extremely strong and will ensure an easy leveling experience.
Gem Progression
Using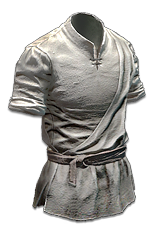 Tabula Rasa will allow you to have 6-Link gem setups early on, which is why we show such examples below. If you cannot get Tabula Rasa (or another item with a 6-Link), then simply prioritize the first gems in each link provided below.
In order to acquire gems that are not available to your class as a quest reward, simply ask a friend to buy them off vendors for you, or buy them yourself from Sioasa in The Library in Act III Library.
From level 1, you should use the following link.
Freezing Pulse
Onslaught Support
Arcane Surge Support
At level 8, replace your

Freezing Pulse with the following

Summon Raging Spirit gem setup.
At level 10, you are able to add

Flame Dash, which will help with your mobility. You should also pick up a

Vaal Summon Skeletons gem, which can be useful in boss fights.
At level 12, you should add

Flesh Offering.
At level 16, you should add

Desecrate.
By level 18, your

Summon Raging Spirit link should look like this.
At level 24, pick up a

Convocation gem, this will become useful once you start using your zombies.
At level 28, finally, you can socket

Raise Zombie in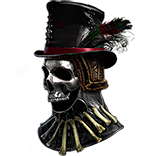 The Baron. This will allow you to obliterate the leveling content. At this point you will mostly rely on your zombies until you ascend into Bone Sculptor, until then, you should not be using Skeletons because they will be slow and weak.
FAQ
Why would Zombies and Skeletons be chosen over Spectres?
Spectres are great when it comes to clear speed, but they rely on being fed from

Unending Hunger. When it comes to tough single boss encounters Spectres lack in single target damage, while zombies and skeletons melt bosses in matter of seconds.
Reaching 1000 strength seems hard, at what level should this be achieved?
If you have the right gear pieces 1000 strength should be reached by level 75 with no issues.
What anoint should we go for?
Anointing Grave Intentions will save you 6 passive points, which can be invested into more Life.
Conclusion
The Zombies & Skeletons Necromancer is as classic summoner as you can get in Path of Exile. Summon an army of undead and watch them obliterate enemies for you while you empower them with offerings. The build has been able to do shaper guardians, Shaper and red Elder with ease. The damage is enough for Uber Elder for sure. Over all the build is interesting while at the same time it is endgame viable.