The Baron Zombies&Skeletons Necromancer Build Guide (PoE Legion 3.7)
Introduction
The following build is a Necromancer that specializes in raising very strong zombies and skeletons in order to defeat foes.
The Baron applies half of your strength to your minions while also giving you additional maximum zombies per 300 strength and your zombies leech life to you when you acquire 1000 strength. This is a strength stacking build. Considering strength gives a lot of flat hit points it is easy to reach great life pool without much effort. The build is able to reach 9-10k life by level 95 and due to recent changes the build only gets better. The leech that the helm provides is actually a great sustain since the zombies hit so hard. Stacking a lot of flat and percent strength makes the build what it is, this requires specific items which may not be obtainable in a solo self-found environment. Consider that even without The Baron and the strength stacking you can still play a variation of this build simply relying on skeletons to carry you through the game since they are so strong.
Build Summary
This build can be played as a league starter. In the beginning of leagues
The Baron costs couple of
Chaos Orbs. The helm can carry you alone after level 28, simply put your
Raise Zombie setup in it so they can benefit from the +2 minion gem levels. Until then you can level with
Summon Raging Spirit.
Summon Skeleton become playable after you ascend into Bone Scupltor, until then do not bother with them, just level the gem on the side.
Violent Dead is the zombie threshold jewel. Use two of them since they stack.
Alberon's Warpath unique boots provide huge percent strength that is required for the build to work, they should be very cheap.
Astramentis is a unique amulet that provides over 100 flat attributes, although it is recommended replacing it with well rolled rare amulet later on. When it comes to weapons you have few options. You can either dual wield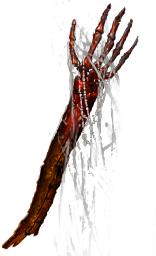 Mon'tregul's Grasp along with
Severed in Sleep or
United in Dream. This setup makes your zombies extremely strong.
Pros & Cons
Pros
+ Hardcore viable
+ Great boss killer
+ Good sustain even without flasks
+ Simple play style
Cons
- Clear speed is on the low end
- Requires specific items in order to play
- Relies on minion AI
Playstyle
Offensively, you have more than enough damage to deal with anything, as long as you keep up your skeletons and apply offensive curse via curse on hit setup. Elemental Equilibrium can be very useful if you use added damage and converting part of the physical into elemental damage for your minions like
Physical to Lightning Support and
Added Fire Damage Support while cursing with
Freezing Pulse. Makes sure to keep
Flesh Offering up at all times. Detonating enemies on death via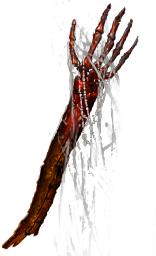 Mon'tregul's Grasp will clear whole packs of mobs with a single zombie slam. If you want to be more skeleton oriented and want your minions to be faster in order to improve clear speed you can choose to play with
Queen's Escape.
Defensively, damage dealt by zombies leech to you as life takes care of most of the things. 9k+ endgame life pool makes most hits not relevant. Playing a minion build frees up space for defensive flasks.
Cast when Damage Taken Support and
Immortal Call setup is always useful. Use
Convocation when you are all by yourself in order to summon your army to defend you.
For Playstyle, a single cast of skeletons should be enough to clear a pack of monsters. Make sure you stay behind your minions, they can be used as a "meat shield". When you get low make sure your zombies are hitting the enemy so you can get your life leeched back.
Ascendancy, Passive Tree, Bandits, and Pantheons
Ascendancy (Witch – Necromancer)
Invoker
Bone Sculptor
Flesh Binder
Puppet Master
Invoker brings enough minion life regeneration in order for zombies to be relevant while leveling and the
Convocation cooldown recovery speed is great. Bone Sculptor is our second choice. When ascended you can start using
Summon Skeleton. Even on a 4-Link they will destroy all enemies. Flesh Binder makes zombies that much more useful.
Raise Zombie ' slam ability proves to be very strong and the area of effect and cooldown recovery increases from Flesh Binder makes zombies much more reliable when it comes to area of effect clearing. Here you can basically choose whatever you want since none of the other ascendancy nodes make or break the build. Puppet Master is a great choice since it provides a much needed minion speed. The build can feel kind of slow and additional minion speed always helps.
Passive Tree
Here is an endgame version of the passive tree.
Basically early on you should focus on Life and Minion nodes, strength stacking comes later on.
Bandits
Considering the build does not benefit from helping any specific bandit we choose to kill them all in Act II.
Pantheons
Major: Soul of Lunaris – This major god can be upgraded by capturing Lycius, Midnight's Howl in order to avoid chained projectiles which a problem for every summoner build. Additionally the other upgrades and defensive stats prove to be very useful.
Minor: Here it is up to personal preference. Poison immunity via Shakari is always handy. Use Ralakesh when running labyrinths. Other gods can be used too whenever you feel like they can be useful.
Gems
The build's two main sources of damage are
Raise Zombie and
Summon Skeleton. Your Raise Zombie gem should be socketed in your helmet in order to benefit from the two additional levels of socketed minion gems. Summon Skeletons should be ideally used in a 6-Link for maximum damage output.
Freezing Pulse is used as a utility skill in order to curse enemies and trigger Elemental Equilibrium in order to improve your minion's damage even further.
Flesh Offering will empower your minions by giving them additional movement and attack speed. For mobility, use
Lightning Warp on a 4-Link, keep in mind that the skill is affected by your movement speed, this means "warping" around while you Quicksilver flask is up will be faster. The usual
Cast when Damage Taken Support with
Immortal Call is used to prevent deaths from consecutive physical hits, such as dying Porcupines.
For all the gem links we provide below, keep in mind that we list the gems in order of priority (starting from the top left, going to the right on each row of the links), meaning that if you lack the required number of sockets to fit all the gems, the first ones to drop are the ones at the bottom (with the bottom right being the last). Also note that in-game, as long as the sockets are linked, it makes no difference at all what order the gems are placed in.
Vaal Summon Skeletons (6-Link)
Vaal Summon Skeletons is the skill that you will be mostly relying on late game, when it comes to clearing. It will be ideally used in a 6-Link. Depending on your goals we recommend two 6-Links.
For clearing, use the following link.
For singe target, use the following link.
Raise Zombie (4-Link)
Raise Zombie should be socketed in
The Baron in order to benefit from the additional two gem levels. Zombies become very strong late game and will most likely have more than 15k life and will one-shot most monster packs with a single slam.
Freezing Pulse (3-Link)
Your minions deal a considerable amount of elemental damage, this is why it is very efficient to lower enemies' elemental resistances as much as possible. The way this build achieves such goal is by using
Freezing Pulse in combination with Elemental Equilibrium and
Curse On Hit Support in order to curse enemies with
Elemental Weakness.
Freezing Pulse
Curse On Hit Support
Elemental Weakness
Immortal Call (3-Link)
Immortal Call triggered by a
Cast when Damage Taken Support is a standard gem setup in most builds that prevents deaths from consecutive physical hits that occur at the same time. You should keep
Immortal Call and
Cast when Damage Taken Support at level requirement of 40.
Cast when Damage Taken Support
Immortal Call
Increased Duration Support
Chaos Golem and Raise Specre (4-Link)
These are utility minions, which are used for the benefits that they provide, their goal is not to kill enemies.
Summon Chaos Golem is used for the additional physical mitigation it provides, while
Raise Spectre is used in order to raise Silverback monkeys from Act II, because they provide Frenzy charges to your other minions.
Lightning Warp (4-Link)
Lightning Warp is one of the underestimated mobility skills in Path of Exile. When properly linked, you can travel a whole screen away in a split-second. Keep in mind that the skill is affected by your current movement speed, this means having your Quicksilver flask active while using the spell is important.
Other Gems
Desecrate is useful in every summoner build. It is needed in order to
Raise Spectre,
Raise Zombie and simply to provide corpses for your
Flesh Offering.
Convocation is a great utility skill, every so often your minions run away from you and you get exposed to enemies, simply use Convocation to teleport your minions next to you in these situations.
Flame Dash can be used to improve build's mobility. A single aura can be used, we recommend choosing between
Haste and
Hatred; if you choose to run Hatred it should be linked with
Generosity Support.
Gearing
Capping your elemental resistances is essential and it should always be your top priority in any build; it should be the first thing you do when gearing up a character. Obtaining a 6-link, while very powerful and certainly recommended, can potentially be very expensive (requiring an average of 1500 Orbs of Fusing, obviously depending on your luck); as such, this should not really be a goal for you while gearing up, and you should instead settle for a 5-link until you have enough resources.
The Baron is a build-enabling unique and should be used since level 28.
Alberon's Warpath is needed in order to reach high strength amounts. Get as big strength rolls on other items as possible.
Helmet
The Baron is irreplaceable. Decently enchanted one can be very nice although it will probably hard to obtain. Look for any
Raise Zombie enchant. Other enchants work well too.
Body Armour
If you choose to play with
Queen's Escape you can use
Kaom's Heart. Otherwise
Belly of the Beast is a great choice. Well rolled rare body pieces work well too. The Rare Affix priority is:
+#% total Elemental Resistances (until capped)
+# to maximum life (at least 100)
+#% increased maximum life (Elder Mod; Pristine Fossil)
# to Strength (at least 40)
Gloves
Meginord's Vise gives 100 strength and can be useful early on if you are struggling to break the 1000 strength mark. After that the best in slot gloves are well rolled rare ones. The Rare Affix priority is:
+#% total Elemental Resistances (until capped)
+# to maximum life (at least 60)
# to Strength (at least 40)
Note: If you happen to find decently rolled corrupted gloves with any curse on hit you can drop the curse on hit setup and only use
Freezing Pulse. This will free up additional gem sockets which the build needs any ways. Do not worry about what curse you curse with since they are all beneficial for the build.
Boots
Alberon's Warpath is irreplaceable due to the very high percent strength it provides.
Belt
Heavy Belt is the best choice since it provides implicit strength, although if you have enough strength already you can choose other bases too.
Cyclopean Coil has percent increased attributes but can be hard to use because you will struggle with resists. The Rare Affix priority is:
+#% total Elemental Resistances (until capped)
+# to maximum life (at least 80)
# to Strength (at least 70)
Amulet
Astramentis provides big amount of all attributes. Best amulet choice is well rolled one. It comes close to
Astramentis when it comes to strength and you can also have some life and resists. The Rare Affix priority is:
+#% total Elemental Resistances (until capped)
# to Strength ( 70+)
+# to maximum life ( at least 50)
Rings
Two well rolled rings with basically the same mods as amulet are needed. The Rare Affix priority is:
+#% total Elemental Resistances (until capped)
# to Strength ( 30+)
+# to maximum life ( at least 50)
Weapons
Queen's Escape is a tremendous boost to minion's movement speed. Combination of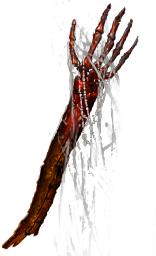 Mon'tregul's Grasp and
Severed in Sleep is the best choice though, if you are aiming to clear high-end content. Prior to these you can use any weapon and a shield that provides resists and life. Incursion one-handed weapons with 80% + Minion damage can be used. Same prefix can be crafted with Bound Fossil.
Flasks
Quicksilver flask, preferably with additional movement speed, since the build is not very mobile. Stibnite Flask's blinding cloud comes in handy, it can be replaced with another flask if you do not like it. Granite Flask should be rolled with percent armour, which will result in giving a ton of armour when the flask is active.
Blood of the Karui – This flask proved to be the best life flask for the build as the ordinary life flasks simply do not do the work when you have 9k+ life pool. Basalt Flask provides additional physical damage mitigation is always good.
Note: Rolls that you must have on your flasks are bleed and freeze immunity, beyond that it is up to you.
Be sure to check out our Flask Crafting Guide to learn everything you need to know about how to set up your non-Unique flasks.
Jewels
Here we will provide a list of unique jewels that you will need for the build, some of them are not mandatory.

For rare jewels, you should choose rare Abyssal Ghastly jewels. The Rare Affix priority is:
# to maximum Life (at least 35)
Minions have % chance to blind on hit with attacks
Minions have % chance to taunt on hit with attacks
Minions have % increased attack speed if you or your minions killed recently
Leveling
As a reminder, we have several guides to help you level up a character.
Level up with
Summon Raging Spirit until level 28, then you can sustain zombies with the additional levels from
The Baron. Before that zombies are just too weak and will die easily, it is important to spend passive points in some minion resists and life/life regeneration from the passive skill tree first. At level 28 you will have all that you need and at this point you can ascend into even more minion sustain via Invoker.
Violent Dead jewels should be socketed at this point. Although they might be a bit slow and lazy,
Raise Zombie will carry you through the content like it is nothing. Whenever you ascend into Bone Sculptor you can setup your
Summon Skeleton too and that is where the build starts to show how powerful it is. You can easily obtain 1000 strength by level 70 for the additional leech you might need for maps.
Leveling Trees
With this tree you have enough minion life sustain to start playing with
Raise Zombie. Make sure you socket the two zombie threshold jewels(
Violent Dead), otherwise zombies will feel very clunky.
Here is a passive skill tree that will get you comfortably into maps.
Useful Leveling Uniques
As you begin a new character there are few unique items that can boost your power exponentially.
Tabula Rasa allows you to have a 6-Linked skill as early as you get the gems.
Wanderlust gives a decent movement speed, which will make your leveling that much more efficient.
Goldrim provides a lot of elemental resistances, this will let you worry less about gearing when approaching certain Act encounters.
The Baron will make your zombies extremely strong and will ensure an easy leveling experience.
Gem Progression
Using
Tabula Rasa will allow you to have 6-Link gem setups early on, which is why we show such examples below. If you cannot get Tabula Rasa (or another item with a 6-Link), then simply prioritize the first gems in each link provided below.
In order to acquire gems that are not available to your class as a quest reward, simply ask a friend to buy them off vendors for you, or buy them yourself from Sioasa in The Library in Act III Library.
From level 1, you should use the following link.
Freezing Pulse
Onslaught Support
Arcane Surge Support
At level 8, replace your
Freezing Pulse with the following
Summon Raging Spirit gem setup.
At level 10, you are able to add
Flame Dash, which will help with your mobility. You should also pick up a
Vaal Summon Skeletons gem, which can be useful in boss fights.
At level 12, you should add
Flesh Offering.
At level 16, you should add
Desecrate.
By level 18, your
Summon Raging Spirit link should look like this.
At level 24, pick up a
Convocation gem, this will become useful once you start using your zombies.
At level 28, finally, you can socket
Raise Zombie in
The Baron. This will allow you to obliterate the leveling content. At this point you will mostly rely on your zombies until you ascend into Bone Sculptor, until then, you should not be using Skeletons because they will be slow and weak.
FAQ
Why would zombies and skeletons be chosen over spectres?
Spectres are great when it comes to clear speed, but they rely on being fed from
Unending Hunger. When it comes to tough single boss encounters spectres lack in single target damage, while zombies and skeletons melt bosses in matter of seconds.
Reaching 1000 strength seems hard, at what level should this be achieved?
If you have the right gear pieces 1000 strength should be reached by level 75 with no issues.
Conclusion
The Zombies & Skeletons Necromancer is as classic summoner as you can get in Path of Exile. Summon an army of undead and watch them obliterate enemies for you while you empower them with offerings. The build has been able to do shaper guardians, Shaper and red Elder with ease. The damage is enough for Uber Elder for sure. Over all the build is interesting while at the same time it is endgame viable.