All Around Wintertide Brand Occultist Gear, Jewel & Flasks
Summary – TL;DR
As per usual, nothing matters more than capping your Elemental Resistance before anything else. This means modifiers on gear are subordinate to Resistances as long as you're not capped. Since you'll be running a decent amount of Unique items, it'll be important to look out for a lot of resistances on your Rare pieces!
We're providing you with an extensive analysis further down the page but chose to start off with an overview / recommendation.
For crafting Rare items, you can check out all the affixes that can roll on an item base, depending on its level, influence, and many other factors, using our affix tool.
Armour Pieces
Helmet
No complicated Helmet slot this time around!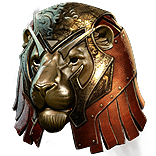 Memory Vault is the source of your 15,000 Armour, as it converts some of your Reserved Mana into Armour. This makes it so you can get away with a very cheap source of Energy Shield on Block in your Shield slot, and additionally getting a solid amount of Physical Damage mitigation while maintaining very solid Elemental Mitigation through the chest piece. Try to get good rolls on Energy Shield and Mana if you can (or upgrade to a good roll later in a league when they go down to a couple of

Chaos Orbs).
Body Armour
We have another very easy and cheap Unique item for your Body Armour slot. Since you're using a lot of Attack Block & Armour, you're mostly worried about mitigating Elemental Damage a little further.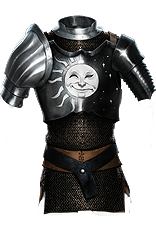 Incandescent Heart does just that. It basically reduces your Elemental Damage taken by 25%, as it converts incoming Elemental Damage into Chaos Damage, for which you are immune due to Chaos Innoculation. Additionally, it happens to be a Armour – Energy Shield base which also helps the Armour we get to build up! Other than the #% increased Armour and Energy Shield roll, not of the rolls matter whatsoever as they don't apply to you so try to get a 240% one!
Gloves
Your Gloves are one of the few Rare pieces you'll be wearing. The fact that you are running so many Uniques implies that the stress on Resistances on the few rare items is fairly high! Giving up a little bit of Energy Shield might be a necessary evil to acquire enough resistances! The best base here obviously is a pair of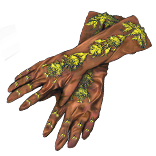 Sorcerer Gloves, as that has the highest Energy Shield potential.
+#% to Elemental Resistances (until cap)
Total Energy Shield (around 150)
+# to maximum mana (nice extra)
+# to Intelligence (Intelligence scales your Energy Shield a bit)
+# to Dexterity (as much as you need – if you need more)
Boots
We have another Unique item in this slot!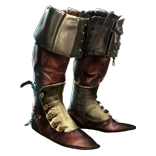 Rainbowstrides add a tiny bit of Spell Block while getting you a lot of Resistances and a solid amount of Energy Shield. If you have a ridiculous amount of currency to spend, and you can find a pair of boots with 160 Energy Shield, 30% Movement Speed and more resists then the Rainbowstrides can offer you, then I think giving up the Spell Block can be worth it but overall these are very solid! Get one with as much Energy Shield & Spell Block as possible!
Belt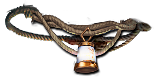 Bated Breath is impossible to beat here. Because of Wicked Ward, you want as much Recharge Rate as you can find. Combined with nodes in the tree, this basically means that whenever you don't take damage for 2 seconds, you're going to be regenerating almost 2,000 Energy Shield per second, no matter what. That is absolutely insane and is why Bated Breath should never be swapped out! Try to Catalyze it as that gets you over 150 total Energy Shield in my setup!
Accessories
Amulet
Your Amulet is another one of these very few rare pieces and, unsurprisingly, is very demanding on the affixes. You're going to need it to be a

Citrine Amulet because of your Dexterity & Strength needs, and on top of that it should most likely have an All Attributes roll that is fairly high (unless you got Dexterity on Gloves – then you can potentially get a way with just Strength here). The reason why you want an All Attributes roll is because in that case, it can also have 2 resists. If there is an open prefix, you should craft % increased Maximum Energy Shield on the crafting bench. If somehow you're lucky enough to see one of these combinations for sale with a +1 to Level of all Cold Skill Gems you shouldn't hesitate to pick that up as that is your best offensive stat here.
+# to all Attributes
+#% to Elemental Resistances (until cap)
#% increased Maximum Energy Shield
+# to Level of all Cold Skill Gems
Anoint
The best anointment available is definitely Tranquility but if you think that's too expensive Command of Steel is a very solid placeholder while you save up for the double

Golden Oil!
Rings
Since you're so defensively built you really want to squeeze out some extra damage here. You do this by fitting in one Rare and one Unique ring. The Rare ring needs to be an Elder base, because you want it to activate the effect of your second ring, the

Mark of the Shaper. A Mark of the Shaper, when Catalyzed with Caster modifiers, grants up to 90% Spell Damage as well as 25% Elemental Damage, some flat damage to spells, and a decent chunk of Life. This is definitely a piece that's worth having! In case you're playing Solo Self-Found, you're looking for as much damage as you can find on both of your rings.

Opal Rings are a good start with perhaps some crafted Fire Damage. The affix priority for your Elder-base ring is as follows:
+# Elemental Resistance (until cap)
+# to Maximum Energy Shield
#% Faster Start of Energy Shield Recharge
Weapon
Since you get so many benefits of having a trigger weapon, I'd argue it's almost mandatory for the build to perform at high levels. Otherwise you would have to manually cast 3 of your buffs on any challenging enemy which is incredibly annoying. The most ideal and optimal way of getting everything you like is finding / crafting a wand with Spell Damage and +1 To Cold Spell Skills and then Craft 3 modifiers on it. The crafted modifiers are the trigger mod as well as some Cast Speed, as that is so big for damage and QoL.
Trigger a Socketed Spell when you Use a Skill
+# to Level of all Cold Spell Skill Gems
#% increased Cast Speed (at least 17%)
#% increased Spell Damage (at least 80%)
Shield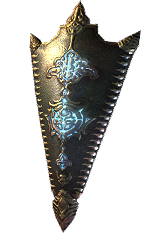 Aegis Aurora really is the only option here. It provides you with about the same recovery as a regular ES when you Block shield whilst providing you Armour, maximum Resistances, a high amount of Block and Resistances and a decent chunk of Energy Shield. It's one of the cornerstones of the build and should not be skipped!
Flasks
I believe flasks are highly preference-based. One isn't just outright better than another one for specific / certain builds. Obviously, sometimes, there's a set in stone set of Flasks you should be using just because they synergize with your build so well. I wouldn't say those really exist in this setup, but I'd strongly advise you to stick with the setup listed here.
As block is one of your main sources of recovery through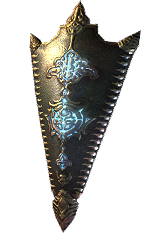 Aegis Aurora a well-rolled

Rumi's Concoction cannot be missing from your set of Flasks! Spending a little bit extra to get a high roll one is definitely worth it! Since a Rumi's is also a Granite Flask, it'll augment the amount of Energy Shield you gain whenever you do block from Aegis.
Other then a Rumi's you'll be running non-unique Flasks only. For the utility Flasks, I recommend at least running a

Silver Flask for the Onslaught Effect, a

Quartz Flask for the extra Dodge chance and a further layer of mitigation and a

Quicksilver Flask because Movement Speed is a nice form of Defense and QoL! Lastly, you're going to need an Enduring

Eternal Mana Flask to keep your Mana up. As you want to be permanently "casting" multiple spells, there's hardly a way to ever get enough Regeneration to drop the Mana Flask. Ever since the introduction of the Enduring prefix though, Mana Flasking is much less of an issue.
Regardless of which utility Flasks you go for and whether you follow our recommendations or not, you'll need to stick to the suffixes we have picked for you (Staunching, Warding, Iron Skin). The affixes on your non-unique Flasks can be changed around, but I recommend the following setup (based on the Flask duration, charges, and affix priorities):
Be sure to check out our Flask Crafting Guide to learn everything you need to know about how to set up your non-Unique flasks.
Jewels
Unique Jewels
You're running a single

Thread of Hope which Affects Passives in a Large Ring. This allocates a ton of Skill Points when you put it in the socket north of the witch start without having to path to them and saves you a tremendous amount of Skill Points.
Rare Jewels
Since I personally really like to be safe, and generally think the extra couple %'s of damage wont matter much in the long run, I always like Life or Energy Shield on my Jewels. Other than that, Cast Speed is really valuable as it makes your brands do optimal damage faster and thus helps you be more efficient while clearing and have higher damage uptime on bosses. Lastly, (Cold) Damage over Time Multiplier is definitely your best DPS stat. A combination of these three affixes is obviously ideal!
#% increased maximum Energy Shield
#% increased Cast Speed
#% increased Cast Speed while holding a Shield
+#% to Cold Damage over Time Multiplier
+#% to Damage over Time Multiplier
Cluster Jewels
Cluster Jewels are incredible for Brand builds and more so for Brand builds that want to scale Activation Frequency. Especially the Medium Cluster jewels carry the build so extremely hard. Since you want to run 2 Mediums at least, you're going to want 1 Large Cluster Jewel to socket them in to.
If you are looking for the most optimal way to acquire your Cluster Jewels, or have any other questions whatsoever about them, such as how to craft or price them, we refer you to our complete guide on Cluster Jewels.
The

Large Cluster Jewel really shouldn't be anything to special. Ideally, take one with 8 Passives but even an extra one doesn't really matter too much. You probably need a Prismatic Heart here because the build is so stressed for Resistances. Other than that, Deep Chill is the best offensive notable but things like Cold-Blooded Killer or Blizzard Caller are also okay.
The Medium Cluster Jewels are a source of Cast Speed, more damage multipliers, Brand duration and Attachment Range. You want at least 1_Remarkable (Probably 2 if you focus on map clear, just 1 if you want to be more of a bosser), 1 Brand Loyalty and 2 Grand Design notables for maximum Efficiency. All of these are in their own way and getting Medium Clusters should be a top notch priority!