Ultimate Arc Mines Saboteur (PoE Scourge 3.16)
Introduction

Arc received major changes in Patch 3.3, and immediately re-cemented itself as community favorite in all sorts of builds. The Arc Mines Saboteur is inarguably the most dominant of all Arc variants, providing great clear, fantastic boss killing capability, and powerful defenses. Perhaps even more exciting, this build can function on any level of budget and still perform at exceptionally strong levels, and is a great choice for Trade Leagues and Solo-Self Found alike. Saboteurs can deal with any map affixes with ease, and completely ignore some of the game's most punishing mechanics.
Our Arc Mines Saboteur is a premium build that remains a powerhouse league in and league out. If you enjoy trappers/miners, or you want a welcome change of pace or style, there are few builds more capable than this one.
3.16 Scourge League Changes
New masteries help you control the direction of the build and get it online earlier, but the removal of some of the clusters and Acrobatics means it's marginally worse in full best-in-slot. A good compromise, overall.
3.14 Ultimatum League Changes
Huge buff to

Vaal Arc:
No longer causes Modifiers to Buff Duration to also apply to this Skill's Soul Gain Prevention.
Now has a Cast Time of 0.7 seconds (previously 0.8).
Now has a Soul Gain Prevention duration of 2 seconds (previously 6).
Build Assessment
Pros
+ Easy, safe, and fast Uber Elder (less than 2 minutes) and excellent for Uber Awakener
+ Powerful delver (650+)
+ Great league starter and finisher
+ Can actually deal with any affix without modifications or loss of clear speed
+ Powerful on any budget (Uber Elder easily for less than 45c)
+ Very fast clear speed and movement speed
+ Can be modified to suit playstyle (Life-based,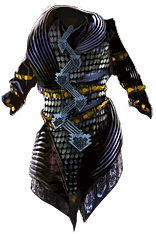 Shavronne's Wrappings low-life, or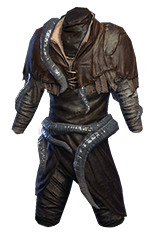 The Eternity Shroud)
+ Excellent magic find potential as well (111% Quantity and 300%+ Rarity, and more with

Divination Distillate)
Cons
– Miner playstyle is not for everyone
–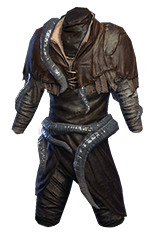 The Eternity Shroud version can be very expensive
– Not the best build for inexperienced players
Path of Building
data for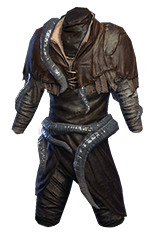 The Eternity Shroud version of this build can be found here.
Included in the Path of Building are skill trees, all gem links and possible variations, and an example set of gear with room for upgrades. For simplicity's sake, Elemental Resistances are not included on gear, and you can fill them in as you like depending on available gear.
Build Mechanics and Playstyle
This is a fast moving build that clears without interruption. As you dash through maps, lay your mines and

Arc will do the rest, clearing everything on screen in a single press.

Flame Dash can be used to clear troublesome obstacles, ledges, and fences that impede our movement.
This build has good defenses, but typically prefers running lower Life and Energy Shield numbers than other builds due to the excellent innate defenses of Saboteur and the inherently remote nature that playing a miner, totem, or trap build provides. Additionally, mines do not deal damage instantly in the same way self-cast

Arc will deliver; rather, there is a cadence to the

Flame Dash, laying of the

Arc mines, and subsequently detonating or

Flame Dashing away in either order. Consequently, it is paramount that you aren't dashing into the center of a large pack of enemies, as if you are off with your flask usage or your defenses falter you may be erased. Instead we like to play to the outskirts of packs, dashing to the fore or edges of the packs before tossing our mines and getting away.
This may take a little bit of practice to get a good feel for, but in reality it is not very difficult to pull off for general mapping. Once you have this guerrilla style of clearing honed it is very easy to consistently and safely replicate using this build, making it a great jack-of-all-trades that chews through maps easily enough and lays a proper amount of hurt on the game's toughest bosses. Some players find this playstyle relaxing due to its predictable pattern, while others can find it irksome and jarring. Miners are a polarize archetype within Path of Exile, but have received consistent quality of life improvements over the last few years of the game which has opened them up to a wider audience of players than ever before.

Arc miners have a significant amount of freedom of choice when it comes to gearing and skill tree mapping. You can opt for a simple Life-based build that stacks Critical Strike and Multiplier, maintaining a good pool of Life and defense, or opt for an extremely high damage but "glass cannon" style of build that uses the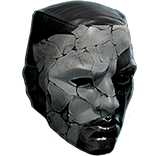 Curtain Call helm. Using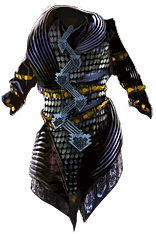 Shavronne's Wrappings to utilize Low-Life and Pain Attunement allows for a powerful combination of defense and damage that feels at home in any aspect of the game. Finally, players committed to a true end-game juggernaut with the wealth to power it will want to be using a fully Shaped setup and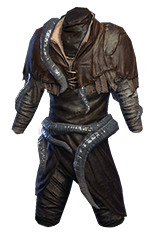 The Eternity Shroud, giving this build some truly grotesque boss deleting capability that few other builds can rival.
This guide lays out some excellent blueprints to follow, but you can just as easily deviate from the basics of the framework and end up with something equally potent that plays better to your strengths. If you aren't sure, please ask in the comments below.
Skill Trees
Here is our recommended skill tree for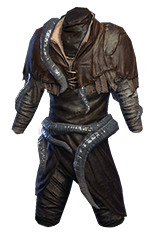 The Eternity Shroud version of the build.
For more information, be sure to check out the Passive Skill Tree page.
Life Based/Standard
Here is our recommended skill tree for a Life-based version of the build.
For more information, be sure to check out the Passive Skill Tree page.
Low-Life
Here is a recommended skill tree for a Low-Life version of the build.
For more information, be sure to check out the Passive Skill Tree page.
Gems
We go over all of the gem links this build uses in the end-game on our Gem Link page.
Ascendancy, Bandits, and Pantheon
Our Ascendancy, Bandit, and Pantheon Power page goes into detail about all the choices you need to make in these regards.
Gear Summary / TL;DR
These items strike a balance between power and cost-effectiveness. If you want to explore more options for Gear (both budget and high-end), Flasks, or get more information on alternatives and specialty items, please ensure you read the Gear, Jewels, and Flasks page thoroughly.
Life Based
Low Life
This setup offers the best possible damage but takes lot of currency to set up properly.
| | |
| --- | --- |
| Item Slot | Item Name |
| Head | Shaped Rare |
| Amulet | Shaped Rare |
| Chest | The Eternity Shroud |
| Gloves | Shaped Rare |
| Boots | Shaped Rare |
| Belt | Shaped Rare |
| Rings | Shaped Call of the Brotherhood x2 |
| Weapon | Dual Wielding Shaped Rare Wands |
For much more detailed information on the best gear, jewels, and flasks to use, be sure to check out our Gear, Jewels, and Flasks page.
Leveling
As a reminder, we have several guides to help you level up a character.

Arc can be acquired as early as Level 12. You can opt to level as self-cast or simply start using

Blastchain Mine Support immediately, obtainable after defeating Brutus. Set up your links as shown:
You can opt to use

Increased Critical Strikes Support immediately to start leveling it, or pick up

Added Cold Damage Support and use that until

Trap and Mine Damage Support is available in Act II.
FAQ
What Anointment Should I Use for my Amulet?
Heart of Thunder Is the best available option for all variants.
What's Better, Life or Low-Life?
This is the most commonly asked question, and the answer is not entirely objective. For most players, we recommend the Life-based version of the build, and it likely has higher potential at the extreme end game. It is also easier to gear early in the League.
The low-life version, on the other hand, feels great to clear with and deals well with clearing. It is also a higher damage option in the "mid" game — once you get your core pieces and have Pain Attunement active, this iteration feels really good. It is also stun immune and a little tankier against big "rogue wave" type hits.
Ultimately, this is a distinct choice in playstyle and preference.
For more information, check out the rest of our guide: