Crit-Based Elemental Hit Deadeye — Uber Elder Eradicator Build Guide (PoE Blight 3.8)
About the Author
Furty has been playing Path of Exile since the release of the Onslaught League in 2013, and has a deep and diverse well of experience within the game. Equally comfortable playing on Hardcore, Softcore, and Solo-Self Found Leagues, recent ladder results include finishing at Rank 5 on the Legion SSF League playing

Essence Drain and the Betrayal League at Rank 186 playing

Elemental Hit. You can follow him on Twitter, or check out his occasional streams on Twitch.
Introduction

Elemental Hit has catapulted itself to superlative status over the last few leagues, boasting incredible single-target damage, fast clear speeds, high mobility, and the classic feel of playing a bow-build. This build is our Elemental Hit Ascendant transformed into something even more deadly. By stacking Critical Strike we can melt bosses within seconds — anything that cannot be killed instantly can then be easily kited and safely dealt with.
Deadeye is a really fast Ascendancy, blowing through maps like no other, and keeping a smile on your face the entire time. It provides us with a lot of the things we would otherwise want for as a Critical Strike focused build, such as a huge heaping of Accuracy, as well as naturally boosting our clear speed with Tailwind and Ricochet. Anyone that has tried our Tornado Shot Deadeye knows just how handily a Deadeye can breeze through maps. Designed for dealing with big and beefy bosses, this build feels really at home ripping up T16 Maps, Guardians, and Uber Elder.
One huge advantage of playing Deadeye versus Ascendant is that League Starting as this build is , especially for less experienced players that are not as adept at quickly generating currency at the launch of the league. Not only is it an Ascendancy well suited to leveling and mapping, but you can also play an entirely different build — such as

Rain of Arrows — until your
Combat Focus Jewels can be acquired. Fortunately, you will never have to wait for very long, as the core items in this build are extremely accessible to players of all budgets, and you can start ripping apart the Uber Elder deathless for less than the price of an

Exalted Orb. We have also left plenty of room for investments, so players committed to the build or with piles of currency lying around can really kit their exile out and watch as all content bows before them.
Build Assessment

Elemental Hit is an extremely heavy scaling skill, meaning that with the right upgrades in the end-game the build can gain hundreds of thousands (sometimes well over a million) of DPS from a single well itemized upgrade.
This is a breakdown of our character from the Syndicate league with relatively top-end gear. Keep in mind that

Mirage Archer Support , so this is essentially the representative DPS of a 5-Link. In most single target situations,

Mirage Archer Support is going to be dealing around 40% of your total damage, bringing this number up to .
Pros
+ Massive single target damage (8m+ Shaper DPS)
+ Designed to destroy end-game bosses
+ Top-tier clear speed
+ Bow Build has a unique and satisfying style of play
+ Safe DPS — very mobile, great kiting, and does not have to be in melee at all times
+ Satisfying pops when enemies die as

Pyre turns them into gory chunks (also eliminates detonate dead)
+ Only required items to get rolling are
Combat Focus Jewels
Cons
– Delving starts to become very difficult at around depth ~500
– Not very directly tanky — relies on player skill and mobility
Playstyle and Build Mechanics
This is the ideal build for players who like to kite while maintaining full damage output. If you have ever played a MOBA such as League of Legends or Dota 2, your "orb-walking" will be put to great use on this speedy and mobile build. As touched on in the Cons section, a lot of the "Defenses" that we rely on this build are somewhat intangible — the ability to easily kite, high movement speed, flexibility of positioning, high evasion, Phase Acrobatics, and life leech. While these feel great in the hands of seasoned players, it does place a great degree of onus on the player to properly leverage the tools that the build puts in your hands. This is the type of build that allows you to easily avoid all the mechanics if you are reacting to them, but will punish you if you are not paying attention and stand in the fire.

Elemental Hit has a really simple and old-fashioned style of play, which we find both relaxing and satisfying. Since we want to incorporate

Greater Multiple Projectiles Support for clearing, this build uses two

Elemental Hit links with differing support gems; one for clearing, and another for tearing apart lone targets. This allows for a finer degree of tuning and optimization for each area of the game, ensuring that our clear is as fast as possible without taking away from our boss damage.
Much of the gameplay involves optimizing movement between skill uses, making sure you are never in the same place for more than a moment. While not entirely necessary to see the build succeed, it plays to the strengths of this build and you will find that enemy attacks rarely find their mark. Point Blank does encourage you to stay close to bosses, but for clearing the entire screen should die in a single skill press regardless of your proximity. Far Shot also helps bolster the restrictive nature of Point Blank, allowing you the option of sitting at mid-range on bosses if things start to get hectic.
This build is a great all-rounder, capable of dealing with any content with poise. Mapping is a breeze, bosses bow before you, the Syndicate fall over in an instant, and even you can even Delve several hundred depths before it starts to struggle. While many bow builds, like our Tornado Shot Deadeye, are designed around speed clearing and Magic Find, this is for players who want to play a bow build with teeth.
Passive Skill Tree
This is our recommended Level 100 Passive Skill Tree.
Your
Combat Focus Jewels should be placed as detailed in the images below:
One of the advantages of this build and its Skill Tree is that it is highly adaptable to your needs. Want to use

Lioneye's Fall and the Soul Raker Claw wheel? Absolutely viable — the overall damage output is slightly less, but the Mana Regeneration is higher and it offers more Critical Strike. If you want to work some more Life wheels into the build, drop the 5 points invested towards Forces of Nature and the Projectile Damage node at the Ranger starting area, and pick up Resourcefulness and Thick Skin instead.
Some players prefer not to take Phase Acrobatics, but we feel that there are not another 4 points that provide the same defensive value, and most of the best damage on the tree for our build has already been snapped up. This choice is one of personal preference.
There is so much damage already in this build that there is a lot of wiggle room to beef up your exile should you feel the need, especially if you are leaning towards
Kaom's Heart as your Unique chest of choice. Any questions about pathing, or what points are most interchangeable? Leave a comment below!
Gems
As we touched on in the Playstyle and Build Mechanics section, the best way to play this build is with two separate

Elemental Hit links, as this gives us the flexibility to properly optimize for both clearing and bossing. There are several different ways of facilitating this dual setup, depending on whether or not you choose to use a standard Unique chest or the socketless
Kaom's Heart. One of the advantages of using a weapon swap setup is that you can use a +3 Gem Levels bow for both your clearing and your bossing, which is no small boost in damage. Early in your build, however, simply gem-swapping out

Greater Multiple Projectiles Support for a single target support works just fine.
For Auras we have a few options to choose from.

Herald of Ash is helpful for ensuring smooth clear, as the ignite-chains will deal with any enemies that survive the initial volley, while your

Mirage Archer Support mops the floor with anything that is left. You will have to choose between

Vaal Haste and

Vaal Grace: whichever you do choose, you will also run the regular version of the aura (

Grace or

Haste).

Haste is obviously the superior option for clear speed and damage, but

Grace adds an extra layer of defense and security that makes running dangerous maps a lot less scary.

Precision is a great pickup that does not reserve a whole lot of Mana, and takes care of Accuracy while adding a fair amount of critical strike.
Aspect of the Cat should be used if you ever acquire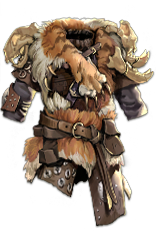 Farrul's Fur. See our Farrul's Fur Setup section for additional information on how to facilitate this.

Blink Arrow is the clear choice for mobility skill; it is the best option for bow builds and allows us the freedom to quickly reposition. A simple

Cast when Damage Taken Support +

Immortal Call setup can be worked in instead, helping us deal with bursts of Physical damage, like exploding porcupines.

Summon Ice Golem brings a little extra Critical Strike to the table, and can be swapped to a defensive golem if desired.

Blood Rage can fit anywhere into the gems, as it does not require an actual link of its own, but will provide additional damage, leech, and Frenzy Charges.
Finally, we can work a curse into the build by adding an

Orb of Storms +

Curse On Hit Support link, and even generate Power Charges for ourselves by throwing in

Power Charge On Critical Support. While not necessary additions, these extra links make bossing feel that much smoother.
This is your bossing setup.
*

Increased Critical Strikes Support is going to be your best bet in the last slot early on in the build, when your tree is not yet fully fleshed out with Jewels, and your gear is at a basic level. If you are running on a 5-Link, you may even want to replace

Fire Penetration Support with Increased Critical Strikes, depending on what kind of maps you are clearing.
Once you have a healthy amount of Critical Strike, however, you have four options.
You can opt to stick with

Increased Critical Strikes Support if you prefer the consistency of the Critical Strikes.

Empower Support (Level 4) offers the best possible damage when paired with a +3 Bow (see gear section for more information on this bow), but is generally very expensive.

Slower Projectiles Support limits your effectiveness at mid-range, meaning you will always have to play properly in melee range when engaging bosses, but provides very strong damage.

Damage on Full Life Support offers the next best damage after Empower (Level 4), but without Overleech you will have to play very cleanly to ensure you are not losing the damage bonus by dropping below full health to mechanics and environmental damage. The choice is yours, exile!
If you are using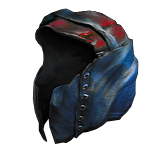 Frostferno (see gear section for more information on Frostferno vs. 6-Link) you should use these links instead.
If you are using the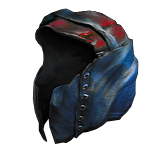 Frostferno for clearing, put

Greater Multiple Projectiles Support in place of

Fire Penetration Support.
Elemental Hit
Elemental Damage with Attacks Support
Greater Multiple Projectiles Support
Mirage Archer Support
Combustion Support
Player's Preference*
*Once again,

Empower Support (Level 4) is the winner in overall damage, but it comes with a hefty price tag. Other support gems are not far behind, and come at a much more accessible cost.

Damage on Full Life Support offers the next best damage, and it is much easier to reliably stay at full life when clearing.

Fire Penetration Support is also very strong, and does not have the same restrictions as a gem like Damage on Full Life, but the penetration does not get as much value against normal monsters.
is

Fire Penetration Support early on,

Damage on Full Life Support in mid/good range gear, and

Empower Support (Level 4) when you are approaching the true end-game of your build.
Auras 4-Link

Enlighten Support (Level 3/4) is not required to run the three main auras, but does give you a little more Mana buffer to work with. A Level 4 version is absolutely required if you plan to implement Aspect of the Cat into your build.

Blood Rage does not need to be explicitly linked.
This is an alternative link that does not use

Blink Arrow.
Feel free to adjust this link to your liking. You can use a higher level

Cast when Damage Taken Support for a better

Summon Ice Golem, or level the golem to 20 and summon it manually while keeping your CWDT and

Immortal Call at Level 1 and 2, respectively. We find that the golem dies often enough that the automatic summon usually results in a damage gain, even though the gem is a lower level, because your golem is active at all times.

Blood Rage does not need to be explicitly linked, but it makes no difference either way, as it will be too high level to be affected by

Cast when Damage Taken Support.
This link helps pile on some extra damage against tough targets, providing you with a few Power Charges and cursing the enemy.
Ascendancy, Bandits, and Pantheon
Ascendancy
Gathering Winds
Powerful Precision
Far Shot
Ricochet
Additional Information
Gathering Winds is the clear first choice for practically any Deadeye build. It is simply too strong for leveling to be passed up on the first Labyrinth, providing the player with bonus Action Speed and Evasion. If you are not entirely clear on what Action Speed is, it is the overall speed at which your character performs any action — the curse

Temporal Chains, for example, slows the action speed of targets, while Tailwind increases it (by 10%). This covers practically everything that has an animation — attack and cast speed, movement speed, totem placement, and so on. This is part of what makes the Deadeye so light on her feet, especially since we can stack the increased effect of Tailwind incredibly fast with this build. +1000 Evasion is also a really nice bonus, particularly when you are leveling up.
Powerful Precision helps a fair amount with clear, especially when we are approaching mechanics such as breaches, monoliths, or blights.
Far Shot increases projectile speed and causes your projectiles to gain damage with travel distance, which helps counterbalance the effects of Point Blank while clearing. This also gives you a little more flexibility when dealing with bosses that have dangerous melee mechanics, as you can float around the mid-range without sacrificing too much.
Ricochet is the icing on the cake for clearing and in any situations where adds are present.
Deal With the Bandits Reward
Alira is our default recommendation, especially for league starting, as the Resistances are a nice bonus. Killing all the bandits is also fine, and there is not much of a difference either way.
Pantheon
As always, Pantheon choices are flexible and more based on playstyle and preference than anything else.
Major Gods
Soul of Lunaris is the best option for general clearing and mapping.
Soul of Solaris (fully upgraded) is the best option for bossing.
Minor Gods
Soul of Shakari is a good all purpose choice, particularly with the Incursion league being added as a permanent fixture. The upgrade, granting Poison immunity, is particularly good and removes a map affix from any sort of relevance entirely.
Soul of Gruthkul is a comparable option for additional Physical reduction and defense.
Soul of Yugul is the best option for Uber Elder.
Gear Summary /
TLDR
These items strike a balance between power and cost-effectiveness. If you want to explore more options for budget or "GG" gear, see recommendations about Jewels or Flasks, or get more information on alternatives and specialty items, please ensure you read the Gear, Jewels, and Flasks section in its entirety.
Gear, Jewels, and Flasks
Armor
Chest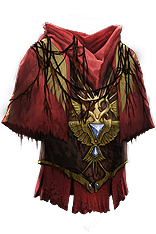 Queen of the Forest is a great budget option that can be used all throughout the league due to its high Evasion, great spread of defensive stats and resistances, and huge helping of Movement Speed. Not only can it be acquired very early on, but it is also one of the best options for safety and clear speed, which is why it remains a staple amongst nearly all bow builds and more.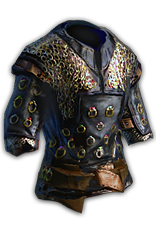 Loreweave is still a fantastic option, despite the nerfs that came with the release of 3.6.0 Synthesis League, simply due to the large injection of damage it provides. An extra 3% Maximum Resistances is still a nice bonus to Elemental damage defense, making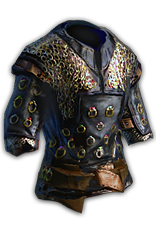 Loreweave the better option for bossing versus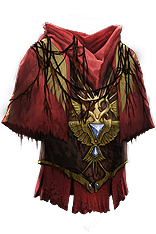 Queen of the Forest.
Kaom's Heart can be easily incorporated into this build. Not only do we deal exclusively Fire damage, taking full advantage of the Kaom's effect, but the Passive Tree can be easily re-worked to include far more Life at the expense of some damage. If you are using Kaom's you will need to rely on a weapon swap for your clearing and bossing setups. This is the recommended option for Hardcore.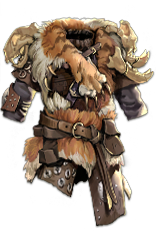 Farrul's Fur is the best available option in the extreme end-game, and frees up a gem slot in your

Orb of Storms link — we like to replace

Power Charge On Critical Support with

Culling Strike Support, which feels amazing on really tanky bosses like Uber Elder and Aul, the Crystal King. As you might expect, there is no point in using Farrul's unless you already have an item with Aspect of the Cat. This is truly a luxury item, and one of the perfect ways to finish the build.
In order to use Aspect of the Cat without dropping any of our other auras, you will need a Level 4

Enlighten Support supporting your other 3 Auras in a 4-Link. On your Passive Skill tree you will also need to make several adjustments. Drop the Mana Leech node, one of the 5% Life nodes below Golem's Blood, and the 5 points necessary to acquire Forces of Nature. Talent into Mind Drinker as well as moving up from Ballistic Mastery to acquire the reduced Mana reservation notable, Charisma.
If you feel like you need a little more of a Mana buffer, you can also drop your

Precision down a few levels. You will want to stay above 97% Accuracy at all times.
Head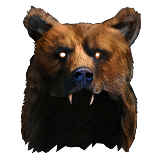 Starkonja's Head is one of the best options available, at a practically unbeatable price. Not only is the availability of enchants extremely high, but it comes with all the stats we desire — a large amount of Life, some Critical Strike and Attack Speed, and a very high amount of Evasion. Starkonja's is our default recommendation, as it excels in all environments, and is the best budget option as well as the best late-game option.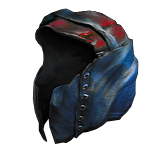 Frostferno fits into this build better than almost any other, but it is not the ideal choice for end-game. The advantage of this item is that it is "relatively" cheap — at least, when compared with the alternatives of crafting/purchasing a +3 bow and 6-linking a second item. Frostferno is not the recommended option, but it is a perfectly viable item if you do not have the currency to support the full build, and something to keep an eye on early in the league. One of the downsides of Frostferno is that finding one with an

Elemental Hit enchant is absurdly expensive, since it is well known to be paired the skill. Overall, using Frostferno is better than not having a second 6-Link, and therefore can serve as a stepping stone to the full late-game if necessary.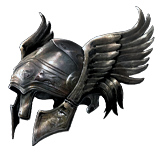 Devoto's Devotion is the best option for farming and clear speed, particularly when paired with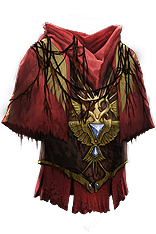 Queen of the Forest. If you are looking purely to maximize experience per hour or maps per hour, this is the helmet for you. Just like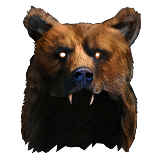 Starkonja's Head, this is such a prolific Unique that finding enchants is usually relatively easy. The downside of Devoto's is that it lacks Maximum Life and Damage, which makes it a poor choice for bossing and deeper delves.
:
15% increased Elemental Hit Attack Speed
Elemental Hit deals 40% increased Damage
The author of this guide is a particular fan of

Elemental Hit, and despite having leveled several characters and variations to Level 100 using this skill, has found no discernible difference in damage between the two enchants — even Path of Building calculations seem to support the conclusion that there is a negligible difference between the two. We sincerely recommend choosing whichever of the two is currently cheaper on your desired helmet.
Gloves
A pair of Rare gloves with an Evasion base, ideally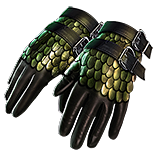 Gripped Gloves, should be used. Prioritize the stats as follows:
[Uncapped] Resistances
+# to Maximum Life
% Increased Attack Speed
+# to Accuracy Rating (300 or more)
% Increased Evasion Rating
+# to Evasion Rating
Boots
A Rare pair of boots should be used. You may opt to use an Armor/Evasion base to get colors more conveniently for your

Cast when Damage Taken Support link.
25%+ Movement Speed
[Uncapped] Resistances
+# to Maximum Life
Has Abyssal Socket (Delve)
Intelligence
% Chance to Dodge Attacks (Shaper Suffix)
% Chance to Gain an Endurance Charge on Kill (Elder Prefix)
Cannot be Frozen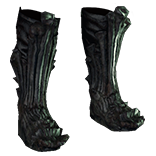 Bubonic Trail with 2 Abyssal Sockets can offer a fair amount of damage and Maximum Life, assuming you can afford strong Abyss Jewels. These are more of a luxury item than a necessity, however, so save the upgrade until you have your 6-Links and other core items.
Weapon and Quiver
Crafting Your Own +Gem Levels Bow
The best possible option, in the wake of the nerfs to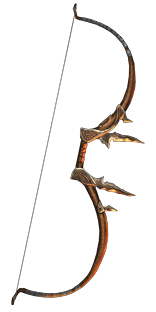 Chin Sol, is a +3 Gem Levels Bow. While these can be purchased, usually for a pretty price indeed, they can also be crafted relatively easily. Here is an example (Shaped) bow that our character used in the Betrayal league:
The most important stat for

Elemental Hit is gem levels, by a wide margin. This is why

Empower Support (Level 4) also has such a large influence, especially when combined with the +3 Bow.
Starting out in a league, however, this is not going to be in reach for most players. We recommend starting with a +2 Bow, which can be cheaply obtained early in the league by turning in

The Porcupine for a 6-Link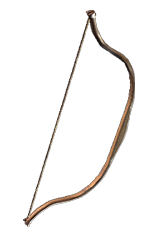 Short Bow (item level 50). Use a Shrieking Essence of Rage onto the bow to guarantee +2 Fire Gems. Shrieking Essences of Spite and Sorrow can also be used, as

Elemental Hit is counted as a gem of every element. Craft Attack Speed onto the bow if it isn't rolled already. These are the main two stats that matter; in particular, the +Level to gems has a massive effect on Elemental Hit's damage.
To craft the ).
Make the bow Rare if it is not already.
Use Perfect Fossils on the bow until you get 28%+ Quality.
Use an Orb of Scouring on the bow.
Make the bow Rare again.
Craft as much Quality as possible onto your bow at the Crafting Bench.
You now want to get the correct colors on your bow using the Vorici Method. This involves using the Crafting Bench and

Jeweller's Orbs to greatly increase the likelihood of getting off-colors (versus using

Chromatic Orbs). If you are using the advised gem setup with

Empower Support (3 Red, 1 Blue, 2 Green) or

Increased Critical Strikes Support (2 Red, 2 Blue, 2 Green) you will need 4 "off-colors" (as bows are Dexterity based and favor Green sockets). If you are using

Slower Projectiles Support, you will only need 3 off-colors, and makes this process a little easier. The steps below are for players using

Empower Support, however, once you understand the methodology at play you should have no trouble understanding how to adapt it to other colors and even other builds.
Head to the Crafting Bench:
Force "2 Red Sockets" onto the bow.
Alternate between "3 sockets" and "2 sockets" until the third socket is either a Red or Blue socket.
Alternate between "4 sockets" and "3 sockets" until the fourth socket is either a Red or Blue socket (whatever you need for your colors).
Force 6 sockets onto the bow. There is a very good chance they are both Green sockets.
If they are not Green sockets, alternate between "4 sockets" and "6 sockets" until the last two sockets are Green (this should only take 1-2 iterations maximum).
Now, 6-Link your bow using

Orb of Fusings. The increased quality will greatly increase your chance of success. The bow is mostly complete now; all that is left to use a little currency and fossils on it until you are happy with it. You will need to following items to craft the +3 Gems prefixes, and a Resonator to socket them in:
Use a 3-socket resonator socketed with a Metallic Fossil, Prismatic Fossil, and Corroded Fossil on the bow. Since you are only guaranteed a single prefix, it may take several attempts, however, the chance is very good that you will receive both remaining prefixes in 1-3 rolls. Repeat the Resonator reforging until you are happy with your bow. The most important stat after the +3 Gems is Attack Speed — remember you can always craft anything else you need, or re-roll the bow again later on.
After the nerfs to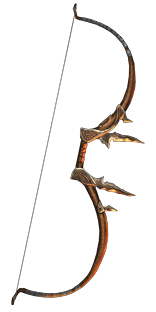 Chin Sol, it is no longer the default item for

Elemental Hit builds. It is, however, still an extremely strong bow for single-target, and a very attractive option if you are on a budget, or early in the league.
Quiver
A Rare quiver is the best option, ideally either a Spiked-Point Arrow Quiver or a Penetrating Arrow Quiver. Shaped Quivers are ideal, however, this can be saved for a later upgrade. Prioritize the stats as follows:
+# to Maximum Life
% Increased Global Critical Strike Multiplier
% Increased Elemental Damage with Attack Skills
% Chance to Gain Onslaught on Kill (Shaped Suffix — allows you to replace Silver Flask)
% Increased Attack Speed
% Increased Movement Speed (Shaped Prefix)
+# to Accuracy Rating
Resistances
For maximum clear speed, especially when using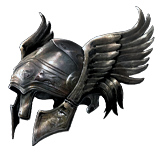 Devoto's Devotion and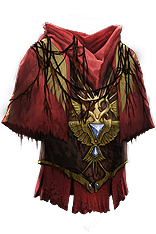 Queen of the Forest,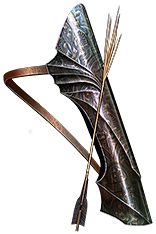 Rigwald's Quills is going to be your best bet. This will compromise your boss damage a fair bit, however, you can always compromise by using a Shaped quiver with +1 Projectiles.
Accessories
Amulet

Xoph's Blood is the best amulet overall, since we cannot get Avatar of Fire on the tree. It simply has everything we could ask for; a large amount of health, a chunk of Fire Resistance, Strength, Fire Penetration, and the Ash debuff. If you are not clear on what the Cover Enemies in Ash when they Hit you debuff does, have no fear. Enemies covered in Ash take 20% increased Fire damage, and have their Movement Speed reduced by 20%. Xoph's is expensive, but a worthwhile upgrade.

Yoke of Suffering is another great alternative, and usually much cheaper than

Xoph's Blood . In most situations, you will pick this up first, and upgrade to Xoph's later on.
Until you can afford either Unique, simply use a Rare amulet, prioritize stats as follows:
[Uncapped] Resistances
+# to Maximum Life
% Increased Global Critical Strike Multiplier
% Increased Elemental Damage with Attack Skills
% Increased Global Critical Strike Chance
% Increased Attack Speed
Any other damage stats you can work in are fine.
Rings

Pyre should be one of your first pickups, due to its inexpensiveness and huge impact on the build. If you are using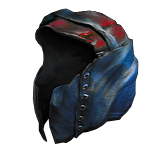 Frostferno, Pyre does not need to be used. The "Ignited Enemies you hit are destroyed on Kill" affix is very satisfying, and also very useful — destroyed enemies cannot be detonated, which adds another element of safety.

The Taming is an amazing ring for this build, and can be used throughout the entire league. Though a little pricey, it is definitely worth the investment, and allows you to itemize for a lot more damage on the rest of your Rares due to the massive helping of Resistances.
A Rare ring can be used in place of

The Taming until you can afford it. Prioritize stats as follows:
[Uncapped] Resistances
+# to Maximum Life
% Increased Elemental Damage with Attack Skills
+# to Accuracy
% Increased Fire Damage
% Increased Damage (Crafted)
Flat Fire Damage to Attacks
Strength / Intelligence
Belt
A Rare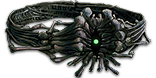 Stygian Vise should be used. Prioritize the affixes as follows:
[Uncapped] Resistances
+# to Maximum Life
% Increased Elemental Damage with Attack Skilsl
% Increased Fire Damage (Delve)
Strength
Jewels
Unique Jewels
Two Combat Focus Jewels (one

Combat Focus (Dexterity and Strength) and one

Combat Focus (Strength and Intelligence)) are required, to prevent your

Elemental Hit from choosing . Your Combat Focus Jewels should be placed as detailed in the images below:
Standard Jewels
Prioritize stats on your Jewels as follows:
% Increased Maximum Life
% Increased Attack Speed with Bows
% Increased Multiplier with Elemental Skills
% Increased Global Critical Strike Multiplier
%Increased Attack Speed
% Increased Fire Damage
Abyss Jewels
For your Abyss Jewel(s), you will want to prioritize stats as follows:
(40)+ Maximum Life
% Increased Global Critical Strike Multiplier
% Chance to Gain Onslaught on Kill
% Increased Global Critical Strike Chance
+# Fire Damage to Bow Attacks
+# Lightning/Cold Damage to Bow Attacks (with Xoph's Blood)
Flasks
Flasks can be swapped out as your preference suits.
Standard Setup
Fire Resistance must be your highest Resistance in order to use

The Wise Oak, though this is relatively easy to achieve, particularly with

Xoph's Blood.
Seething Divine Life Flask of Staunching
The Wise Oak
Experimenter's Diamond Flask of Warding
Chemist's Silver Flask of Heat
Alchemist's Quicksilver Flask of Arenaline
With Onslaught on Kill Quiver/Abyss Jewels
Seething Divine Life Flask of Staunching
The Wise Oak
Experimenter's Diamond Flask of Warding
Perpetual Basalt Flask of Heat
Alchemist's Quicksilver Flask of Arenaline
You should also use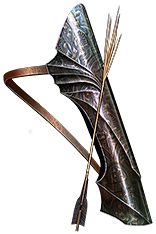 Rigwald's Quills as your Quiver, or a Shaped Quiver with extra projectiles.
Seething Divine Life Flask of Staunching
The Wise Oak
Experimenter's Diamond Flask of Warding
Dying Sun
Alchemist's Quicksilver Flask of Arenaline
Leveling
As a reminder, we have several guides to help you level up a character.
We recommend leveling as

Rain of Arrows, if you plan on leveling as a bow build. Your tree will remain the same, as does your Ascendancy pathing. Try and pick up a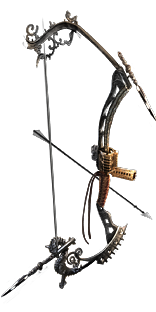 Storm Cloud or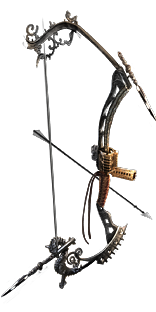 The Tempest, as it will be leveling far easier. Links are as follows:
Try to pick up some DPS flasks as early as possible, such as the Silver Flask.
FAQ
Which Annointment Should I Use?
Annointments grant the player a high degree of personal choice, so if you find yourself struggling any facet of gameplay in particular you can and should re-evaluate potential options to solve your issue(s). The freedom to take any notable on the tree is a powerful tool that you can utilize in a variety of effective methods. Here are some of our default recommendations:
Offense: Heart of Flame is one of the most attractive options, offering additional Fire damage and penetration for all of our damage, which is particularly potent for bossing.
Defense: Constitution is simply the best Life node on the entire tree, but it is in a relatively awkward spot for this build to acquire via conventional pathing — at least without sacrificing significant damage from the upper part of the tree. Consider annointing this for additional survivability, particularly if you are going for a Kaom's Heart configuration.
Utility: Graceful Assault grants Onslaught for clear without the need to use a Silver Flask, freeing up an additional Flask slot for whatever purpose you should choose. Dying Sun, for example, can be slotted in to further increase clear.
Flexibility: Whispers of Doom allows for considerable flexibility of playstyle, unlocking additional options for offense and defense. This is an expensive option that requires gem reconfiguration in order to facilitate reliable application of your curses. If you do not have a clear idea of how you intend to utilize this passive we recommend avoiding it entirely. Even then, Heart of Flame is often a simpler and competitive option for damage.
How Do I Kill Atziri?
You will need to respec out of Ricochet on your Ascendancy tree to avoid dying to the mirror clone if you plan on farming Atziri.
Why Don't You Recommend Lioneye's Fall by Default?
The amount of points invested actually result in a slight DPS loss, assuming you can fill the Jewel slot with a strong candidate. Since

Lioneye's Fall is an expensive investment, you should be able to acquire a better Jewel for less.
Generally speaking, Fire offers the best damage, is the easiest to facilitate, and has the best interactions with Unique items. Cold Based

Elemental Hit is much better for Delving, however, it is at the expense of a noticeable amount of damage and bossing ability. We feel this trade-off is not worth it.
How Does Elemental Hit Conversions Work?
On 12/08/2019 at 12:13 PM, Furty said

On 10/08/2019 at 1:09 PM, paganizer said

I have no clue how, but it sure beefed up damage with that focus.
You mean I should switch weapon for clearing and switch back chin sol for single target? Or just keep the single target gem setup in chin sol?

Thanks a lot for your time.

It's a little complicated before you fully understand how Elemental Hit conversion and scaling works (you don't need to understand it either, it's mostly academic as long as you follow the recommendations).

To explain it very simply:

Baseline Elemental Hit adds damage of all three elements to an attack (let's say 500 Fire, 500 Cold, 500 Lightning) but element. So if you attack and it chooses Fire, you will deal 500 Fire damage instead of 1500 mixed damage.
This is where Combat Focus (Strength and Intelligence) and Combat Focus (Dexterity and Strength) come into play. The 500 Cold and Lightning Damage still exists, but since you can now only choose Fire, you will deal 500 Fire damage every attack.
By taking Avatar of Fire, you are converting 50% of that latent Cold and Lightning damage to Fire damage. You are now dealing 1000 Fire damage with every attack.
By using Pyre you are now converting 90% of Cold Damage to Fire damage. Your are now dealing 1200 Fire Damage with every attack.

By not having Combat Focus (Strength and Intelligence) socketed, you were dealing 33% of the time. Whenever Elemental Hit chose cold, you dealt only Fire damage, but Elemental Hit element.