Essence Drain/Contagion and Blight Trickster Build Guide (PoE Blight 3.8)
About the Author
Furty has been playing Path of Exile since the release of the Onslaught League in 2013, and has a deep and diverse well of experience within the game. Equally comfortable playing on Hardcore, Softcore, and Solo-Self Found Leagues, recent ladder results include finishing at Rank 5 on the Legion SSF League playing

Essence Drain and the Betrayal League at Rank 186 playing

Elemental Hit. You can follow him on Twitter, or check out his occasional streams on Twitch.
Introduction

Essence Drain and

Contagion have long formed a powerful tag team, presenting the player with near unparalleled clear speeds and experience per hour. While this pairing did not functionally change at all in Patch 3.7, Legion introduced a new league mechanic that plays exactly to this build's strengths. There is no better build for reliably breaking every Legion mob from their monolith stasis, and better yet, it .

Essence Drain was truly .
With monoliths going core and no real nerfs to the capability of this build, our

Essence Drain Trickster remains a powerful choice to tear apart maps with near unmatched clear speed. A great league starter at a bargain price, this build scales well into the end-game and feels satisfying as it spreads its deadly chaos damage, devouring pack after pack with ease.
This build was used by the author, Furty, to hit Rank 5 on the Legion Solo Self-Found Ladder, and has once again become one of the most meta builds available. Viable in all leagues — Softcore, Hardcore, and Solo Self-Found — the

Essence Drain Trickster is one of the best candidates in the current meta for reaching Level 100, if not the superlative article itself.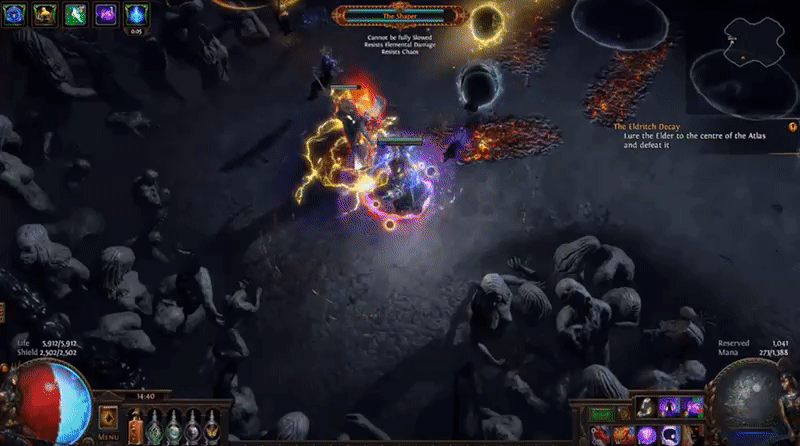 What really makes this build special is its flexibility across the board. Trickster is one of the strongest defensively-oriented Ascendancies in the entire game, even despite the (repeated) Ghost Shroud nerfs, and it offers offensive choices that play directly into

Essence Drain's strengths. We are looking at a build that feels incredibly stable to play, even against some of the game's most lethal opponents — heavily modded Betrayal mobs, monolith rares, Uber Elder , you name it — this build feels formidable in the hands of any player. Our

Essence Drain Trickster is the perfect choice for anyone who wants to experience clear speed at its finest, climb to the highest levels possible, annihilate monoliths, and do it with the fastest experience per hour we can deliver.
Build Assessment
Pros
+ Exceptional clear speed and experience per hour rates
+

Essence Drain +

Contagion is the way to deal with monoliths and similar league mechanics (breaches, incursions, etc.)
+ Extremely safe build — great defenses, mobility, immune to all reflect and map mods, and able to off-screen with DoT damage
+ Viable for Hardcore and Solo Self-Found
+ Great league starter
+ All damage penetrates proximity shields
+ Gearing path is very flexible
+ Cheap
Cons
– Single target damage does not scale as well as top tier bossing builds
– Allies Cannot Die aura is a pain to deal with (prevents

Contagion from spreading

Essence Drain)
– Does not deal burst damage (can struggle in situations like Shaper opening portals to attack Zana if your gear is not good, although

Blight mitigates this somewhat)
Playstyle and Build Mechanics
This build pairs together two skills to deal the bulk of its clear:

Essence Drain and

Contagion. When an enemy dies while affected by

Contagion, the debuff and associated degeneration effects (namely

Essence Drain) spread to nearby enemies. This causes your debuffs to cascade outwards through an enemy pack and sometimes across several screens at a time. Here is an example of dealing with an entire Legion on a heavily modded Tier 15

Summit Map: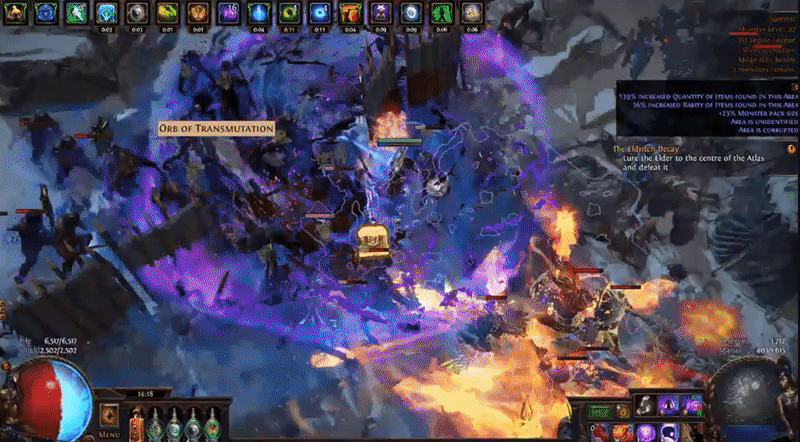 Vaal Blight is also incorporated to add a ton of extra damage in an AoE, which helps a lot when dealing with particularly tanky enemies such as Betrayal squads or monolith rares. This build has two curses, although we do not use a multi-curse node to have them applied simultaneously, such as Whispers of Doom. Instead,

Despair can either be applied manually, or by

Witchfire Brew if you are opting to use that flask.

Temporal Chains is linked to a

Cast when Damage Taken Support gem which helps us deal with bursts of damage or ranged enemies.
Our Ascendancy Nodes of Ghost Dance and Escape Artist go a long way to providing a suite of defenses — a ton of bonus Evasion and Energy Shield, and automatically regenerating Ghost Shrouds that replenish our entire Energy Shield on-hit every 2 seconds. The new

Flesh and Stone aura is also invaluable for reducing ranged damage and providing permanent

Blind Support to nearby enemies. Most of our flasks are defensively oriented, as our clear is already more than enough, adding another layer to the defense of the build.
If you like builds or archetypes that rely on combos, this is one of the most engaging and active builds you will have to opportunity to play. You will constantly need to fire off

Essence Drain and

Contagion a fraction of a second apart — if you have quick fingers, you can shoot off an

Essence Drain and quickly land

Contagion for an instant spread.

Essence Drain kills most enemies so quickly, however, that the safer combination for most players is to land

Contagion and then immediately

Essence Drain. You can manually apply

Despair on packs that do not immediately die, such as monolith rares.

Vaal Blight should generally be used as often as possible, unless you are anticipating a difficult fight in the near future, such as a Betrayal encounter.

Blight should also be used when appropriate, and is an essential component of our single target damage for bosses.

Arcane Surge Support should also be kept up as often as possible, which is much easier now with the instant-cast

Flame Dash changes. The infusion buff, should you opt to use

Infused Channelling Support in your

Vaal Blight link, should also be kept active on tanky bosses, such as the Shaper or the Uber Elder.
Path of Building
Here is Furty's Rank 5 character from the SSF Legion League: https://pastebin.com/Fkprwxny
This can be used as a reference point, however, bear in mind that not all gear used is absolutely ideal as it is a Solo Self-Found character.
Passive Skill Tree
This is our Level 100 Passive Skill Tree.

You will want to acquire Method to the Madness and Blood Siphon immediately. Grab the Chaos notables Growth and Decay and Atrophy early before you start migrating across the tree towards the Witch starting area. The minor 10% Area of Effect nodes are actually very helpful while leveling, and Cruel Preparation and Corruption should be your next targets.
From here, you can essentially go wherever you need. The Templar starting area's Discipline and Training notable is quite helpful for staying healthy, and the Alchemist flask nodes are heavily underrated — you will want this notable once you are using a full suite of utility flasks and entering Maps and Eternal Labyrinth. The

Spreading Rot Jewel should be picked up and socketed as soon as possible, adding a gross amount of damage to your single target as well as your AoE burst when

Vaal Blight is activated. We recommend socketing it in the Jewel socket directly above and to the left of the Shadow starting wheel, pictured below:
You can starting picking up the Purity of Flesh and Devotion Life notables a little later — we opted to grab them around the late 80's and early 90's, since there is a fair amount of "useless" +10 stat nodes that lead up to them, which makes them of relatively lower impact early. In particular, Devotion is not really worth picking up until you have a worthy Jewel to socket in the Jewel socket along the way.
If you do not have or are not using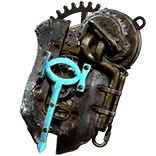 Zeel's Amplifier, the 10% Area of Effect nodes in the Amplify notable wheel can make the build a lot more comfortable to play with, although they do not directly increase

Essence Drain's damage. We opted to use all three of these nodes until we had enough points to reach Devotion, since the +10 attribute points do nothing for the build, then respecced out of them when we had enough points to reach the Devotion notable without delay.
The skill tree is quite flexible in terms of ordering of investment; if you have amazing Jewels, the sockets can be invested in earlier. In most cases, however, these will be among your last pickups and are used as the "icing on the cake", as it were. Any nodes that affect Maximum Energy Shield, such as Sanctify or Arcane Focus, should not be acquired until you get the large Energy Shield boost from Merciless Labyrinth_ from the Escape Artist keystone. Arcane Focus, in particular, is not worth picking up if you are using a very low Evasion chest.
Gems

Essence Drain forms the bulk of our damage, and is the gem that we keep in our 6-Link. It is relatively inflexible in what it can be supported by, as Damage over Time (DoT) can only be scaled by a few gems, as can Chaos damage.

Contagion has its own 4-Link, as does

Vaal Blight, which helps maximize the strengths of these skills, while minimizing any baseline deficiencies they have.
Since we do not have any need to use Mind Over Matter, we can run several auras. Our preference is to use

Malevolence to increase our Skill Effect Duration and Damage over Time.

Flesh and Stone is a new aura, but a very potent one — we always stay in Sand Stance while using it, which helps mitigate damage from afar while permanently applying

Blind Support to nearby enemies. This adds a huge amount of survivability that is not to be understated.

Despair is manually applied to increase damage to tanky targets when appropriate.

Flame Dash is or mobility skill of choice, and is a far stronger choice than ever before with the movement skill changes in Legion.

Arcane Surge Support is linked to give us a near-permanent buff when we are clearing properly. Finally, a classic

Cast when Damage Taken Support link is incorporated to help us apply a defensive curse (our pick is

Temporal Chains) and reduce damage taken via

Immortal Call.

Decay Support can be used in place of

Empower Support, however, it is only marginally better than a Level 2 Empower and categorically worse than Level 3.

Empower Support should be acquired and implemented as soon as possible, and leveling it yourself does not take as long as many might think.
In order of priority:
You can, of course, use

Void Manipulation Support instead of

Empower Support in your 5-Link if you do not have a Level 3

Empower Support yet, and it is the superior option in this context.
With

Contagion's area scaling per level being removed you will want to use two area increasing supports to maximize spread potential.

Faster Casting Support can also be used in place of either

Increased Area of Effect Support or

Efficacy Support to help you make your

Essence Drain +

Contagion combo as smooth as possible.

Blight is fine on its own, however, you will want to implement

Vaal Blight as soon as you can acquire it. It is especially useful for dealing with monolith rare mobs, as they are prone to being in large groups. Combined with

Spreading Rot, the ability to apply several stacks of

Blight as well as

Withered stacks in a large AoE is invaluable for melting them as quickly as possible. It also has great synergy with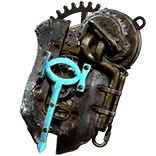 Zeel's Amplifier and can have an absolutely massive area of effect at certain moments.

Infused Channelling Support is far and away the best overall option and exceptional for single target. Quality on this gem is quite useful for bossing as it reduces the amount of time you need to channel to acquire the Infusion buff significantly. Even if you do not have the Infusion buff this gem still offers the highest damage in all situations.
Feel free to adjust the levels of these gems to your liking for frequency of triggers or effectiveness of gems.
Flame Dash
Arcane Surge Support (Level 2)
Faster Casting Support
Auras and Despair 3-Link

Despair can be swapped for another skill of choice, such as

Vaal Grace, if you are opting to use

Witchfire Brew. These gems do not need to be linked.
Malevolence
Despair
Flesh and Stone
Ascendancy, Bandits, and Pantheon
Ascendancy
Swift Killer
Ghost Dance
Escape Artist
Patient Reaper
Additional Information
Swift Killer is a good starting point. The Cast Speed and Damage boost is helpful, particularly early on when you have few Cast Speed buffs from Gems or the Passive Skill Tree. This makes the Essence Drain and Contagion combo a lot smoother and easier to land.
Ghost Dance grants a fair amount of defense as well as clear speed due to the Movement Speed bonus. This keystone becomes incredibly valuable in the late game and the cornerstone of a Trickster's defensive prowess — the Energy Shield return is incredibly overpowered, especially when you have a Jade Flask of Reflexes active. For context, our character had around 2500 Energy Shield in the end game, and whenever we took a hit . You also gain Ghost Shrouds every 2 seconds, which means that if you are kiting properly and not standing completely still it is very unlikely you will be killed by anything.
Escape Artist, combined with Ghost Dance, is the keystone that makes a Trickster truly near-immortal. Stun immunity while you have Energy Shield (virtually always), Energy Shield per Evasion on your Chest, and Evasion per Energy Shield on your Helmet, as well as Spell Dodge while you have Energy Shield. This cornucopia of stats results in a defensive phalanx that is perfect as you are heading into Maps and only gets better as you upgrade your gear (your Head and Chest, specifically).
Patient Reaper is the final icing on the cake. Essence Drain has some of the best clear in the game, often destroying multiple screens. Couple that with the regeneration per kill aspect of this keystone and you have a near bottomless well of regeneration to draw on when you are fighting groups of enemies, such as breaches or monoliths. The Mana return is also very helpful, as Essence Drain is a fairly Mana hungry build. The 50% increased Damage over Time is the perfect complement to make this choice a no brainer.
Prolonged Pain is a popular alternative to Swift Killer for less experienced players. This results in a less smooth version of the build as you lack cast speed and a small loss in damage, however, the increased skill effect duration feels quite nice. Either choice is fine, though we feel Swift Killer is a critically underrated node for these types of builds.
Deal with the Bandits Reward
Since Damage over Time cannot crit, the only real option is for the 2 Passive Points. Helping Alira is also an option for league starting on Solo Self-Found (especially SSFHC) early on, as the Elemental Resistances can be very helpful for survival. If you opt to do this, you should respec to the 2 Passive Points later on.
Pantheon Choice
Major Gods
Soul of Solaris: The absolute safest choice when properly upgraded. Immunity to enemy crit chains, chance to avoid immunities, and reduced Elemental Damage are all incredibly valuable to this build.
Soul of Lunaris: A good choice before your Solaris is upgraded, adding some Physical reduction and Movement Speed.
Minor Gods
Soul of Shakari should be used once it is upgraded to remove poison as a threat and reduce the impact of Chaos damage and caustic clouds, which can be occasionally threatening to hybrid builds.
Soul of Gruthkul is a good choice for Physical damage reduction.
Gear Summary / TL;DR
These items strike a balance between power and cost-effectiveness. If you want to explore more options for Gear (both budget and high-end), Flasks, or get more information on alternatives and specialty items, please ensure you read the Gear, Jewels, and Flasks section in its entirety.
Gear, Jewels, and Flasks
Armour
Chest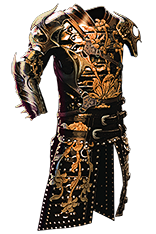 The Perfect Form is a strong all-round defensive chest that also allows you to use

Arctic Armour for free, as well as acquiring Phase Acrobatics without the need for a 9-point investment, which is not worth it on the tree. It also has a decent Life and Evasion roll, and your Evasion rating can be increased by uncapped Cold Resistance. This affect the Evasion roll on the chest itself and therefore does not affect Energy Shield gained from the Escape Artist passive (+1 Maximum Energy Shield per 6 Evasion Rating on Body Armor). This is one of the best all around options and is not particularly expensive.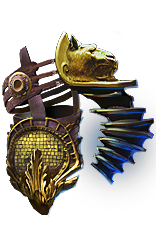 Hyrri's Ire has the highest Evasion roll of any chest in the game, allowing you to get the most mileage out of the Escape Artist passive (+1 Maximum Energy Shield per 6 Evasion Rating on Body Armor). It also provides a "mini-_Acrobatics_", granting 10% Attack and Spell dodge. While it does have a high Dexterity requirement, it also gives a large amount of Dexterity, meaning that once it is equipped you can usually use the item without any additional stat nodes or items. The Evasion roll itself is also a huge bonus, and offers a similar amount of Evasion Rating as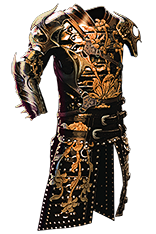 The Perfect Form even if you have 200% Cold Resistance. Hyrri's was our choice on our character due to the significant Energy Shield bonus and smooth interaction with Ghost Shrouds, and is about on-par with the defense benefits of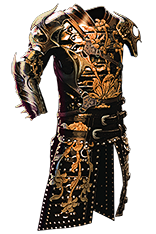 The Perfect Form. One of the downsides, however, is that it is significantly more expensive and offers no Life roll. If you are using Hyrri's, it is worth investing 2 points into the Energy Shield notable Arcane Focus near the Witch starting area.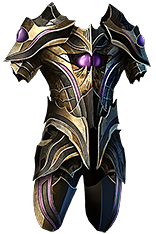 Cherrubim's Maleficence is very cheap and a common drop, making it a realistic acquisition for Solo Self-Found. It is a good choice for boosting damage early on, especially if you are only on a 5-Link, as the increased Chaos Damage works as a sort of pseudo 6-Link. The Armour is not particularly useful for us, and the Evasion roll is not particularly stellar, which is why do not favor it as a late-game choice.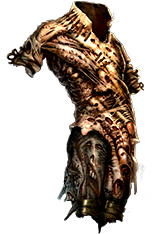 Carcass Jack is an alternative to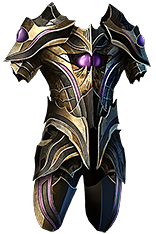 Cherrubim's Maleficence early on, and adds a large area of effect bonus to boost your clear.
Helmet
A high Energy Shield (ideally 400+)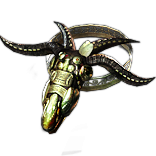 Hubris Circlet is the best choice. Not only is the Energy Shield itself very valuable, but it also adds 5 Evasion Rating per 1 Energy Shield due t our Escape Artist passive. This means that a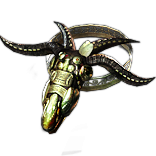 Hubris Circlet with 400 Energy Shield, for example, will provide a whopping despite being an Energy Shield base. This double-dipping effect is part of what makes Trickster such an obscenely powerful defensive Ascendancy. As long as it is an Energy Shield base, it is a fine choice for your helmet. You will also want a Life roll, since we are a hybrid build.
If you are very rich or you want to Fossil Craft it yourself, the Nearby Enemies Have -9% Chaos Resistance affix is quite potent.
:

Essence Drain duration is actually better than damage in some cases, particularly when dealing with monoliths, as it allows your

Essence Drain to bounce for longer and propagate throughout the entire pack. We still recommend the damage enchant for all-round purposes, but the disparity is smaller than in previous leagues.
Gloves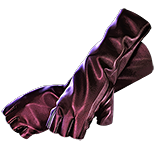 Fingerless Silk Gloves are the best choice, as Spell Damage scales all of our skills directly. Prioritize stats as follows:
[Uncapped] Elemental Resistances
+# to Maximum Life
+# to socketed AoE Gems / % Increased Area of Effect (Crafted — Socket your Vaal Blight in these gloves)
+# to Dexterity
% Increased Damage During Soul Gain Prevention Period (Crafted)
% Increased Energy Shield
+# to Maximum Energy Shield
Boots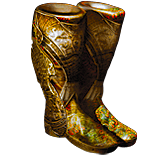 Atziri's Step are one of the best options for this build. They are extremely cheap, offer a grotesque amount of Evasion, and have widely available Enchantments on trade leagues.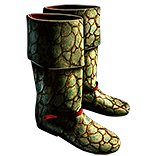 Two-Toned Boots (Fire and Cold Resistances) with Evasion and Energy Shield are a nice acquisition to allow you to pass over some Resistances on other times.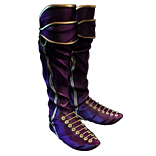 Sorcerer Boots or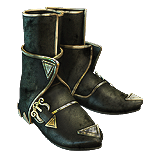 Slink Boots are both fine alternatives. Prioritize stats as follows:
% Increased Movement Speed (25%+)
[Uncapped] Elemental Resistances
+# to Maximum Life
% Increased Damage During Soul Gain Prevention Period (Crafted)
% Increased Evasion and Energy Shield (depends on choice of base)
+# to Maximum Energy Shield (or Evasion – depends on choice of base)
16% increased Attack and Cast Speed if you've Killed Recently
8% chance to Dodge Spell Hits if you've taken Spell Damage Recently
10% Chance to Dodge Attack Hits if you've taken a Critical Strike Recently
80% chance to Avoid being Stunned if you've Killed Recently
The Stun enchant is slightly more valuable if you are using a lower Evasion chest, as you are more likely to have your Energy Shield broken before a Ghost Shroud tops it off, and therefore susceptible to stuns (you are immune while you have Energy Shield). If you are using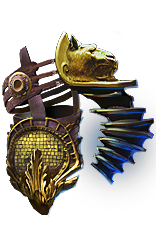 Hyrri's Ire or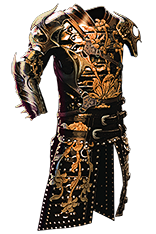 The Perfect Form, we recommend using the Cast Speed enchantment or the Spell Dodge.
Weapon and Shield
Weapon
Wands are the best choice for this build due to their Spell Damage implicits. The

Opal Wand offers the best possible Spell Damage implicit. Crafted wands are superior for this build, and can be done yourself if you have enough of the Syndicate recipes unveiled. To craft a wand you will need a few

Exalted Orbs to pay the crafting cost. Follow these steps:
Once you have a

Opal Wand with a Tier 1 or Tier 2 % to Non-Ailment Chaos Damage over Time Multiplier or % Increased Cast Speed roll (or both, if you are one of the luckiest people ever), your wand is basically done. Head over to the crafting bench and:
Craft Can Have Multiple Crafted Modifiers
Craft either % to Non-Ailment Chaos Damage over Time Multiplier or % Increased Cast Speed (whichever your Wand does not have)
Craft 46-50% Increased Chaos Damage / Chaos Skills Have 11-12% Increased Skill Effect Duration
Craft 21-30% Increased Damage Over Time
Craft 13-16% Increased Chaos Damage
Congratulations, your wand is done! Here is an example of the wand that Furty's character crafted for the Legion Solo Self-Found League:
Until you can afford to get a nice multi-modded

Opal Wand, you should instead use any wand you can find with % to Non-Ailment Chaos Damage over Time Multiplier, % Increased Cast Speed, and % Increased Spell Damage. As long as you have these three stats (even if one of them is crafted) with a fairly decent roll, you will have a fairly potent weapon.
Shield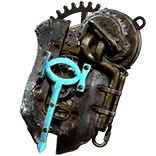 Zeel's Amplifier is the best option for clearing and experience per hour as it has decent Spell Damage and organically increases your Area of Effect, which is invaluable for maximizing proliferation of your diseases without heavy investment into Area of Effect skill tree nodes and causing your

Contagion to chain across multiple screens more reliably. It is also very cheap, and an easy acquisition even early in the league.
A Rare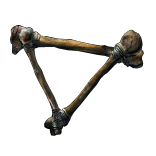 Fossilised Spirit Shield or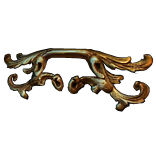 Titanium Spirit Shield (offense and defense, respectively) is also an option. Prioritize stats as follows:
[Uncapped] Elemental Resistances
+# to Maximum Life
% Increased Spell Damage
+1 to the Level of Socketed Chaos Gems (socket your Despair in this shield)
% Increased Cast Speed
% Increased Energy Shield
+# to Maximum Energy Shield / Maximum Life
Accessories
Amulet

Impresence (Chaos) can be an exceptional choice for this build and allows you to fit

Blasphemy Support into your build for free. for more information on how to best facilitate this. Not only does this neck offer good survivability from the Chaos Resistance, Maximum Life, and Maddening Presence (Slows enemies and reduces their damage by 10%, respectively), but it also has an exceptional damage increasing component. This is a good choice for the late game when you are looking to start farming bosses, such as the Uber Elder.
A Rare Amulet or Talisman is a great alternative. Prioritize stats as follows:
[Uncapped] Elemental Resistances
+# to Maximum Life
% Increased Spell Damage
% Increased Cast Speed
+# to Attributes (as needed)
% Increased Damage (Crafted)
% Increased Maximum Energy Shield
Rings
Rare

Two-Stone Ring (Fire / Lightning Resistances) are the best choice in most situations, as there are not any damage increasing implicits we can take advantage of. Prioritize stats as follows:
[Uncapped] Elemental Resistances
+# to Maximum Life
% Increased Chaos Damage (Crafted)
+# to Attributes (as needed)
% Increased Damage (Crafted)
and want to incorporate

Blasphemy Support with your

Despair, you will want to use an

Unset Ringwhich can roll (up to +3 at Item Level 76). Drop

Malevolence from the link that also has

Despair and

Flesh and Stone, replacing it with

Blasphemy Support. Place

Malevolence in the +# to Gem Level

Unset Ring.
Belt
A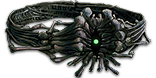 Stygian Vise is the best belt base to use. Prioritize the stats of your belt as follows:
[Uncapped] Elemental Resistances
+# to Maximum Life
% Increased Effect of Flasks on You (Crafted)
+# to Strength
+# to Armour
One of the main reasons to use a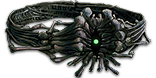 Stygian Vise is that we want to have an Abyssal Socket so we do not need to waste a Jewel Socket. By acquiring an Abyss Jewel with % Chance to Gain Onslaught for 4 Seconds on Kill, we forego the need to use a

Silver Flask entirely. This increases clear by boosting Movement and Cast Speed. This affix can only be found on

Searching Eye Jewels and

Murderous Eye Jewels. Prioritize the affixes as follows:
% Chance to Gain Onslaught for 4 Seconds on Kill
+# to Maximum Life
% Increased Damage over Time while Holding a Shield
% Increased Movement Speed if You've Killed Recently
Any other useful stats you can find or make use of, such as Resistances, are perfectly fine — Onslaught is by far the most important and it is worth using a Jewel with that and nothing else if necessary.
Jewels
As with most builds that use classic Auras, a

Watcher's Eye is going to be your best bet in the extreme late-game, or when you are rolling in the

Exalted Orbs. This is for the build and was excluded from any of the damage stats and calculations, simply because it will not be a realistic acquisition for virtually all players.
Prioritize

Watcher's Eye mods as follows:
+(18-22)% to Non-Ailment Chaos Damage over Time Multiplier while affected by Malevolence
(20-30)% increased Skill Effect Duration while affected by Malevolence
Unique Jewels

Spreading Rot is absolutely required for this build and can be acquired free of charge from the Act V quest Death to Purity (after you kill Innocence). Bear in mind that the Intelligence requirement does not need to be talented, just within the radius of the Jewel. There are several viable options for this, but default placement is displayed below, as you want to start using this Jewel immediately while leveling and it is the closest candidate to the Shadow starting area:
Standard Jewels
We prefer the use of Standard Jewels over Abyss Jewels . Prioritize stats as follows:
% Increased Maximum Life
% Increased Spell Damage while Holding a Shield
% Increased Chaos Damage
% Increased Spell Damage
% to Non-Ailment Chaos Damage over Time Multiplier
% Increased Damage
% Increased Cast Speed
Any other useful mods you find or can make use of are perfectly fine to round out your Jewels.
Historic Legion Jewels
The new Legion Jewels present a variety of unique opportunities to augment your build in powerful but unpredictable ways. For example, Furty's Rank 5 Solo Self-Found character managed to procure the

Glorious Vanity Jewel shown below, with some of the Notables pictured so you are able to see the potency.
There are numerous Jewels that can be placed all over the Passive Tree that have enormously powerful influence over your damage and defense. The seed for the above Jewel is pictured below.
Be sure to experiment with Jewels you find or see on the market, as they can transform your build in ways no other items can match.
Flasks
General Mapping
Delving
Once you get to Depths of 239+ (Monster Level 83) you will want to start employing the

Granite Flask, as Monsters begin to deal very high Physical damage. We also recommend switching Pantheon to Soul of Gruthkul if you are aiming to go deeper than Depth ~400.

Witchfire Brew is a popular flask, especially on Softcore, but overall it does not do enough in most situations to warrant sacrificing a Flask suffix. Since we definitely want an of Reflexes flask (as this causes our Ghost Dance to fully replenish our Energy Shield every time we lose a Ghost Shroud), using

Witchfire Brew would force us to choose between an of Warding and of Heat Flask, both of which are very valuable to survival.

Witchfire Brew can be swapped in for some situations, such as Delving or bossing. Since there are few curses to deal with while Delving, and none to deal with while engaging Uber Elder or Shaper, this makes it ideal for such situations. It is a

Stibnite Flask, so that will be the Flask that you swap out.
Leveling
As a reminder, we have several guides to help you level up a character.
We recommend starting with
Freezing Pulse, which works well with

Lifesprig if you have one.

Blight can also be acquired at Level 1, but should instead be purchased as soon as possible from Nessa instead of being chosen as the Hillock quest reward, as it is an inferior leveling skill. You will want to acquire

Vaal Blight as soon as possible and replace

Blight once you have it.

Contagion can be acquired at Level 4 from the Breaking Some Eggs quest, which you should socket immediately while continuing to clear with
Freezing Pulse.
You can switch to

Essence Drain as early as Level 12, and it is obtained from The Siren's Song quest from Nessa after entering the Cavern of Wrath.
in order of priority:
If you are league starting and operating on a 3-Link, link

Essence Drain,

Void Manipulation Support, and

Efficacy Support in Act I and you are set to start ripping apart packs. Follow the advised links for

Contagion, but in Act I you can make do with

Void Manipulation Support and

Arcane Surge Support.

Blight should be linked with

Infused Channelling Support and

Void Manipulation Support in Act I if you have the links to spare.
Grab

Flame Dash as soon as possible in Act I and link it to

Arcane Surge Support (only level this one to Level 2).

Dash is a good mobility skill to make use of in the time before

Flame Dash can be acquired.
Be sure you have all the gems you need before leaving Act II (

Controlled Destruction Support,

Faster Casting Support).
In Act III, acquire

Malevolence and

Despair immediately after Lost in Love and start using them. It is worth doing The Library quest on Solo Self-Found, and even if you are league starting on a trade league (especially Hardcore) to pick up

Flesh and Stone as well, along with

Swift Affliction Support.
Make sure to get

Spreading Rot in Act V after killing Innocence and socket it as soon as possible.
Leveling is pretty straightforward with this build, and the gameplay is the same as in the end-game: apply

Contagion, fire off your

Essence Drain in the same moment, and watch it spread.

Blight is to be used for tanky enemies and bosses and Izaro.