Lake of Kalandra League (PoE Lake of Kalandra 3.19)
What is the Lake of Kalandra League in Poe?
Kalandra you may know from the Mirror of Kalandra that it is Path of Exile's most expensive item. The new Path of Exile league Lake of Kalandra lets you discover who she really is and gives you a taste of her power
The August expansion contains the Kalandra challenge league, more improvements to the Atlas endgame, 14 new unique items, four new skill gems, and they buffed 100+ existing unique items. It also includes revamps to Harvest, Beyond and Archnemesis, a ton of balance changes and much more!
In the Kalandra League, we will travel to the mirrored Lake of Kalandra that has granted Kalandra her powers of duplication. The lake shows the reflections of Wraeclast as they emerge from the misty surface when you approach it. Fighting through these dangerous encounters you will uncover Kalandra's mysteries and earn their powers.
When will Lake of Kalandra 3.19 launch?
You'll be able to experience the new Path of Exile: Lake of Kalandra expansion 3.19 on August 19th (PDT)
Lake of Kalandra League mechanic
When you are leveling or later on when you are playing in maps, you will discover a Mirrored Tablet. You will build up these Tablets by placing reflections of dangerous encounters at specific locations. These reflections or encounters can contain hard challenges.
The Tablet has empty spaces for you to assign reflections, once assigned you can then open a portal to the Lake of Kalandra and the reflection (map) will have the creation you put in.
In Kalandra reflections the further you are away from the entrance, the more difficult the encounter will be, but the better the rewards. You occasionally will be offered to change your choices by swapping the layout around in your Tablet and perfecting the set of encounters and their rewards.
When you progress through the league you will unlock special abilities to skip, reroll and change your choices to create the best Tablet possible. This works the same as Kirac's map options for example where you can change what he is offering. The tablets that are really good you can even save for later or sell them on the trade. You are unfamiliar with these options as we already do this for Alva's temple.
Reflect rare jewellery
Besides the rewards you get in each Lake you run it can also give you a reflection and offer you a pair of rings or amulets. On one item, half of the stats are boosted up and the other half of the item has lowered stats. You can only take one of the items with you.
New Atlas Memories
In the Atlas of the World expansion, GGG added a separate Atlas tree for us. With the Atlas tree, you were able to customize your own way of farming. In the Lake of Kalandra league, they now added Atlas Memories and they offer a way for you to explore end game without specialising your Atlas tree. In high-level maps, you will find very rarely find a Memory item, which represents a set of memories that Niko, Alva, Einhar or Kirac has. They will provide a sequence of maps for you to explore as you relive the events of their past. These highly challenging and rewarding Memories can either be applied to your Atlas or traded to other players.
New skill gems in Lake of Kalandra
This expansion introduces three new skill gems and one new support gem. Three of these are themed around lightning damage and shock.

For more information about the new gems please have a look at the detailed skill gems information page.
Beside the 4 new gems, we also have a lot of updates to existing gems. Please have a look a here for the gem changes.
14 New unique items introduced in the Lake of Kalandra
In this expansion, we've added 14 new unique items including a league-exclusive ring, a new pinnacle boss reward, a supporter unique, six new Grand Spectrum jewels and even some levelling uniques. We've also improved over 100 unique items, including both levelling uniques and endgame ones. Finding a unique item is now more likely to be an exciting moment, especially during the campaign.
We're introducing another unique map, The Tower of Ordeals. In this map, you may challenge the Trialmaster and potentially earn unique items from the Ultimatum league. You can create this map by completing endgame Vaal content.

For more information about the new gems please have a look at the detailed unique information page
Archnemesis rare and magic monsters revisited and overhauled
We've overhauled rare and magic monsters throughout Path of Exile, revisited the difficulty and rewards of Archnemesis mods, revamped Beyond and have made large changes to Harvest.
Past league content now spawns a more consistent and less overwhelming quantity of rare monsters. Defeating monsters with multiple Archnemesis mods is now far more rewarding. Powerful monster mods now convert your item drops in a way that stacks with rewards from other mods and player item rarity or quantity bonuses. The Beyond league has been updated with the monsters and bosses from Scourge and has been given a balance revamp. Harvest crafting has been overhauled to use a tradeable currency, and can now be done in your own time, at the horticrafting station in your hideout.
Trickster Ascendancy overhauled
We've made many changes to Path of Exile's balance, including an overhaul of the Trickster Ascendancy Class and Minion Itemisation. We've reworked the Trickster Ascendancy, with a focus on establishing thematically-appropriate defences and ways to manipulate speed. Check out its new Ascendancy skills in the screenshots on this panel.
With plenty of new itemisation opportunities, minion builds are now as rewarded for finding good items as other archetypes are. There are several new minion-focused base types that players can find and craft to improve the damage and survivability of their minions. Check out the patch notes for more information about these and other changes.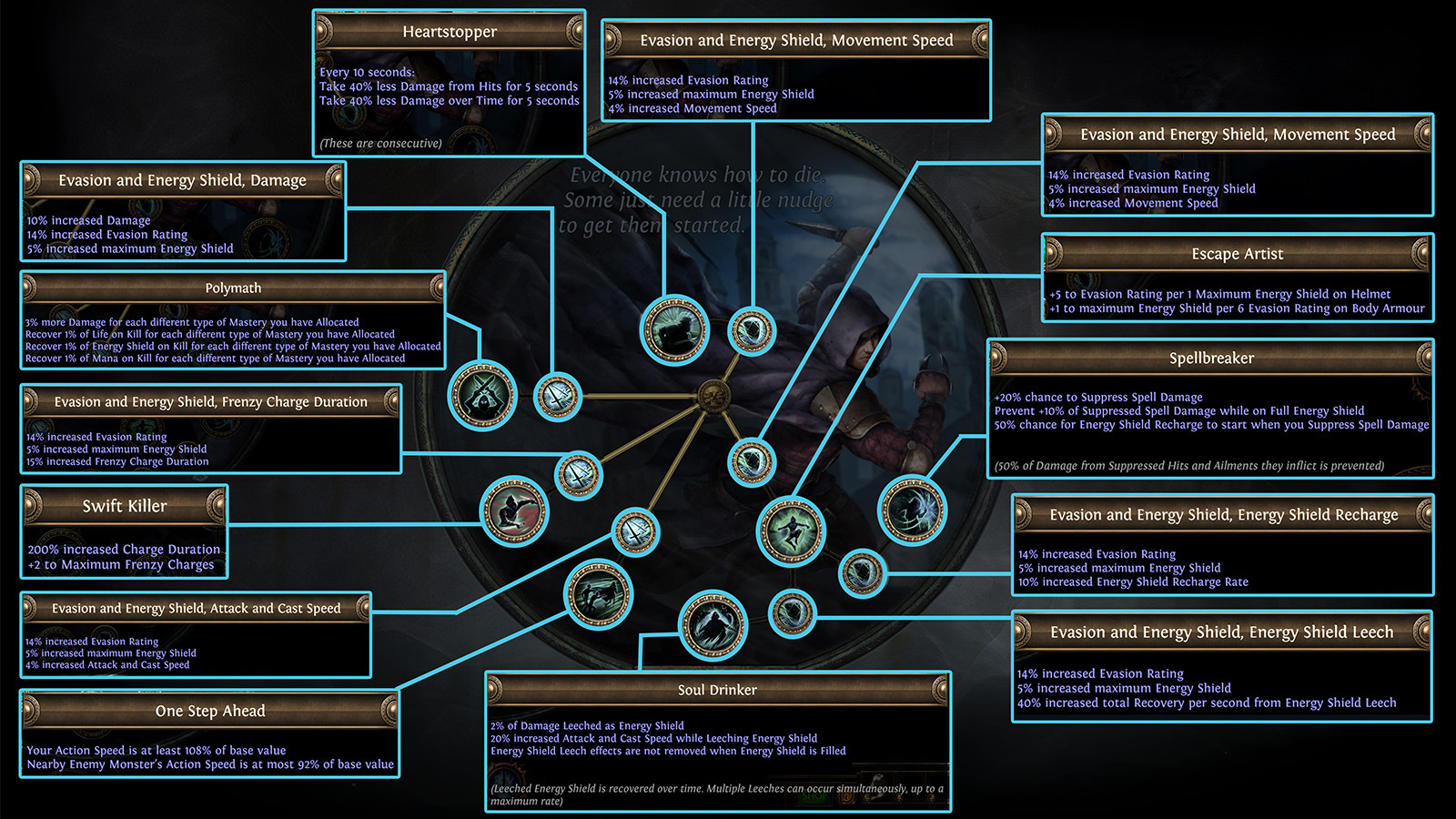 If you want to read the full patch notes you can find them here
Be sure to keep an eye on the PoE Vault homepage for the latest news and guide updates as we shift into Path of Exile Lake of Kalandra 3.19 League