Purifying Flame Inquisitor Passive Skill Tree and Gem Links
Passive Skill Tree
This is our recommended Level 100 Passive Skill Tree.
This version of the build is the most complete, offering both superb damage and a well-rounded phalanx of defenses. While the build can be comfortably played without Mind Over Matter, the risk of random one-shots — from Syndicate members, heavily modded Rares, and so on — in Tier 16 maps and Delves starts to become too pressing to ignore. For that reason, we recommend sacrificing a small amount of damage in order to provide a significant increase in stability. This addition also makes this a great a build for Hardcore, especially for newer players attempting Hardcore for the first time.
If you want to proceed without Mind Over Matter, you have a few options in how you might allocate the nodes you can drop. Force Shaper can be nice to round the build out once everything else is filled out, and the additional Jewel socket adjacent to Constitution's "wheel of life" is also a tasty acquisition if you can spare the points.
You may also opt to sacrifice more damage for Life and/or Regeneration, all of which is available if you proceed downwards from Sanctity, into the nodes surrounding the Marauder's starting wheel.
Gems

Purifying Flame is our main skill for damage in all situations, and fits in to the only 6-Link we will incorporate into the build. Our damage is supported by the

Zealotry and

Herald of Ash auras, both of which boost our damage by a fair margin, and the latter of which facilitates ignite-chains that clean up enemies that avoid the main blast in an instant.

Wave of Conviction and

Elemental Weakness debuff tankier targets with debuffs that further empower our damage against them, which can be a noticeable boost when dealing with bosses like the Uber Elder.

Armageddon Brand and

Power Charge On Critical Support also team up to provide us with a little bit of extra damage and some Power Charges for similar situations.

Intensify Support can also be replaced with

Concentrated Effect Support, however, this results in both a damage loss and an Area of Effect loss. It does, however, free you from some of the restrictions of Intensify, which requires you to cast in place sequentially to gain its full power.

Fire Penetration Support can also be employed as the next best gem after Concentrated Effect and offers less restrictions on clear and targeting, however, we feel the damage difference is too great — almost a million DPS when weighed against

Intensify Support in end-game gear. Most of the disadvantages of Intensify are dealt with by

Spell Echo Support, which is why we recommend it as our default choice.
Auras 4-Link
If you want to enable

Righteous Fire for this build, you will need to replace

Discipline with

Vitality. We believe this is unnecessary, since our damage is already quite good and it nulls the benefits of the Life Regeneration as a defense, however, it does at about 1 million DPS in end-game gear. If you are using Mind Over Matter without Eldritch Battery, or not using either, you can drop Discipline entirely.
If you prefer to use a higher level golem, you may opt to level it to 20 instead. In our experience, however, having the automatic re-summon is usually best, as it results in the highest uptime, and the

Summon Stone Golem has a tendency to die often due to its taunt.

Temporal Chains can also be used for greater defense, especially early on. It is largely a choice between defense and damage. If you are using a Shaped neck that has % Chance to Gain a Power, Endurance, or Frenzy Charge on Kill, this curse is not necessary even for defense. Drop the curse from this link entirely, in favor of

Increased Duration Support, if you are using

Mark of Submission.
This link will once you have access to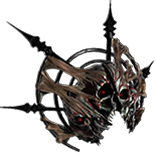 The Devouring Diadem support, as you will no longer be able to procure

Arcane Surge Support's effects due to Eldritch Battery (only can activate Arcane Surge). We recommend:
Alternately, you could opt not to use

Second Wind Support and fit in a convenience gem of your choosing.

Decoy Totem is an option, as is an additional Vaal skill,

Portal, and so on.
This is only to be used for bosses, to generate Power Charges and put out a smidgen of extra damage.
Armageddon Brand
Power Charge On Critical Support
Culling Strike Support
You can opt to replace

Culling Strike Support with a gem of your own choosing, such as

Increased Critical Strikes Support if your Critical Strike is low. Culling Strike feels especially nice on bosses like Aul, the Crystal King or Uber Elder, however, due to its ability to instantly end the boss when it reaches 10% Life.
Defensive 3-Link
These links are mostly Player's Preference, however, we have provided two example links that could be used depending on your weapons and preference.
This link is another

Cast when Damage Taken Support link, and automatically slows the Attack, Cast, and Movement speed of your foes. You may need to lower the level of

Cold Snap, depending on how much Dexterity you have.
Cast when Damage Taken Support (Level 5)
Cold Snap (Level 10)
Bonechill Support
This next link is a little more "advanced", as it requires you to manually activate

Fortify Support and alternate between movement skills as needed, in order to also procure

Arcane Surge Support if you are not casting

Wave of Conviction.
Leap Slam
Fortify Support
Faster Attacks Support
Check out the main page of the guide or use the menu on the right side of this page to navigate to the other sections of the guide.