Spellslinger VD (Volatile Dead) & Detonate Dead Necromancer Passive Skill Tree & Gem Links
Life-Based Version or Low-Life Version
As mentioned in the main page of our guide, we decided to cover two variants of this build. There's a standard Life-Based variant which is the easiest to gear for and League start with and a Low-Life version with a bit more late game scaling, should you think that is required. If you are not an advanced player or are starting in a fresh environment where you have no access to currency, you should really stick to the Life-Based variant rather than trying to get the Low-Life version going without having any currency to back it up.
Passive Skill Tree
Life-Based League-Starter-viable Variant
Again, as mentioned before, this is the version you should pick if you're either new to the game or don't have high amounts of currency to back your build up. It hardly requires anything to get going and doesn't require many

Orb of Regrets in the late game to get you set up. It is an alright build to get through the leveling with and will start shining post Cruel Labyrinth.
You can find an optimized Path of Building here. Every build I release will use the community fork of Path of Building, which is maintained and updated in a much more regular fashion than the original one. You can find PoB's Fork, by LocalIdentity, here.
If you are not comfortable with Path of Building, we also have a PoePlanner for you. Do note that PoE Planner does not support Cluster Jewels and some specific unique jewels and it is highly recommended you install Path of Building to follow builds most optimally. If you are seeking more information or a more thorough item breakdown, please refer to the Gear page.
Progression Advice
Since it's vital you improve your build throughout the level-ups and keep dealing an appropriate amount of damage, we're also going to provide you a lower level option. That way you can feel confident about the way you're building your character at every step of the way. Obviously, the choices you made until Level 60 were set in stone, as explained in our leveling section.
Next up, we're going to leave you with a level 80 Path of Building and a Passive Skill Tree give you an indication of how your Passive Skill Tree should look at that point. Obviously, we've retained our endgame gear, so don't worry if yours looks like it has a little bit less damage or Health. I'm sure you will do fine!
Low-Life Variant
The Low-Life variation of this build runs about 30.000.000 damage, making it deal about 4x as much as the Life-Based variation. While it is able to compete with it for effective HP Pool (running around 9000 Energy Shield), it is forced to use a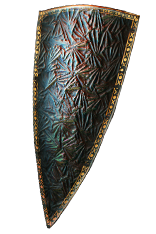 Prism Guardian. This means you're not making use of an "Energy Shield gained when you Block" shield, and since we're Energy Shield-based, our

Bone Offering's "Life gained when you Block" goes to waste entirely. On the upside, however, we do get to run an Aspect of The Spider modifier on one of our Rare pieces. Aspect of the Spider probably is the most underrated Aura in the game, as it provides up to 30% Reduced Movement Speed for Enemies which is an insanely strong defensive mechanic as well as granting basically 15% More Damage. I'd argue that both builds run pretty close when it comes to defenses.
Other than not offering you much extra tankiness, the gear for a Low-Life Variant is incredibly expensive. You're gonna be dishing out infinite amounts of damage yet are going to have to invest appropriately. Here's an example Path of Building and PoePlanner for a Low-Life variant of this

Spellslinger Support build.
Its main advantages are that you'll get to run a

Herald of Ash as well as

Zealotry and

Anger, which allows you to go for a Crit route rather than speccing Elemental Overload. Obviously, we're now looking for High Energy Shield, High Resistance (as there are a lot of Uniques in the build), sources of Critical Strike Multiplier and Generic damage mods on gear. Compared to the fact that we really could be running around with some high Life Rares before, this is a lot harder to gear for.
Gem Links
We will be covering both Low-Life & regular Life-based setups in our Gem Links section. Obviously, as we transition into one or the other, some gems will change.
Pre-Trigger Wand Environment
If you're League-starting as a

Volatile Dead,

Detonate Dead Spellslinger, you will probably have to play without a Wand that has the Trigger a Socketed Spell when you Use a Skill modifier.
This greatly alters your playstyle and makes it so you will have to either press some buttons or rely on

Cast when Damage Taken Support setups to mimic the wand. The skills we would generally automate through this wand are

Bone Offering,

Wave of Conviction,

Flammability.
You might have already seen builds put their

Wave of Conviction in a

Cast when Damage Taken Support link which, honestly, is fine. It won't cost you too much DPS if you're using a Level 1

Wave of Conviction with a Level 1

Cast when Damage Taken Support. Flammability, however, does really like level ups and thus is less fit to be linked to a low

Cast when Damage Taken Support. You could run multiple setups to keep guaranteeing the uptime of skills, but I'd generally advise to just run a low level

Flammability for the time being.

Bone Offering is the odd one out here. Our entire character is based on having

Bone Offering up at all times and it's really not all that impressive at Level 1. I suggest you manually cast it as long as you don't have a "Trigger Wand".
Cast when Damage Taken Support (Level 1)
Flammability (Level 1)
Wave of Conviction (Level 1)
Aside from that, use

Bone Offering elsewhere.
Life-Based Variant
Automated Setup in a Wand
After we've acquired the aforementioned craft on your wand, you're going to want the following gems to be socketed in your wand so you can automatically keep all of their buffs up.
Bone Offering
Wave of Conviction
Flammability
Frenzy – Main Skill

Frenzy will be used to start our chain of Fireballs and Explosions. It can be socketed in any 4-Linked item, as there's no benefit to putting it in a specific piece of gear. As for your support gems of choice, you want

Combustion Support,

Inspiration Support, and

Barrage Support. The

Combustion Support support makes it so that when you attack an enemy with

Frenzy there's a high chance you'll Ignite the target. Targets that have been ignited by

Combustion Support have -19% Fire Resistance, which is a huge buff to our damage.
Next up, there's the usage of

Barrage Support. The reason why this gem is prevalent is because of the interactions between your skills.

Barrage Support changes the dynamic of your

Frenzy, which makes the game check

Spellslinger Support procs multiple times per single attack. If you were not to run a

Barrage Support, you would have to attack one time to cast

Desecrate and then another time to cast

Volatile Dead and so on. Obviously, casting all of our sequence in a single attack is a lot more convenient as well as just being a more efficient usage of our

Desecrate Corpses.
Desecrate Spellslinger in a Shield
This setup is used to automatically proc

Desecrate linked to

Spell Cascade Support to spawn 15 Corpses per cast. These Corpses are used to then consume for things like

Bone Offering,

Vaal Detonate Dead, or

Volatile Dead. I recommend you to socket this in your Shield, as it will always remain a 3-Linked Setup.
Desecrate
Spellslinger Support
Spell Cascade Support
Vaal Detonate Dead & Volatile Dead Spellslinger in your Body Armour
This is where the magic happens! Your main 6L and the source of your damage spells. Your body armour will be the home of 2 "Active Skills" and 4 Support Gems. As explained earlier, we'd rather Spellsling some more

Detonate Deads then getting an extra support for

Volatile Dead. As for the supports that are chosen, we obviously need a

Spellslinger Support. Next up, a

Spell Cascade Support is also mandatory as it triples your effective damage (because it spawns more VDs per Spellsling). The last two supports are a little more up in the air. Combining

Inspiration Support and

Hypothermia Support is the most consistent way, in our opinion. These are potentially to be swapped out for

Elemental Focus Support or

Concentrated Effect Support, but in general we feel like the recommended setup is the most versatile.
Note: If you don't have access to the Charisma anoint or a Helmet with the Spellslinger Reduced Mana Reservation Enchant, you drop Hypothermia and play on 5-Link for now.
Utility Gems
As per usual, you can socket these wherever you feel like. We recommend you run

Cast when Damage Taken Support (Level 17) with

Steelskin (Level 19) and a

Vaal Grace (+- Level 10 or as high as you can level it). Next up, you're going to want to 3-Link a

Flame Dash somewhere, linked to

Arcane Surge Support for that nice bonus Spell Damage and

Second Wind Support because it makes your

Flame Dash so much more reliable.
Note: Since you'll be reserving most of your Mana if you're going for the Charisma option, you're not going to have enough Mana to cast level 20

Flame Dash. Therefore, you need to keep it at level 1 if you're opting into this way of dealing with the nerfs. In case you're going for the Helmet-enchant route, you don't have to worry about this, and you're free to level up the gem.
Flame Dash (level 1 / 20 Quality)
Second Wind Support
Arcane Surge Support (level 1)
This should leave you with 2 free sockets in which you can setup your Primal Crushclaw Spectres!
Raise Spectre
Elemental Army Support
Low-Life Variant
As per usual in Low-Life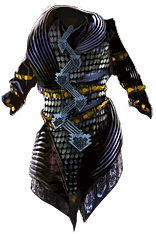 Shavronne's Wrappings builds, you'll be able to run a couple extra Auras. In this particular setup, you'll be running

Anger,

Discipline,

Zealotry,

Herald of Ash, Aspect of The Spider and of, course, your three

Spellslinger Supports. Let's go over how you should be socketing those for maximum optimization!
Automated Setup in Wand
Nothing changed here. We still want the same three gems as we did in the Life-Based version to be automatically cast whenever we use

Frenzy (

Bone Offering,

Wave of Conviction,

Flammability).
Bone Offering
Wave of Conviction
Flammability
Frenzy Setup in Gloves or Boots
Again, no major changes here. We're running the exact same setup as we did in the Life-Based Variant for exactly the same reasons. No reason to deviate here.
Desecrate Spellslinger in Helmet
We're using the same links for

Desecrate, but we can't optimize it socket-wise by putting them in our Shield, as we're running the unique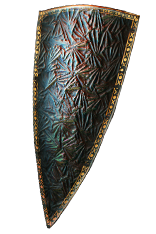 Prism Guardian and we need to put our Auras in there.
Desecrate
Spellslinger Support
Spell Cascade Support
The 4th socket in this link can be used for a

Raise Spectre gem to summon some Primal Crushclaws to optimize the Corpse Explosion damage from both Detonate Dead and Volatile Dead.
Vaal Detonate Dead & Volatile Dead Spellslinger in your Body Armour
I would generally recommend not to change too much here but there's something to be said about the

Energy Leech Support gem. It has a very tiny amount more damage than

Inspiration Support and we have plenty of Unreserved Mana since we had to take a lot of Reduced Mana Nodes and items to be able to fix our Auras that are run on our Life Pool.

Energy Leech Support also obviously has the benefit that it offers you some extra Energy Shield Leech so its definitely something to consider.
Note: If you don't have access to the Charisma anoint or a Helmet with the Spellslinger Reduced Mana Reservation Enchant, you drop Hypothermia and play on 5-Link for now.
Auras in Prism Guardian
Since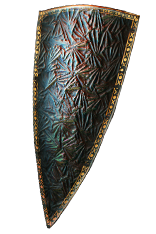 Prism Guardian allows you to reserve Auras on your Life for cheap, you'll socket your three main Auras in here.

Anger,

Discipline, and

Zealotry will become a lot cheaper to run this way.
Zealotry
Anger
Discipline
Herald & Utility Skills in Gloves
Disclaimer: the pieces you are socketing your gems in highly depend on where you got your Aspect of the Spider craft. You can't have Aspect of the Spider on the same item as where you're socketing your

Herald of Ash because we'll be linking the Herald to a ###item:Blood-Magic-Support###. If we do so in the item that has the Aspect of the Spider craft, the Aspect will reserve Life instead of Mana and we don't want that. You could just exchange these links for the

Frenzy setup or the

Desecrate setup should you happen to get the Aspect on your Gloves.
You're going to want your Gloves to be a double 2-Link, as we're also going to link

Flame Dash and

Arcane Surge Support. If we however make the

Herald of Ash linked to the

Arcane Surge Support it'll reserve extra Mana and we can't have that.
Herald of Ash
###item:Blood-Magic-Support###
Flame Dash
Arcane Surge Support