Arc Trap Saboteur Build Guide (PoE Harvest 3.11)
Guide Format
This build guide is split over multiple pages, both to prevent it from getting too long, as well as to help you better find the information you are looking for. In addition to the current page, which presents general information about the build and also contains a Leveling and FAQ section, we have the following pages:
Introduction
Arc has been iconic and classic skill used in many builds over the years. It has its ups and downs, nerfs and buffs but the skill seems to have been balanced now and plays out great, especially when turned into a Trap just like in this build guide. The Arc Trap Saboteur specializes in rapidly throwing

Arc Traps that Shock enemies for large amounts with its big chunks of Critical Lightning damage.
Build Summary
The Arc Trap Saboteur does not require any initial investment; it can even be played as a league-starter. As most other Spell-based characters, damage mainly scales from gem levels, unlike attack builds where it is more gear-dependent.
Early on, just the gem levels will carry your damage needs, as long as you run on a 4-Link at least. You should focus on getting gear pieces with Life and elemental resistances. For endgame, well rolled rare items will be mostly what you want to look for. There are no "big-ticket" items that the build needs in order to work.
Pros & Cons
Pros
+ Hardcore viable
+ Great boss killer
+ Decent clear speed
+ Very versatile when it comes to map mods
Cons
- Lacks Life sustain if you do not make a good use of the Pyromaniac ascendancy node
Playstyle
Offensively, you throw your Traps on the ground, which are then triggered by enemies that step on them. You would obviously want to aim into monster packs while throwing Traps or predict their movement in order to damage them. Positioning can be key in Trapper builds and you should take advantage of that.
Defensively, you should be killing monsters before they even have the chance to get to you. The Born in the Shadows ascendancy node will Blind all nearby enemies, which will improve your survivability by a great deal. A respectable Life pool along with an effective Mind over Mater will let you tank most hits. Acrobatics and Phase Acrobatics both provide a good amount of dodge chance against attacks and spells.
For Playstyle, keeping your distance and luring monsters into your traps is what the build is all about. You should save

Lightning Spire Trap charges for tougher rare monsters and bosses. Immobilizing them with

Bear Trap will prove to be a great setup for tremendous single target damage output.
Passive Tree
This is the endgame passive skill three of the build.
For more information, be sure to check out the passive skill tree page.
Ascendancy, Bandits, and Pantheons
Our Ascendancy, Bandit, and Pantheon Power page goes into detail about all the choices you need to make in these regards.
Gems
We go over all of the gem links this build uses in the end-game on our Gem Link page.
Gear Summary / TL;DR
These items provide a good balance between offense and defense and are enough to deal with the endgame, although there is definitely a room for improvement. Please ensure you read the Gear, Jewels and Flasks page in its entirety.
| | |
| --- | --- |
| Item Slot | Item Name |
| Head | Rare Helmet |
| Amulet | Rare Amulet |
| Chest | Rare Body Armour or Tinkerskin |
| Gloves | Rare Gloves |
| Boots | Rare Boots |
| Belt | Rare Belt |
| Rings | Rare Ring & Essence Worm |
| Weapon | Rare Weapon |
| Shield | Rare Shield |
Leveling
As a reminder, we have several guides to help you level up a character.
The Arc Trap Saboteur can be leveled by using Traps since level 1, and it is a great choice for a league-starter.
Leveling Trees
This is what your passive skill tree should look like before you start investing into critical strike nodes.
For passive tree pathing, you should go for Expeditious Traps first, then head to Clever Construction. Then you should pick Acrobatics, along with some Life. At that point you are ready to head to Mind over Matter.
Useful Leveling Unique Items
As you begin a new character, there are few unique items that can boost your power exponentially.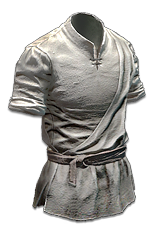 Tabula Rasa allows you to have a 6-Linked skill as early as you get the gems.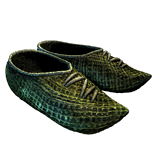 Wanderlust gives a decent movement speed, which will make your leveling that much more efficient.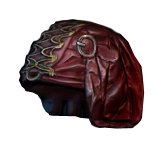 Goldrim provides a lot of elemental resistances, this will let you worry less about gearing when approaching certain Act encounters.

Lifesprig will fill your damage needs early on.
If you are a new player (or if this is your first character for the league), then note that obtaining these items will be very difficult, if not impossible. They are rare drops, which you can otherwise only acquire if you have saved up currency, so do not focus on them too much, and instead simply look for items that match the affix priorities listed in the gearing section above.
Gem Progression
Using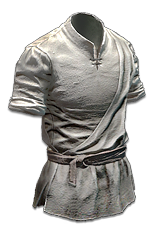 Tabula Rasa will allow you to have 6-Link gem setups early on, which is why we show such examples below. If you cannot get Tabula Rasa (or another item with a 6-Link), then simply prioritize the first gems in each link provided below.
In order to acquire gems that are not available to your class as a quest reward, simply ask a friend to buy them off vendors for you, or buy them yourself from Sioasa in The Library in Act III Library.
From level 1, you should use

Explosive Trap in

Lifesprig.
At level 4, you should add

Bear Trap for the additional utility.
At level 8, your

Explosive Trap link should look like this.
At level 10, you should add

Smoke Mine for additional mobility.
At level 16, you should pick up

Summon Skitterbots.
At level 18, your

Explosive Trap link should look like this.
At level 38 you can transition to your signature skill – Arc. Replace

Explosive Trap with the following

Arc link.
FAQ
What map mods are impossible to do?
No regeneration is a pain to do, and almost impossible to deal with when you need to kill a tough boss.
What anointment should we go for?
Throatseeker, Breath of Lighting and Heart of Thunder will all provide a decent amount of extra damage.
Conclusion
If you like luring your enemies into their death, the Arc Trap Saboteur is definitely a build you should try out. The build has the survivability and damage to do endgame encounters.