Bleed-based Bow Gladiator Build Guide (PoE Harvest 3.11)
Guide Format
This build guide is split over multiple pages, both to prevent it from getting too long, as well as to help you better find the information you are looking for. In addition to the current page, which presents general information about the build and also contains a Leveling and FAQ section, we have the following pages:
Introduction
The Bleed-based Bow Gladiator is a great choice if you prefer the Bleed-oriented builds. It has extreme endgame potential if you have enough currency to invest into best-in-slot items. The character's main idea is to inflict very powerful Bleed effects, which can stack multiple times on a single target via the Crimson Dance keystone notable. This build has very high single target damage potential along with a smooth clear speed via the Gladiator's Gratuitous Violence.
We mainly scale our damage by taking advantage of

Lioneye's Fall, as when placed near Cleaving, Slaughter, and Razor's Edge we are able to pick extremely strong melee nodes, which are transformed into Bow nodes. Along with these we also pick Deadly Draw, which results in a total of 45% "Bleeding you inflict deals damage #% faster", essentially doubling our Bleed damage. The build is also non-Crit and we take Resolute Technique in order to solve Accuracy Rating issues.
For clearing, we choose to use

Rain of Arrows, while

Puncture proves to be our best skill choice for single target.
Build Summary
Ideally, in an endgame scenario we want to play around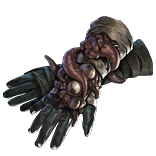 Blasphemer's Grasp in combination with full set of Elder-based items. This can result in a 150% increased damage with Ailments just from the Gloves, which allows us to invest our passive nodes in other places instead of inefficient damage nodes. Overall, the character will require some serious tweaking before it would be finished but it will be definitely worth it, simply because you will easily be able to tackle the hardest of Path of Exile's content.
Pros & Cons
Pros
+ Hardcore viable
+ Good clear speed
+ Insane single target damage potential
Cons
- Expensive to gear up
- Dies to Physical Reflect
Playstyle
Offensively, the build feels very good while clearing with

Rain of Arrows, Gratuitous Violence being the main reason. When you need to deal maximum single target damage, simply make sure you stack up your Bleeds on the target via

Puncture. In boss fights

Vaal Rain of Arrows also helps out with its increased effect of Maim.
Defensively, you will stun enemies most of the time, simply because you are dealing only Physical damage, which is the best type of damage when it comes to stunning. The character also reaches a very respectable amount of Life and Life sustain via the Life Leech from

Blood Rage and other sources.
For playstyle, attack once or twice with

Rain of Arrows in order to destroy monster packs. Ideally, before stacking up Bleeds on a tough boss via

Puncture, you would want to activate your Focus skill, which is acquired by crafting "% increased Duration of Ailments you inflict while Focussed" on your Helmet; this can be a great damage increase if properly used. Swapping between Blood and Sand stance via

Flesh and Stone will ensure you have good uptime on your Arena Challenger stacks.
Passive tree
This is the endgame passive skill tree for the build.
For more information, be sure to check out the passive skill tree page.
Ascendancy, Bandits, and Pantheons
Our Ascendancy, Bandit, and Pantheon Power page goes into detail about all the choices you need to make in these regards.
Gems
We go over all of the gem links this build uses in the end-game on our Gem Link page.
Gear Summary / TL;DR
These items provide a good balance between offense and defense and are enough to deal with the endgame, although there is definitely a room for improvement. Please ensure you read the Gear, Jewels and Flasks page in its entirety.
| | |
| --- | --- |
| Item Slot | Item Name |
| Head | Rare Elder-based Helmet |
| Amulet | Rare Elder-based Amulet |
| Chest | Rare Elder-based Body Armour |
| Gloves | Blasphemer's Grasp |
| Boots | Rare Elder-based Boots |
| Belt | Ryslatha's Coil |
| Rings | Rare Elder-based Rings |
| Weapon | Rare Elder-based Bow |
| Quiver | Rare Elder-based Quiver |
Leveling
As a reminder, we have several guides to help you level up a character.
The character can easily be leveled as melee by using powerful leveling skills like

Ground Slam and

Earthquake. You can also invest some passive points into One-Handed or Two-Handed melee weapons, which will be re-speced later on.
Leveling Trees
With this passive skill tree we aim to pick up Resolute Technique as soon as possible, then we can invest into some Bleed nodes like Bloodletting and Red Storm, then we are ready to pick Crimson Dance. Considering this is a guide for a relatively expensive character, we've crafted the passive tree with having

Lioneye's Fall in mind even early on.
Useful Leveling Unique Items
As you begin a new character, there are few unique items that can boost your power exponentially.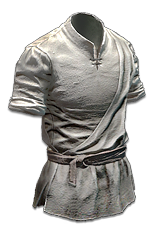 Tabula Rasa allows you to have a 6-Linked skill as early as you get the gems.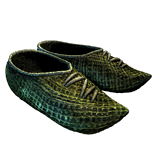 Wanderlust gives a decent movement speed, which will make your leveling that much more efficient.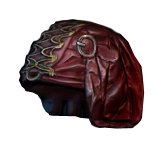 Goldrim provides a lot of elemental resistances, this will let you worry less about gearing when approaching certain Act encounters.
If you are a new player (or if this is your first character for the league), then note that obtaining these items will be very difficult, if not impossible. They are rare drops, which you can otherwise only acquire if you have saved up currency, so do not focus on them too much, and instead simply look for items that match the affix priorities listed in the gearing section above.
Gem Progression
Using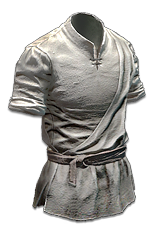 Tabula Rasa will allow you to have 6-Link gem setups early on, which is why we show such examples below. If you cannot get Tabula Rasa (or another item with a 6-Link), then simply prioritize the first gems in each link provided below.
In order to acquire gems that are not available to your class as a quest reward, simply ask a friend to buy them off vendors for you, or buy them yourself from Sioasa in The Library in Act III Library.
From level 1, you should use the following link.
Split Arrow
Chance to Bleed Support
At level 4, you should pick up

Dash for additional mobility.
By level 8, your

Split Arrow link should look like this.
At this point you should also have single target

Puncture setup.
Puncture
Chance to Bleed Support
Maim Support
At level 10, you should add

Blink Arrow for additional mobility.
At level 16, you should add

Flesh and Stone and

Ensnaring Arrow.
By level 18, your

Split Arrow and

Puncture links should look like this.
Split Arrow
Puncture
At level 24, you can add

Malevolence for additional damage, although it might reserve too much of your Mana, in which case you can wait until you have a reliable source source of Mana leech.
FAQ
What map mods are impossible to run?
You will one-shot yourself to Physical Reflect. No Regeneration and Cannot Leech are also very nasty. Monster have Chance to Avoid Bleeds also reduces your damage and clear speed by a considerable amount, although it is very manageable.
What anointment should we go for?
Both Hunter's Gambit and Master Fletcher are great notables you can pick up.
Conclusion
The Bleed-based Bow Gladiator is a character that specializes in inflicting very powerful Bleed effects on enemies with two different Bow skills, depending on the type of content you are dealing with. For clearing we use

Vaal Rain of Arrows and for single target we greatly utilize

Puncture. Keep in mind this is one of the best Bleed-based Bow builds out there that has an immense endgame potential, but it comes at the cost of being really expensive to fully gear and requiring some in-depth game knowledge, which is why it is not recommended for newer players.