Cyclone Blood and Sand Gladiator Build Guide (PoE Sentinel 3.18)
Introduction
Due to the latest balancing changes, we do not recommend playing this build anymore, as it does not meet the high standards we apply to our guides in terms of fun and performance. We are leaving it up as a reference and it might be revived in a later patch.

Cyclone was a wildly popular skill in Patch 3.7 after the melee rework, receiving a redesign of its own and numerous buffs. Though recent leagues have been accompanied by a few justified tweaks to

Cyclone — specifically to its Area of Effect and Added Physical Damage — the skill remains a powerful choice that can hang with some of Path of Exile's strongest builds. With the Gladiator changes and reworks, this Ascendancy has become a fantastic all-rounder that blends offense and defense seamlessly, with organic Frenzy and Endurance Charge generation. Not only is this build dealing a lot of damage, but it is a brick wall of fortitude — with over 7000 Life, 6 Endurance Charges,

Fortify Support, and a plethora of Leech and Armour, this build feels stable as a rock as you spin-to-win through Maps.
If you are looking to transition this build into the ultimate end-game destroyer, check out our Ultimate Cyclone Slayer Build guide for more information.
Build Assessment
Pros
+ Great League Starter
+ Good end-game
+ Great defenses
+ Multiple configurations
+ Very fast
Cons
–

Cyclone is a polarizing "love it or hate it" skill
– Requires careful play on difficult bosses to dodge mechanics
–

Cyclone is not really viable until the end-game — leveling must be done using a skill such as

Sunder
Playstyle

Cyclone is a very simple and straightforward skill. Now a channeled ability, your character spins around and attacks extremely quickly — technically it is considered a movement skill, although it slows your character. By stacking a lot of damage, Attack Speed, Bleeds, and Movement Speed, our Cyclone Gladiator glides effortlessly through maps while shredding packs and bosses alike.
This is a primarily Physical damage build, which makes it relatively easy to itemize for, and a viable candidate for Solo Self-Found and Hardcore leagues due to its quick ramp up, great end-game, and cheap kickstart cost. Simply enter a map,

Leap Slam into a pack, and

Cyclone through it to blow it to pieces. The new Gratuitous Violence Ascendancy keystone causes Bleeding enemies to explode and deal 10% of their Maximum Life as Physical damage, which is essentially a built in Physical version of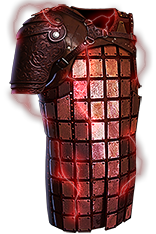 Inpulsa's Broken Heart.
Passive Skill Tree
This is our recommended Level 92 Passive Skill Tree.
For more details on the Passive Tree, skill acquisition order, and more, be sure to check out the Passive Skill Tree page for in-depth information.
Gems
We go over all of the gem links this build uses in the end-game on our Gem Link page.
Ascendancy, Bandits, and Pantheon
Our Ascendancy, Bandit, and Pantheon Powers page goes into detail about all the choices you need to make in these regards.
Gear Summary / TL;DR
These items strike a balance between power and cost-effectiveness. If you want to explore more options for Gear (both budget and high-end), Flasks, or get more information on alternatives and specialty items, please ensure you read the Gear, Jewels, and Flasks page thoroughly.
For in-depth recommendations for gear, flasks, jewels, and crafting advice be sure to read our Gear, Jewels, and Flasks page.
Leveling
As a reminder, we have several guides to help you level up a character.
Start out with

Ground Slam, which you should use until Level 12, when

Sunder can be acquired. Sunder is a fairly potent leveling skill due to its high base damage and ease of use. Your Sunder links, in order of priority, are:
Just use what you can get until the gems become available —

Maim Support and

Ruthless Support are available very early, along with

Onslaught Support, but you will have to wait until Act II for

Melee Physical Damage Support.

Added Fire Damage Support is an option in the meantime, if you are using a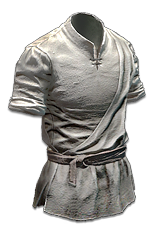 Tabula Rasa.

Blood and Sand is available right at Level 4, and should be picked up immediately. Remember to acquire

Herald of Ash and

Herald of Purity in Act II.
Leveling Trees
FAQ
What Should Annointment Should I Use on my Amulet?
We recommend any of the following, based on what you need:
Rampart: Increases effectiveness of Fortify Support and our damage output, making it a great all around choice for damage, clear speed, and defense.
Discipline and Training: A huge chunk of Maximum Life and great for survivability or Hardcore.
Graceful Assault: Provides solid damage and free Onslaught, making it the best choice for pure clear speed.
Whispers of Doom: Expensive but allows you to add Vulnerability as well, which is likely the best possible damage increase and excellent for bossing.
What About Historic Jewels?
There are not any specifically overpowered keystones that can be warped with Historic Jewels for this build, but the Karui options are many and varied and can have some pretty potent effects on notables, depending on the seed.