Impervious Herald of Agony (HoA) Juggernaut Gear, Jewels, and Flasks
Summary – TL;DR
Like expected, nothing matters more than capping your Elemental Resistance before anything else. This means modifiers on gear are subordinate to Resistances as long as we're not capped. If you're using Divine Flesh (the Keystone from a Xibaqua

Glorious Vanity), Chaos Resistance also becomes very important! Even though it will feel as if I keep mentioning Resistances as a mandatory suffix, you will notice that through the extra maximum Resistances and the necessity of Chaos Damage, and the lack of Resistances on Gloves and Rings make your suffixes scarce and it will end up being rather tough to cap Resistances without Endurance Charges / flasks.
We're providing you with an extensive analysis further down the page, but chose to start off with an overview / recommendation. As you'll notice, a lot of the emphasis is on Life & Resistances, as we're looking to get as much of that as possible.
| | |
| --- | --- |
| Item Slot | Item Name |
| Head | Ideally a Bone Helmet w/ "+2 to Level of Socketed Minion Gems", Life & Resistances |
| Amulet | Rare Turquoise Amulet with high Int & Dex, Life, Resistances, Channelling skills have -# to Total Mana Cost, Anointed w/ Ravenous Horde |
| Chest | Lioneye's Vision |
| Gloves | Titan Gauntlets with Poison & Faster Attack Supports, Life, Resistances & Minion Damage |
| Boots | Two-Toned Boots with Dexterity, high Life, Movement Speed & Resistances |
| Belt | Stygian Vise with high Life, Resistances, and Aspect of the Spider |
| Rings | 2x Circle of Nostalgia with HoA Buff Effect & Crawler Damage |
| Weapon | Cold Iron Point |
| Shield | Saffell's Frame |
For crafting Rare items, you can check out all the affixes that can roll on an item base, depending on its level, influence, and many other factors, using our affix tool.
Armour Pieces
Helmet
Obviously, getting a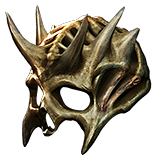 Bone Helmet gets you the Minion Damage implicit which is a little bit of a damage increase. You're mainly looking for the "+2 to Level of Socketed Minions Gems" though so you can keep your

Summon Holy Relic safe as it taunts enemies off of you. Besides that, you really want to find as much Resistances here as possible as you're looking for a decent amount of Dexterity on pieces of gear and you're trying to cap Chaos Resistance. This means there's a decent amount of pressure on your items' Suffixes. Getting an Agony Crawler enchant is a really nice bonus, as your crawler would be firing two extra projectiles! Affixes you're looking for are as follows:
Enchant: Summoned Agony Crawler fires 2 additional Projectiles
+#% to Elemental Resistance (at least 80)
+# to Level of Socketed Minion Gems (at least 2 levels)
+#% to Chaos Resistance (until cap)
Body Armour
For your Body Armour, as mentioned in the Gem section, it's really hard to pass up the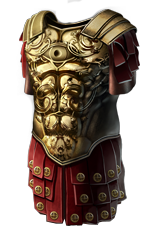 Lioneye's Vision. It giving us an extra support gem and means we get the

Pierce Support for Clear speed while still getting all the damage support from a 6-link. Additionally, it gets us a really nice chunk of Armour and Life, both of which we really like. The only roll to care about is the "+# to maximum Life", where we should aim for at least 97.
Gloves
Your Gloves are the most interesting part of your equipment. You're looking for a pair of Elder Gloves with 2 supports on them. The Elder modifiers "Socketed Gems are Supported by Level # Poison" and "Socketed Gems are Supported by Level # Faster Attacks" are mandatory for your endgame Gloves. On top of those, ideally, we really would like to get a high amount of Life and some extra resistances. Optimally, if you can find a pair of these with an open Prefix, you can craft extra Minion Damage on the Crafting Bench.
Boots
I recommend any pair of Two-Toned Boots here as you really like getting some extra Resistances. Since you're using

Cyclone you're also looking for 30% Movement Speed. Boots is also one of the only slots where you can find extra Dexterity so, if possible, get some. The affix priority list is as follows:
#% increased Movement Speed (30)
+# to maximum Life (at least 80)
+#% to Elemental Resistances (at least 65)
+# to Dexterity
Belt
The ideal Belt-base is definitely a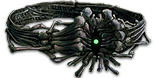 Stygian Vise, as you don't mind an extra

Ghastly Eye Jewel. Preferably, among high Life and really solid Resistances, you want to find a Belt with an open Suffix to craft an Aspect of the Spider on it. Obviously, if you have another item where you already have an open Suffix to do this, you can use this modifier for something else.
+# to maximum Life
+#% to Elemental Resistance (at least 80)
Open Suffix for Aspect of the Spider
Accessories
Amulet
While some unique items could definitely help, for example an

Astramentis would be nice to fix your Attribute requirements, we opt to look for a well-rolled

Turquoise Amulet. You want one with very high Dexterity, Intelligence and as much Life and Elemental Resistances you can find. Additionally, if you can find one with an open Prefix to add "Channeling Skills have -3 to Total Mana Cost", that'd be ideal!
+# to Dexterity (at least 45 explicit)
+# to Intelligence (at least 45 explicit)
+# to maximum Life (at least 70)
+#% to Elemental Resistance (until cap)
Open prefix to craft "Channeling Skills have -3 to Total Mana Cost"
Rings
Both of your Ring Slots will be

Circle of Nostalgias. You're looking for 2

Herald of Agony modifiers, namely "Herald of Agony has #% increased Buff Effect" and "Agony Crawler deals #% increased Damage". Additionally, getting one with as much Chaos Resistance as possible is nice!
Herald of Agony has #% increased Buff Effect (55+)
Agony Crawler deals #% increased Damage (95+)
+#% to Chaos Resistance (at least 23)
Weapon & Shield
Weapon
While some builds swear by a
Gemini Claw for extra Life and Mana gain on hit and a couple of utility rolls you can only find on a Rare item, we really feel like the damage a
Cold Iron Point offers is hard to pass up. Cold Iron Point doesn't roll whatsoever, so the only thing you could be looking for is an increased Attack Speed corruption. They generally shouldn't be more expensive than a standard copy of the Dagger.
Shield
Because of the usage of a Divine Flesh Keystone and scaling our Chaos Resistance,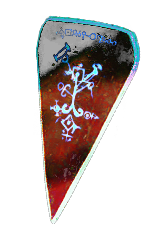 Saffell's Frame really is our bread and butter pick. Should you really want to get a Rare shield, you want one with really high Life and "+3 to maximum Chaos Resistance", although we heavily recommend a Saffell's Frame.
Flasks
This build is one of these builds where Flask choices are more preference than necessity. Given you have such high Physical mitigation already and a lot of Elemental mitigation through Divine Flesh, a lot of flask choices don't feel like they're as awesome as they can be in other builds. We opted for a

Forbidden Taste as you have a lot of Chaos Resistance to counteract its downsides. Having 7000 instant life recovery in a bottle is incredibly powerful, obviously. We'd also recommend not to drop the

Silver Flask, as this gives you Attack Speed for your

Cyclone, which in turn gives you more Virulence uptime. The rest of your flasks is basically preference, as long as you respect the suffixes we suggested, but we recommend the following setup:
Jewels
We chose to run a single

Large Cluster Jewel, two

Medium Cluster Jewels, and one Rare

Small Cluster Jewel as well as a

Calamitous Visions.
Cluster Jewels
Large Cluster Jewel
The

Large Cluster Jewel really only needs a Renewal notable. The other notables aren't significant increases to your build yet do help for Pathing Efficiency. It is recommended you find one with Renewal and two other notables, whichever ones are available for cheap. You do want your Large Cluster Jewel to only add 8 Passive Skills, as that is the most efficient way of spending Skill Points. Renewal gives your Agony Crawler a 10% chance to deal Double Damage which equates to 10% More Damage.
Medium Cluster Jewel
Your

Medium Cluster Jewels are ideally 2 identical ones. The two best notables you can find on them are Cult-Leader which gives your Minions 35% Increased Damage while you are affected by a Herald, and Pure Agony which gives you an extra 5 Maximum Virulence and 20% Increased Damage while affected by a Herald.
5 Maximum Virulence is really nice as it should be possible to keep them up and Virulence is what makes our Agony Crawler so strong. The higher we get this the better. Running more than the 2

Medium Cluster Jewels is generally not worthwhile, as it becomes very tedious to keep up more than 50 Virulence Stacks.
If you can't find this combination, Pure Agony in combination with either Disciples or Invigorating Portents isn't too far behind. Additionally, as a third modifier, the "Added Small Passive Skills also grant: +#% to Chaos Resistance" really help in getting your Chaos Resistance up before making use of

The Golden Rule.
Small Cluster Jewels
For your

Small Cluster Jewels you're going to run one that focuses on Life & Chaos Resistance through getting one with 3 Passives which adds the Fettle notable and has the extra modifier "Added Small Passive Skills also grant: +#% to Chaos Resistance". This again goes a really long way towards maximizing the amount of Chaos Resistance you can get to before making use of the

The Golden Rule.
Your second Small Cluster jewel will be a

Calamitous Visions, which adds the Lone Messenger Keystone. Lone Messenger makes it so we can't run any Auras (which we weren't planning on doing anyway!) and only one Herald. It does provide you with Herald of Agony buff effect which scales up your maximum Virulence. Additionally, it makes your Crawler deal 25% more Damage.
Do note that whenever you get this entire setup, you might want to swap out your

Sniper's Mark gem in your

Cast when Damage Taken Support setup for a

Ball Lightning ,as that does a really good job in getting you some extra stacks up. At this point,

Cyclone probably can only get you up to maximum stacks during mapping and not on single target bosses.

Ball Lightning does help in that respect.
Unique Jewels
The Golden Rule
Other than your cluster jewel setup, you're using two unique Jewels.

The Golden Rule is there because it doubles your Virulence effectiveness. Because Poisons you inflict on yourself actually count towards your Virulence, this makes it so every time you inflict one Poison you get two stacks. As you push up the maximum Virulence quite significantly, this really does help towards sustain a high number of stacks.
Glorious Vanity & Divine Flesh
Divine Flesh:
Like mentioned a couple times in this build guide, we're making use of the Divine Flesh Keystone which is provided by a

Glorious Vanity. It alters a Keystone and changes it into Divine Flesh. In order for it to change into the right Keystone, it needs to say "In the name of Xibaqua" as shown in the picture. The amount of sacrificed doesn't matter at all for our build:
Even though

Glorious Vanity jewels might be expensive early on, you should pick one up whenever you can afford it, as it really gives you a lot of bang for your buck. Through the extra maximum Resistances on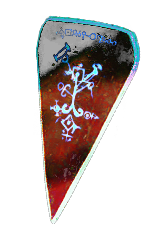 Saffell's Frame and the extra 10% maximum Chaos Resistance here you can mitigate 50% of all incoming Elemental Damage with 89% Chaos Resistances rather than 75% of the Element in question.
Rare Jewels
One of your rare jewels needs to be a

Viridian Jewel with the "+2 Mana gained for each Enemy hit by your Attacks" modifier. Without this modifier, you won't be able to keep using

Cyclone without running out of Mana. Other than that, Life is your most precious affix. It might be necessary to find some Intelligence or Dexterity here but if you can't find any of these kind of Jewels, you can always pick up a 30 Attribute node in the Passive Skill Tree.
The Path of Building we provided deliberately did not take any of those to make it easier for you to fix your Attribute issues that way.
After getting the "+2 Mana gained for each Enemy hit by your Attacks" modifier, the affix priority list on jewels is as follows:
#% increased maximum Life
+#to Dexterity or Intelligence (as much as necessary)
Minions deal #% increased Damage