Impervious Herald of Agony (HoA) Juggernaut Passive Skill Tree & Gem Links
Divine Flesh
The way the build has been constructed focuses on using the Divine Flesh keystone from a Xibaqua

Glorious Vanity. It's imperative to let you know, though, that the build doesn't fall flat without this mechanic, but this keystone is a big part as to why specific combinations of items are used. Divine Flesh converts 50% of all incoming Elemental Damage to Chaos Damage while granting you an extra 10% Maximum Chaos Resistance. This effectively means you're dealing with 50% of the incoming Elemental Damage with 85% Resistance instead of the standard 75% Elemental Resistance. This is a huge difference in terms of mitigation (+/- 40% better).
To further amplify how that works, we chose to run a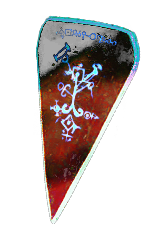 Saffell's Frame which gives us even more maximum Chaos Resistance and we obviously try to get our newly capped Chaos Resistance at 89%. If you don't want to go for this entire Keystone setup, Chaos Resistance becomes a lot less important on gear, as you'll be getting some naturally through poisoning yourself and trough having Endurance Charges from the Juggernaut Ascendancy.
Passive Skill Tree
Since we assume you went through the main page of the guide, you already know what your leveling tree looks like. Given the nature of the build and how it initially really doesn't synergize with Marauder/Juggernaut, there will be a small amount of

Orb of Regrets necessary to change some things around left and right that were just there to help you with leveling. There's nothing that can't be gotten through the respec skill point quests though so don't worry!
We have made you a level 98 Path of Building with 6900 Life, incredible mitigation and decent Crawler Damage. Should you not be familiar with Path of Building, we also have a PoePlanner.
For more information about the appropriate gear choices and their breakdown, please refer to our Gear page.
Progression Advice

Herald of Agony really scales best with levels & Cluster Jewels overall. Neither of those are really accessible very early on in your journey, so I would aim to get at least most of your damage nodes at around level 80, and just fill out the Life nodes afterwards.
If at some point you have gotten the levels on your

Herald of Agony and have perhaps acquired a Cluster Jewel setup, you can always respec some damage nodes for more Life, should you feel like it. Because we want to set you on your way to success, we made you a level 80 PoePlanner to give you an idea as to how your tree should look at that point in your progress. Basically, this is an entire Skill Tree without your Cluster Jewels. Whenever you acquire the Cluster Jewel setup, you can drop both damage and Life nodes equally to make room.
Gem Links
Pre Poison / Faster Attacks Gloves
Your endgame pair of Gloves will provide a 6-Link for your

Cyclone, but as you start out, you probably won't have the luxury of obtaining such item(s). Since you still need to get Poisons on enemies fairly fast, our Cyclone needs to be linked to those two supports you'd generally be getting from affixes on Gloves. As this means you're dropping

Withering Touch Support, we suggest you free up a 2-link somewhere for a Wither setup with a Spell Totem.
Likewise as before, if you feel like you have enough Virulence uptime without linking

Faster Attacks Support to your

Cyclone, then by all means go for the extra Defense of

Life Gain on Hit Support. Otherwise, stick to Faster Attacks for now.
Post Poison / Faster Attacks Gloves
Once you get a pair of Gloves, even if it is a temporary placeholder, with the right support gems, you can swap to your endgame

Cyclone setup. It is used to grant you Fortify, big chunks of Life on Hit, and apply

Wither stacks to the enemies which makes them take increased Chaos Damage from our

Herald of Agony.
Since we want Pierce on our Agony Crawler to not make it super slow at clearing maps, this Body Armour piece really does a lot for us. Giving up an entire support socket for a

Pierce Support costs you so much in terms of damage that this is just so nice! Also, no one has ever gotten upset about having a 7-Link for their main damage skill as far as I know! The

Herald of Agony setup we're using has 2 Support gems that could become Awakened Gems.

Minion Damage Support and

Vicious Projectiles Support should be upgraded to their Awakened counterpart whenever currency allows it. A level 21/20 Herald of Agony also gives you a lot of damage and is one of the first things you should be on the lookout for!
Before being able to afford an

Empower Support level 4, you should replace it with a ###item:predator-support###. Predator outperforms Empower at level 3 and all other support gems when a target is Deathmarked.
Movement Skill / Enduring Cry in Cold Iron Point
It doesn't necessarily matter whether you put this in your Shield or your Weapon, but for convenience I gave you an example. However, since we are fairly socket-starved, make sure to optimize your links as much as you can. We're going to link both our movement skill and Enduring Cry to

Second Wind Support as it benefits both of them. If you have Call to Arms make sure you put Enduring Cry on left mouse button. This will make it automatically cast whenever it's off cooldown as long you are moving.
Enduring Cry
Dash
Second Wind Support
Again, you can swap this around with the Weapon links if that somehow makes you feel better about the setup, but these 3 gems should also go in either of the two to preserve and optimize your sockets. Make sure to only 2-Link as you don't want

Convocation to be linked with

Cast when Damage Taken Support.
Cast when Damage Taken Support
Vaal Molten Shell
Convocation
Utility Setup in Boots
Since we need to spam out

Spirit Offering,

Sniper's Mark, and

Desecrate we chose to link them to a low level

Cast when Damage Taken Support. That does end up costing us some level on both the Curse and the Offering, but it feels like overall it is worth it.
Holy Relics in a +1 Minion Helmet
This link has to go in your Helmet slot, provided you have a Helmet with "+# to level of Socketed Minion Gems" to gain extra level on your summon Holy Relic. The

Summon Holy Relic is mainly run as an extra source of buffs for our

Herald of Agony.