King of Bows - Voidfletcher Ice Shot / Barrage Deadeye Passive Skill Tree and Gem Links
Passive Skill Tree
You can find an optimized Path of Building here. Every build I release will use the community fork of Path of Building, which is maintained and updated in a much more regular fashion than the original one. You can find PoB's Fork, by LocalIdentity, here.
If you are not comfortable with Path of Building, we also have a PoePlanner for you. Do note that PoE Planner does not support Cluster Jewels and some specific unique jewels and it is highly recommended you install Path of Building to follow builds most optimally.
Progression Advice
This build almost exclusively scales off of gear and support links so it doesn't really matter in particular what you do while leveling. I would advise you to get all you gear before leveling the character (or at least the amount of gear you can afford) so you can equip as much of it as possible when you reach maps. I'll leave you with this Path of Building to give you an idea as to what I would suggest your tree looks like at the beginning of maps.
If you're not comfortable with Path of Building, here's a PoePlanner to give you an idea of how your tree should look like whenever you're at about that level.
Gem Links
Ice Shot – Main Link (6-Link)
Ice Shot, as mentioned, before relies on getting more than enough damage to feel very nice. That's also why there is a huge emphasis on Awakened Gems. Obviously, if you can't afford them, the build won't instantaneously fall flat but the differences are immense.

Awakened Greater Multiple Projectiles Support offers a bit more clear speed, but I suggest you test out regular

Greater Multiple Projectiles Support and either

Inspiration Support or

Hypothermia Support (that doesn't require you to change socket colors) first to see if you feel better about having more coverage. Inspiration or Hypothermia helps damage and at certain levels of gear it might actually feel better that way, since you already have 5 Additional Projectiles from Dying Sun, Deadeye and Death's Opus.
Barrage – Single Target Damage
Barrage is a bow's best single target skill, but in this case it also makes it easy to unload all of your Void Shots instantaneously, which is a nice upside. At top levels of gear, both of these combined will reach over 10 Million sustained DPS which is incredible.
Debuffs – Cast when Damage Taken setup
Because manually casting a Hex, a source of Exposure, and a Mark is incredibly tedious, I chose to link two of those to a Cast when Damage Taken setup. Frost Bomb takes care of the exposure, and Frostbite is your hex of choice for this build. Wherever you socket this setup you'll have a single free gem socket which is used for

Sniper's Mark. You do have to still cast your Mark manually, which will remove your Frostbite, but the Mark is a lot stronger in almost every scenario.
Optionally: you can get a pair of Tombfist with "Curses enemies with level # Elemental Weakness on hit" Corruption, which would be better than a level 5 Frostbite, as it'd be more reliable (in which case you would drop the Sniper's Mark altogether).
Cast when Damage Taken Support (level 1)
Frost Bomb (Level 10)
Frostbite (Level 5)
Sniper's Mark
Optional Changes for swapping to Asenath's Chant
So basically as this helmet automates all of the above, it frees up some sockets. Additionally, as it relies more up time on

Sniper's Mark, I think it's safe to forego another curse entirely. Instead you can run a triggered spell that is linked to

Power Charge On Critical Support to generate power charges to further amplify your damage. Here's the setup I recommend in the Asenaths. More about this helmet can be found in the

.
Optionally, the Ice Spear could be replaced by an

Ensnaring Arrow as it also provides a reliable DPS increase but I have never tested the viability of it generating power charges.
Auras and Buffs
Use

Blood Rage at the start of the map, as it offers incredible damage. You should have enough sustain to not make it feel clunky whatsoever.

Withering Step is best bound on your Left Mouse Button as that guarantees full uptime, which is nice since it is one of your core defensive mechanics.

Hatred and

Precision are the two Auras of your choosing. You can level up Precision a couple times, but I'd advise you to always make sure you have at least 80 Mana unreserved.
Herald and Movement Skill
Since you're using two Abyssal Sockets on your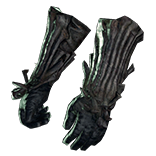 Tombfist, you're giving up on two additional gem sockets. In the two remaining sockets on the Tombfists, you're going to put the

Herald of Ice and your

Blink Arrow. Herald of Ice helps your clear even more and offers some substantial damage, while Blink Arrow is only used to get over gaps, as Withering Step + a

Quicksilver Flask is generally always faster on this build.
Herald of Ice
Blink Arrow