Monstrous Vortex Cold Snap Low-Life Occultist Gear, Jewels & Flasks
Summary – TL;DR
As per usual, nothing matters more than capping your Elemental Resistance before anything else. This means modifiers on gear are subordinate to Resistances as long as you're not capped. Since you'll be running a decent amount of Unique items, it'll be important to look out for a lot of resistances on your Rare pieces!
We're providing you with an extensive analysis further down the page but chose to start off with an overview / recommendation.
For crafting Rare items, you can check out all the affixes that can roll on an item base, depending on its level, influence, and many other factors, using our affix tool.
Armour Pieces
Helmet
The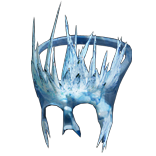 Rime Gaze unique offers a reliable and cheap way of getting a lot of things you really like. It provides you with a potential 5-Link for your

Cold Snap, which is basically preference. I suggest you test out Cold Snap inside and outside of the Helmet to see if you'd rather have the increased single target damage from Rime Gaze's L20 Concentrated Effect Support, or if you'd rather have more coverage by not having your Cold Snap in the helmet at all. Personally, I think it's a nice boost of damage on bosses and therefore very convenient.
Additionally, Rime Gaze offers a decent chunk of Energy Shield, which makes it so you don't feel like you're losing too much for not using a, for example, Rare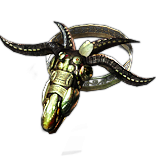 Hubris Circlet. It also offers you two of your best damage modifiers in the Increased Cold Damage and more importantly the whopping 20+% to Cold DoT Multiplier!
+#% to Cold Damage over Time Multiplier (at least 20)
#%increased Energy Shield (at least 190)
Body Armour
As per usual in a Low-Life build, you really can't go without a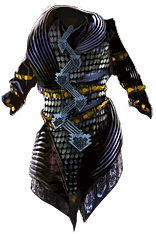 Shavronne's Wrappings. Whereas there are some niche archetypes that can go without it, this isn't one of those. This item is uncontestable and mandatory to survive incoming Chaos Damage! You can potentially use the very cheap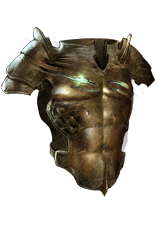 Solaris Lorica before you can afford a Shavronne's Wrappings, as a placeholder.
Gloves
One of the few Rare pieces in the build is the glove slot. Ideally, you're on the lookout for a pair of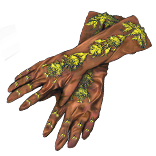 Sorcerer Gloves with high Energy Shield and Resistances. Since you're looking for an Aspect of The Spider beastcraft somewhere on your gear, I'd argue this is an excellent candidate for that spot. If you want to craft an Aspect on an item, make sure it has an open suffix.
Elemental Resistances (until capped)
+# to maximum Energy Shield (at least 40)
#% increased Energy Shield (at least 80)
Grants level 20 Aspect of the Spider
Boots
If you want, this slot can be very versatile. Although, nowadays, most Energy Shield based builds are a little Dexterity-starved, which makes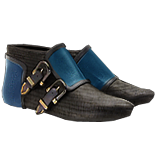 Sin Trek an excellent choice. Getting about 170 Energy Shield, 30% Movement Speed and 30 Dexterity out of a boot slot is rather solid. Obviously, if you can somehow find your Dexterity elsewhere (e.g. Gloves or a Ring) this can be improved upon by getting a Rare pair of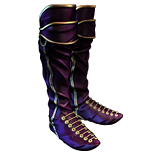 Sorcerer Boots, for example, with very high Energy Shield rolls, high movement speed, and potentially some additional resistances to make capping easier. If you opt in to the Sin Treks route, make sure to pick up a pair with a high Energy Shield roll.
+# to maximum Energy Shield (at least 140)
Belt
You're playing an Energy Shield build that focuses on survivability which almost always leads to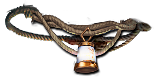 Bated Breath in your belt slot. Sure, if you craft an insane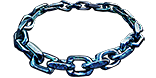 Crystal Belt, it could potentially beat it by a significant enough chunk of Energy Shield that it could be worth dropping Bated Breath's increased Energy Shield Recharge Rate and % increased damage, but generally that is so hard to achieve that Bated Breath is just a really solid piece of gear.
Note: Catalyzing this with Defense modifiers is very potent as it nets you an additional 4% increased maximum Energy Shield.
Accessories
Amulet
Again, since we're more so focused on defenses, I really like the

Presence of Chayula here. A defenses-Catalyzed Presence offers up to 1500 Energy Shield and 60% Chaos Resistance, which is hard to pass up on. Combine this with the Occultist Ascendancy and you're almost capped on Chaos Resistance without even trying! Offensively, you lose out on the modifiers that a Rare amulet could provide, such as +1 to all Intelligence Skill Gems, but I think the defenses here are worth it.
Anoint
You need to anoint Tranquility as it grants you Spell Damage based on overall Energy Shield increases. It roughly equates to about 70% Spell Damage for this build which is pretty nuts!
Rings
You're using a combination of an Elder-base ring with high amount of Energy Shield and Resistances, as well as some Strength to fix your attributes. This needs to be an Elder base because you want it to activate the effect of your second ring, the

Mark of the Shaper. A Mark of the Shaper, when Catalyzed with Caster modifiers, grants up to 90% Spell Damage as well as 25% Elemental Damage, some flat damage to spells and a decent chunk of Energy Shield. This is definitely a piece that grants you a lot of damage in the otherwise more defensively-oriented set of gear. The affix priority for your Elder-base ring is as follows:
+# to Strength (as much as needed)
Elemental Resistances (until capped)
+# to maximum Energy Shield
#% increased Maximum Energy Shield
Weapon
This build makes use of the very potent benchcraft "Trigger a Socketed Spell when you Use a Skill". As explained in the Gem section, this is used to proc a lot of buffs and debuffs to enemies automatically, so you can focus on keeping your

Vortex DoTs under a boss, and occasionally using

Cold Snap while running around dodging mechanics. Additionally, the number one modifier you want on your wand is a +1 to Level of all (Cold) Spell Skill Gems. As extras, you can either get the other +1 modifier, Spell Damage, or Cold Damage over Time.
Trigger a Socketed Spell when you Use a Skill, with a # second Cooldown
+# to Level of All (Cold) Spell Skill Gems (both if possible)
#% Increased Spell Damage (at least 60)
+#% to Cold Damage over Time Multiplier (at least 25)
Flasks
I believe flasks are highly preference-based. One isn't just outright better than another one for specific / certain builds. Obviously, sometimes, there's a set in stone set of Flasks you should be using just because they synergize with your build so well. I wouldn't say those really exist in this setup, but I'd strongly advise you to stick with the setup listed here.
In this particular case, none of the Flasks are incredibly mandatory. Since you're playing a Cold Damage over Time build, there really aren't any unique Flasks that benefit you to an extent that would make them core. Therefore, we are suggesting you run the holy duet of defenses flask-wise in a

Basalt Flask and a

Quartz Flask. The Physical Damage Reduction of a Basalt is hardly contestable while a Quartz Flask increases your effective HP pool tremendously through making you avoid 10% of all incoming Damage.
Other than your defensive Flasks, I think running a

Quicksilver Flask & a

Silver Flask to move around faster is always optimal and this build has no issues fitting it in. For your last Flask I opted for a

Sulphur Flask to give us some extra Regeneration and Damage.
Regardless of which utility Flasks you go for and whether you follow our recommendations or not, you'll need to stick to the suffixes we have picked for you (Staunching, Warding, Dousing, Grounding). The affixes on your non-unique Flasks can be changed around, but I recommend the following setup (based on the Flask duration, charges, and affix priorities):
Be sure to check out our Flask Crafting Guide to learn everything you need to know about how to set up your non-Unique flasks.
Jewels
Cluster Jewels
Cluster Jewels are incredibly potent scalers both for Damage over Time Multiplier, Cold Damage, and much more! We opted to suggest easily acquirable Cluster Jewels but if your budget allows it, feel free to pick up

Large Cluster Jewels with an extra notable to save 2 Skill Points each or allocate all 3 notables for more bang for your buck.
If you are looking for the most optimal way to acquire your Cluster Jewels, or have any other questions whatsoever about them, such as how to craft or price them, we refer you to our complete guide on Cluster Jewels.
Now, because you want to be able to run four Medium Cluster Jewels, you will need two Large Cluster Jewels. As mentioned, you don't need to look for expensive ones. Just picking up Larges with two Notables will suit you just fine. You'd like to get a Deep Chill to scale your Cold Damage over Time Multiplier, and give you some extra defenses through more reliable freezes and a Prismatic Heart for a balance between Elemental Damage and Resistances.
For your Medium Cluster Jewels, we changed into DoT Multi jewels. This means that all of your Medium Cluster Jewels are going to give you increased Cold Damage over Time, which makes all of your Damage scale. Additionally, through Vile Reinvigoration, you get extra Energy Shield Regen & Maximum Energy Shield. The small notables on these aren't horrible, so if you can't afford 4 or 5 Passives ones, getting one with 6 Passives isn't the end of the world here.
Deep Chill
Vile Reinvigoration
Regular Jewels
For Cold Damage over Time builds, Damage over Time Multiplier or Cold Damage over Time Multiplier are your best offensive stats. This build in particular also scales incredibly well off of Spell Damage, so I suggest you get Jewels with Energy Shield and those two modifiers. Additionally, you might need to find one with an "+#% to All Elemental Resistances" modifier instead of one of the aforementioned affixes to max your Resistances.
#% increased Maximum Energy Shield
+#% to (Cold) Damage over Time Multiplier
#% Spell Damage (while Holding a Shield)