Lydia's Summon Raging Spirit Necromancer Build Guide (PoE Harvest 3.11)
Guide Format
This build guide is split over multiple pages, both to prevent it from getting too long, as well as to help you better find the information you are looking for. In addition to the current page, which presents general information about the build and also contains a Leveling and FAQ section, we have the following pages:
Introduction

Summon Raging Spirit has undergone many changes over time, but it has remained a viable, if fringe, choice for all that time. With buffs to the Necromancer ascendancy and the addition of the

Unleash Support gem, it has become a powerful, fast, and overall great choice for all skill and wealth levels. A variety of defensive setups are viable, and the addition of the

Meat Shield Support has vastly improved the survivability of the build.
Capable of reaching over 100,000 DPS per spirit on modest gear, this build deals with endgame content quickly and efficiently. If you are looking for a high damage, mobile, and easy to play build, this may well be what you are looking for!
Build Summary

Summon Raging Spirit, alongside

Flesh Offering and the Mistress of Sacrifice ascendancy keystone allows for an extremely fast playstyle, while the reworks to the Necromancer ascendancy and new support gems have brought an extra layer of defense in 3.8.0. Overall it makes for a smooth as butter build that can handle all content in the game.
Pros
+ Inexpensive to get going, excellent league starter
+ Tanky, with 5500+ Life and 2000+ ES
+ Capable of completing all content in the game
+ Very fast clearspeed
+ Lots of room to improve gear via jewels and weapons
Cons
- Summoner playstyle is not for everyone
- Difficult endgame boss fights like can take a lot of practice to execute well
Playstyle and Core Mechanics
Summon Raging Spirit Mechanics

Summon Raging Spirit summons a single flaming skull (or raven, or bee, depending on your microtransaction preference) that aggressively seeks out enemies to attack. It deals physical damage, with 50% converted to fire. Unlike most minions, it cannot be targeted by enemies, and cannot taunt enemies, meaning that they are only offensive. Because of their low life pool, they are constantly at risk of being killed by incoming hits from projectiles or area of effect attacks, so you should take care to recast them often. Because they fly, they are able to skip over many barriers, and ignore ground effects.
Playstyle
Offensively, the build simply casts

Summon Raging Spirit, relying on

Unleash Support to cast several at once, and runs along behind them, sped up by

Flesh Offering, as they quickly clear out packs. On tough single targets, using

Storm Brand or

Orb of Storms to apply Elemental Equilibrium and

Elemental Weakness will boost your damage through the roof. It is a comfortable and fast playstyle, that can excel in difficult encounters like deep delving and bossing.
Defensively, the build makes use of Mind over Matter, alongside Eldritch Battery and Wicked Ward, to gain access to a large and consistent health pool bonus. The build makes use of

Flesh and Stone,

Raise Zombie linked with

Meat Shield Support, and your choice of

Immortal Call or Bone Armour to mount a considerable defensive bulwark.
Passive Tree
Recommended level 90 skill tree
For more information, be sure to check out the Passive Skill Tree page.
Gems
We go over all of the gem links this build uses in the end-game on our Gem Link page.
Ascendancy, Bandits, and Pantheon
Our Ascendancy, Bandit, and Pantheon Power page has all the details on the choices made for this build.
Gear Summary
For an in depth look at the recommended gear, check out The gear page, but we have some basic outlines here.
Levelling
As a reminder, we have several guides to help you level up a character.

Summon Raging Spirit is an excellent leveling skill, and the build can be used from the start quite easily. A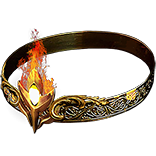 Mark of the Red Covenant can be great, especially before getting access to

Unleash Support. Simply pick up whatever you are missing at the time, damage or survivability, as you level towards the recommended trees.
FAQ
What map mods do you need to avoid
Luckily, no map mods are impossible for this particular build. Elemental Reflect can be annoying, as your minions will die to it fairly quickly, so rerolling it is entirely reasonable.
What Anointments should the build use?
While levelling, and early in the gearing process, your most likely difficulties will be your resistances or dexterity requirements. Luckily, Diamond Skin and 30 point dexterity nodes are very cheap to anoint. If you are looking to augment your damage, Grave Pact and Fearsome Force are likely the strongest offensive options. Thunderous Salvos can be a good option for farming difficult bosses or deep delves, as its benefit will be felt when you need to dodge often and your minions are dying regularly. For defenses, any life nodes are useful, particularly Written in Blood for the bonus energy shield as well, but nothing can surpass the sheer power level of Soul of Steel, and it has a price to reflect that.