Ignite Immortal Penance Brand Elementalist Gear, Jewels and Flasks
Summary – TL;DR
As per usual, nothing matters more than capping your Elemental Resistance before anything else. This means modifiers on gear are subordinate to Resistances as long as you're not capped. Since you'll be running a decent amount of Unique items, it'll be important to look out for a lot of resistances on your Rare pieces!
We're providing you with an extensive analysis further down the page but chose to start off with an overview / recommendation.
| | |
| --- | --- |
| Item Slot | Item Name |
| Head | Rare Warlord's Helmet with Life, -9 Fire Resistance & Enduring Cry Enchant |
| Amulet | The Primordial Chain |
| Chest | Incandescent Heart |
| Gloves | Sorcerer Gloves with Phys Conversion, Life, Dexterity & Resistances |
| Boots | Two Toned Boots with Life, Movement Speed, Maximum Endurance Charge & Resistances |
| Belt | Leather Belt with Life, increased max Life & Resistances |
| Rings | Rare Vermillion Ring with Life & Resistances |
| Weapon | 2x Rare Wand with Fire DoT Multi – +1 Spell Skills – Cast Speed – Spell / Lightning Damage |
For crafting Rare items, you can check out all the affixes that can roll on an item base, depending on its level, influence, and many other factors, using our affix tool.
Armour Pieces
Helmet
The Helmet of choice for the build used to be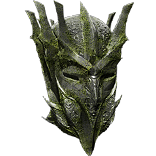 Crown of the Tyrant.However, a Rare Helmet with some Life, Resistances and "Nearby Enemies have -9% Fire Resistance" could replace it, and with Harvest being in the game, acquiring this is so much easier than it used to be. Additionally, it's a lot more reliable to get the Helmet enchant here. This also frees up some links and puts less pressure on other pieces of gear. After playtesting, I think a solid -9 Helmet is just outright better than the Crown.
Enduring Cry has #% increased Cooldown Recovery Rate (30)
+# to maximum life (at least 110)
Nearby Enemies have -#% to Fire Resistance
Note: Good to know is that when a Helmet already has 3 Prefixes & a crafted Fire Resistance you can Augment Fire through Harvest on a Warlord base to Guarantee the -9% Fire Resistance!
Body Armour
For your Body Armour there are two options. If you are looking for the best option, you're definitely looking in to a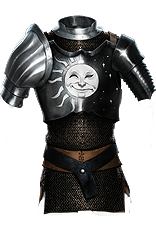 Incandescent Heart, as it grants you a lot of Elemental Damage as Extra Chaos Damage is a nice up to your DPS! If you go this route you have to make sure you cap your Chaos Resistance. Otherwise, a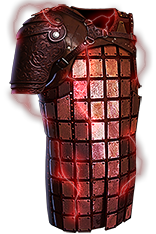 Inpulsa's Broken Heart is nice for clear speed, and it explodes corpses meaning you can't ever die to Porcupines, Detonate Dead etc. It's important to not use Incandescent Heart if you don't have capped Chaos Resistance. If you're looking for an easier way of finding Damage before being able to optimize gear, any chest piece with a combined +3 to level of gems does incredible damage (a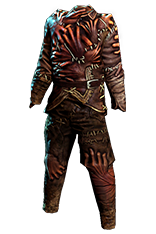 Skin of the Loyal with +2 AoE or Duration for example could help out).
If you were to completely min max this build, I think any chest piece with 110 Life & +3 or +4 to your Penance Brand gem would be the best item for this slot but that is going to require a lot of patience & currency to obtain / find / buy.
Gloves
The Glove slot has a fair amount of pressure on it but is also a very easy slot to manipulate with Harvest crafts. Make sure to start with a pair of Hunter Gloves that have high Life & Dexterity, as well as an open prefix for Physical Damage converted to Lightning Damage. Later on, getting a pair with Chaos Resistance, Fire Multiplier and perhaps hybrid Life is the dream!
+# to maximum Life (at least 80)
#% of Physical Damage Converted to Lightning Damage (25)
+# to Dexterity (at least 30)
+ #% to Chaos Resistance (any)
+ #% to Fire Damage over Time Multiplier
Boots
Your boots are one of your most interesting pieces of gear. Aside from the standard requirements that a pair of boots have (Life, Movement Speed, Resistances) you really want a pair that has an extra Maximum Endurance Charge and perhaps the "Ingites you inflict deal Damage 10% faster" modifier (as that effectively is a 10% DPS increase). I would argue that you'd go for the Endurance Charge before the Ignite modifier, just because I think the damage of the build feels fine regardless. In order to be able to get both modifiers, you need a Hunter & Warlord-influenced item (obtainable through Conqueror Exalted Orbs or

Awakener's Orbs).
#% increased Movement Speed (at least 25, ideally 30 or 35)
+# to maximum Life (at least 80)
+#% to Resistances (until cap)
+# to Maximum Endurance Charges
Ignites you inflict deal Damage #% Faster (10)
Belt
Your Belt slot basically just serves as the main source of resistances for the build. Additionally Life & % increased Maximum Life are solid increases to your eHP! Do note that for the % increased Maximum Life modifier you want to be using a Hunter influenced Belt!
+# to maximum Life (at least 130)
#% increased Maximum Life (at least 10)
+#% to Elemental Resistances (until cap)
Accessories
Amulet

The Primordial Chain is an interesting piece of tech to the build. Since it gives you 3 extra maximum Golems, that means you get an extra 150% increased Buff Effect from Elementalist's Ascendancy Nodes netting you 6% effective Physical Damage Reduction as well as some extra DPS. While this item can sometimes be a tad expensive early on, I do recommend picking one up as getting 16% Damage, close to 200 Life Regen, 6% Physical Damage Reduction, and some Radius and Cast Speed from an Amulet slot otherwise is going to be a challenge, to say the least.
Rings
Similarly to your Belt slot, you're going to be looking for Life and Resistances here.

Vermillion Rings are the obvious Best in Slot here, but any ring base works as long as you can't get those! At the very high end you could replace the Rings with Synthesized Rings that have the +1 Maximum Endurance Charge implicit, which lets you drop your

Basalt Flask for an

Atziri's Promise.
+# to maximum Life (at least 80)
+#% to Elemental Resistances (until cap)
Weapon
Even though Harvest crafting is in the game and making weapons is ridiculous through the garden, we chose to keep the Wands fairly accessible. Cast Speed is

Penance Brand's best friend, as you want to ramp up its energy before it eventually explodes. Other than that, a source of +1 to Skill Gems, Fire Multiplier and Lightning Damage all scale your damage tremendously well and are not the worst to acquire!
A good budget way of acquiring wands would be to find a +1 to Spell / Lightning Skills wand with increased Lightning Damage & Fire Damage over Time Multiplier (those generally don't synergize too well so they're cheaper), and finish them off by crafting 18% Cast Speed on the Crafting Bench. Going about it this way does mean that you're going to need and find a certain amount of Cast Speed on your Jewels to make up for the lost Cast Speed here.
+# to Level of all (Lightning / Physical) Spell Skill Gems
#% increased Cast Speed
+#% to Fire Damage over Time Multiplier
#% increased Lightning Damage
Flasks
I believe flasks are highly preference-based. One isn't just outright better than another one for specific / certain builds. Obviously, sometimes, there's a set in stone set of Flasks you should be using just because they synergize with your build so well. I wouldn't say those really exist in this setup, but I'd strongly advise you to stick with the setup listed here.
First and foremost, a

Cinderswallow Urn is so strong on Ignite Builds. It grants you a sizeable amount of damage whilst getting you pretty solid Regeneration and an instant Life, Mana and Energy Shield source while mapping! If this flask is too expensive in league-start scenarios, an

Atziri's Promise can replace it temporarily, but grab a Cinderswallow as soon as possible and you will not regret it!
For your non-Unique flasks, first of all, a

Basalt Flask will help you cap your Physical Damage Reduction to 90%. As long as you don't have Synthesized Rings, you do not want to pass this up, as going from 77 to 90 is an insanely big Effective HP upgrade!
Next up, a

Hallowed Hybrid Flask with a Foreboding prefix guarantees you Fortify uptime. As this Flask recovers all of its Mana at the end of the Flask effect, it will never run out, even if you are at full Life and Mana, meaning that through Hardened Scars you'll be getting Fortify for its full duration. Additionally, it functions as a fairly solid source of Life Regen should you ever take damage (almost 1000 Life per Second is fairly nice). Because you still want to be able to spam out Penance Brands while mapping, I still like the Enduring

Eternal Mana Flask to guarantee uptime. If you really wish, since you only need to cast two brands on bosses every 10-12 seconds, you can swap this out for the

Atziri's Promise on Shaper or Sirus-like encounters where you don not need to spam Brands to clear packs. Other than your defensive flasks, I think a

Quicksilver Flask is as close to mandatory as it gets as Movement Speed is an incredible defensive stat.
Regardless of which utility Flasks you go for and whether you follow our recommendations or not, you'll need to stick to the suffixes we have picked for you (Staunching until you get a Corrupted Blood Jewel, Warding). The affixes on your non-Unique Flasks can be changed around, but I recommend the following setup (based on the Flask duration, charges, and affix priorities):
Be sure to check out our Flask Crafting Guide to learn everything you need to know about how to set up your non-Unique flasks.
Jewels
Rare Jewels
Since I personally really like to be safe, I recommend getting Life on all of your Jewels. Other than that, two or three generic damage modifiers are your best bet!
#% increased maximum Life
+# to Fire Damage over Time Multiplier
#% Increased Lightning Damage
#% Increased Fire Damage
#% Increased Damage
Unique Jewels
First of all I recommend running a

Fluid Motion in the Marauder Socket because it makes getting Dexterity fairly easy. Other than that I think it's a really easy source to find a "Corrupted Blood cannot be inflicted on you" Jewel as no-one usually uses these jewels. Getting one of these just makes a lot of fights easier so finding it cheap is a big upside!
Secondly, you could opt to run a

Lethal Pride, but you'd buy this as your very last upgrade. You'd have to use

Divine Orbs on it until you hit 2 additional effects on the notables you already have. The best place to use it is the Templar Area as you have most notables there. The things you're looking for are "Increased Effect of Fortify on you" and "Ignites Deal Damage Faster". I think if you get two of those, the Jewel is per definition better than anything else you can slot in there but again this is a very optional and very late upgrade!
Late Game
The aforementioned set up is generally perfectly fine but for the most optimized min-maxed version of the build you're going to drop the

Fluid Motion and find the Dexterity elsewhere. As soon as you can do that, you can drop your 2 Rare Jewels and the Fluid Motion for 1x

The Anima Stone and 2x

Primordial Eminence. These do lower your effective health pool a little bit but they also get you a ton of Physical Mitigation, Regen & Damage so they're worth it! Do note that for this to be worth it, you want to be high level & have a lot of life on other pieces of gear to make up for the offset of losing the 14% on your rare Jewels.